NY Philharmonic to perform Sorcerer's Stone soundtrack in concert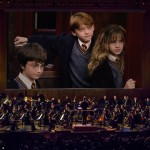 Apr 27, 2019
"Ah, music, a magic beyond all we do here."
This December you can experience the magic of John Williams' score for Harry Potter and the Sorcerer's Stone performed live by the New York Philharmonic.
Screenings of the film, accompanied by the orchestra, will be held December 11-13 at 7:30pm, and on December 14 at 2pm, in David Geffen Hall at Lincoln Center.  Tickets range in price from $69-$179.  Right now, tickets are only available to New York Philharmonic 2019-20 season subscribers.  But don't worry, they will go on sale to the general public over the summer.  Leaky will post a reminder when they become available.
This is a family-friendly event, open to ages 4 and up, so it's a good way to introduce children to orchestra performances, although you should bear in mind for little witches and wizards that the total running time, with intermission, is 3 hours.
You can find out more information here.
Before the first "talkies" became available in cinemas in 1927, it was normal for silent films to be accompanied by live music, whether piano, organ, or a full orchestra.  The wizarding world is old-fashioned in many ways, having scorned (or not needed) many Muggle technological developments.  So, it seems somehow fitting for a Harry Potter film to be accompanied by live music.
Are you going?  Please share your experience with us on social media!