PotterCast Episode 288 "I Need a Map": J.K. Rowling, Grindelwald, Retcon, and What Comes next for Fantastic Beasts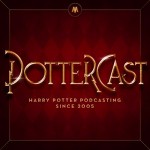 Apr 28, 2019
A new PotterCast has arrived! Have you been counting the days since you listened to "That's Not My Baby" waiting on the edge of your broom for the next installment? In episode 288, "I Need a Map", Melissa, John and Frak talk more Fantastic Beasts including the ins and outs of the Johnny Depp situation and the J.K. Rowling interview in the Crimes of Grindelwald digital extras. As always with these three pundits of the Potterdom, no Philosopher's Stone, Resurrection Stone or even Infinity Stone is left unturned.
Melissa starts out the episode with a reminder of three mark-your-calendar-worthy events where PotterCast will broadcast live this year; John and Melissa will appear at PodX, the upcoming convention for podcasters and podcast fans produced by Mischief Management May 31-June 2. Then later this summer the trio can be found at Leakycon 9 3/4 in Dallas and at the huge 10th anniversary celebration Leakycon10 in Boston October 11-13. Most of the special guest announcements are still under wraps, but Melissa did say that Chris Rankin, who played Percy Weasley in the films, will be joining the party in Boston:
Celebrate 10 years of #LeakyCon right where it all started – even if you missed out in 2009. But don't take my word for it – just ask @chrisrankin! pic.twitter.com/ovi9MUxLvv

— LeakyCon (@LeakyCon) March 21, 2019
After mentioning a few other magical things going on in the Wizarding World; players of Pokemon Go can register for a Wizards Unite username ahead of the release and the opening of Universal's new Dark Arts at Hogwarts light experience, your hosts dive right into the subject of Johnny Depp and the possibility of recasting Grindelwald. We know it's a tricky topic with the fandom. Leaky recently posted a poll on Facebook asking who our readers might like to see play Grindelwald in the case Depp didn't turn out to be the best choice for the franchise and most who responded were up in arms about replacing him. Listen for yourself to the entire episode and let us know your thoughts. Do you like the Metamorphmagus theory? Seems like a problem solver to us!
New episode!! #288: I Need A Map (thanks to our patron Adam Davis for the title!) https://t.co/E91Jvrzcje

— PotterCast (@pottercast) April 26, 2019
The chat about Depp and the Fantastic Beasts production delay segued into a discussion of the Crimes of Grindelwald featurette below. If you haven't seen it yet, take a look at what J.K. Rowling, producer David Heyman and director David Yates had to say about creating the Wizarding World of the prequel series before you jump into the PotterCast episode, or you really will need a map!

"Whatever you think you know at the end of the second movie is not what you'll think by the end of the third movie."
We're thinking most of us, along with PotterCast, will be sticking around to find out.
You can listen to Episode 288, as well as past episodes on Pottercast.com. And don't forget to register for PodX, LeakyCon 93/4 and Leakycon10 to see PotterCast Live! Tickets are still available!!