Get Ready to Wrock at LeakyCon 2019 Dallas and Boston!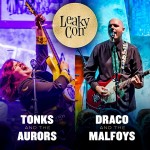 May 21, 2019
Fans attending the 10th Anniversary LeakyCon events in Dallas, Boston or both will be able to wrock out to a magical concert featuring some of the top names in the wizarding music genre. Mischief Management announced that the unofficial Harry Potter fan convention will host Harry and the Potters, Draco and the Malfoys, Tonks and the Aurors and Lauren Fairweather.
Convention-goers in Dallas will enjoy performances on Friday, August 9, and guests at the Boston convention will be treated to live music from the fan-favorite bands on Friday, October 11.
THE WROCK LINEUP IS HERE! Your favorite wizard rock bands are bringing the party to Friday night at LeakyCon Dallas and LeakyCon Boston!

? @hatp@laurenfairwx@TonksNtheAurors@datm ? pic.twitter.com/rKoBNMIrBw

— LeakyCon (@LeakyCon) May 21, 2019
The Dallas convention will run from Aug. 9-11, 2019, at the Kay Bailey Hutchison Convention Center. The Boston convention will host fans a mere two months later on Oct. 11-13, 2019, at the Seaport Hotel and World Trade Center.
Both conventions will no doubt feature a packed line-up of exciting activities and panels, and Leaky previously reported that wand choreographer extraordinaire Paul Harris and Harry Potter series alum Chris Rankin (Percy Weasley) have committed to appear!
Learn to duel with the master himself this summer when Paul Harris joins us for #LeakyCon Dallas! Sign up for wand choreography workshops now at https://t.co/a6VxlaajNp! pic.twitter.com/xV6aGVQKI7

— LeakyCon (@LeakyCon) March 21, 2019
Celebrate 10 years of #LeakyCon right where it all started – even if you missed out in 2009. But don't take my word for it – just ask @chrisrankin! pic.twitter.com/ovi9MUxLvv

— LeakyCon (@LeakyCon) March 21, 2019
To make the convention experience truly magical for the whole family, LeakyCon is now introducing "Family Day," which will feature kid-friendly crafts, games and more on Sunday, Aug. 11 in Dallas.
Introducing Family Day, coming to #LeakyCon Dallas! Bring the whole family for kid-centered crafts, games, and more ?

Purchase a General Pass or Sunday Day Pass to join the fun: https://t.co/AbMJ7Ybj8hpic.twitter.com/2HNxXRf8AJ

— LeakyCon (@LeakyCon) May 10, 2019
In addition to the incredible daily programming, don't forget to enjoy the cosplay, where you'll feel right at home showing off your House pride or stepping into the shoes (or wig or robes) of your favorites characters!
And to accommodate the interest in this year's conventions, LeakyCon has secured more hotel options to meet the demand. The Boston Westin Waterfront is now offering a special rate for LeakyCon attendees, so don't delay making your arrangements, Potter fans.
Still need a place to stay for #LeakyCon Boston? Good news! The Westin Boston Waterfront has a special rate for LeakyCon attendees! Get all the details at https://t.co/ZNSxSpfGcS. pic.twitter.com/SrrJHselmN

— LeakyCon (@LeakyCon) May 21, 2019
These are once-in-a-lifetime events for fans looking to celebrate J.K. Rowling's wizarding world, and what better way to do it than to celebrate with your family in the middle of your Harry Potter family? We might not be "rocking around the clock," but we will surely be wrocking!