Bloomsbury Announces Deluxe Edition of Illustrated 'Goblet of Fire'!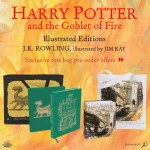 May 22, 2019
Bloomsbury announced that a deluxe edition of Jim Kay's long-awaited illustrated version of Harry Potter and the Goblet of Fire will be released alongside the standard illustrated edition, and both are available for pre-order now! Both editions will also be available in stores Oct. 8.
The special deluxe edition hardback will feature a gorgeous green cloth cover with foiled slipcase, as well as gilt edging. Kay's sketch of Hogwarts graces the front cover while the Hungarian Horntail holds a prominent place on the slipcover. Fans pre-ordering through the Bloomsbury website will receive an exclusive tote along with their copy of the Goblet of Fire.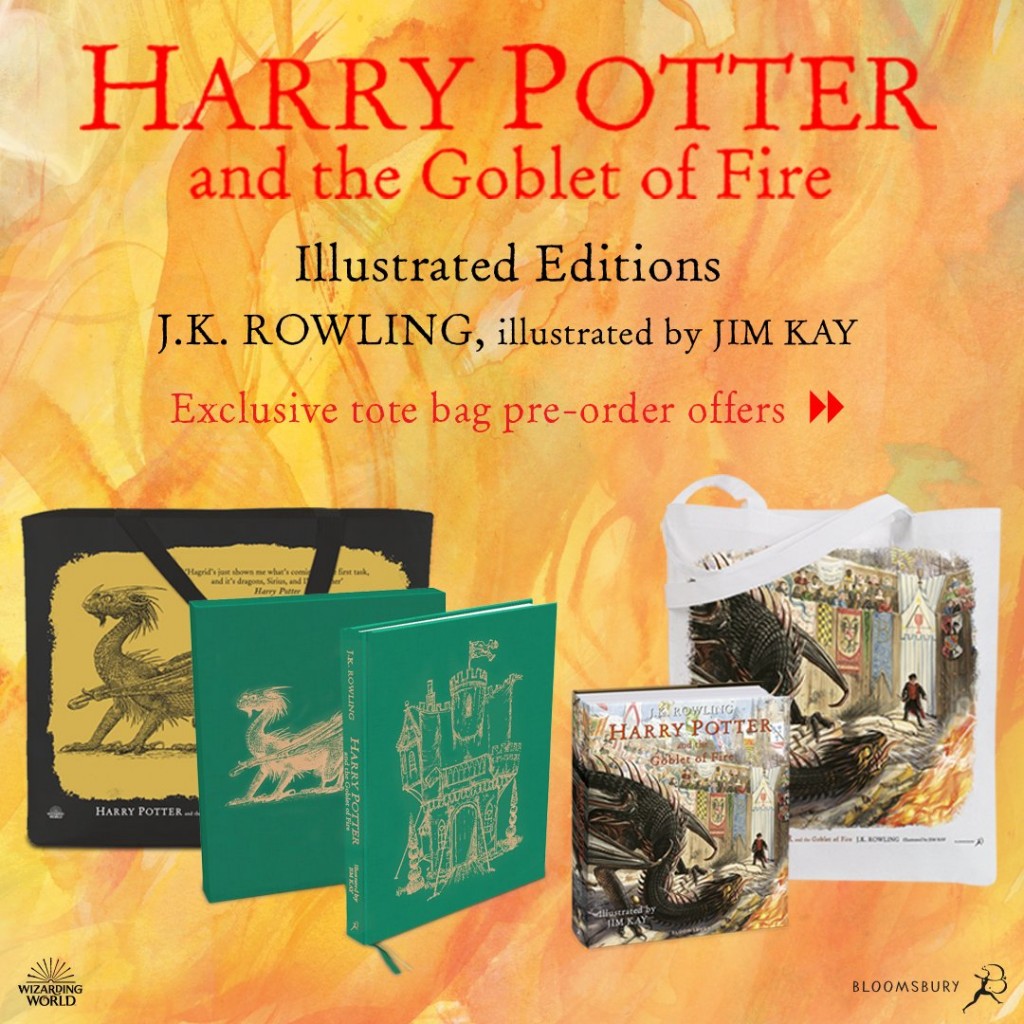 Deluxe edition orders come with a sleek black tote featuring the Hungarian Horntail. Standard edition pre-orders also come with an exclusive tote, which features a color illustration from the book of Harry facing off with the fearsome dragon.
Pre-order #GobletOfFireIllustrated from our website and get an exclusive tote bag (UK, ROI, AU and NZ only): the deluxe edition comes with a black tote bag with gold foil?; the standard edition comes with a cream tote bag?. https://t.co/fVpLtQ4zmipic.twitter.com/bxiI3ST6ki — Bloomsbury UK (@BloomsburyBooks) May 22, 2019
The exclusive offer is available for residents of the UK, ROI, AU and NZ only. Visit Bloomsbury here to place your order! And for fans interested in the standard version rather than the deluxe edition, take a look at the magical color cover art below. 
IT'S HERE and it's on fire ?? ?. Behold the cover you've been clamouring for: Harry Potter and the #GobletOfFire by J.K. Rowling, illustrated by the phenomenal Jim Kay.
Out 8th October, pre-order NOW to get an exclusive tote bag https://t.co/fVpLtQ4zmi#HarryPotterIllustratedpic.twitter.com/YP1ciThJC3

— Bloomsbury UK (@BloomsburyBooks) March 12, 2019
Note as well the sneak peek of numerous interior pages, included in both editions, which was previously covered by Leaky and originally released by Pottermore. As always, Kay's art is visually stunning, bringing Rowling's vivid descriptions of the wizarding world to life. Either copy would be a coveted addition to the collection of any fan! 
What do you think, Potterheads, which edition are you clearing a shelf for?