New Photos Released From Emma Watson's 'Little Women'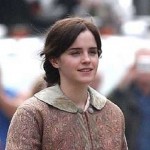 Jun 21, 2019
Emma Watson is set to play eldest sibling Margaret – known as Meg – in Greta Gerwig's film adaptation of Little Women. The classic novel, written by Louisa May Alcott, was originally published in 1868 and is reported to be semi-autobiograhical.
Little Women tells the tale of the four March sisters coming of age during the American Civil War. With the support of their mother, Marmee (Laura Dern), we follow the journey of Meg (Emma Watson), Jo (Saoirse Ronan), Beth (Eliza Scanlen) and Amy (Florence Pugh) from childhood to adulthood, experiencing sibling rivalry, first love and loss.
The film is set for release later this year, although no official date or trailer has been revealed yet. The newly released images show the March sisters and their next-door neighbour Theodore Laurence (Timothée Chalamet) in a variety of costumes from the upcoming film.
The Leaky Cauldron previously reported on the first images of Emma in full costume here in October 2018, when it was announced that Watson would be replacing Emma Stone (La la land) as Meg March.
Gerwig's last movie, Oscar-nominated Lady Bird (2017), portrayed her relationship with her mother and growing up in a small American town. When speaking with Vanity Fair, Gerwig speaks passionately of Little Women, "This feels like autobiography," Gerwig says. "When you live through a book, it almost becomes the landscape of your inner life. … It becomes part of you, in a profound way."
Fans cannot wait to watch Emma enchant them with her portrayal of Meg in the retelling of this classic story, her first role since 2017's The Circle and Beauty and the Beast.
If you can't wait for the 2019 version, check out the 2017 BBC miniseries, featuring our very own Michael Gambon (Albus Dumbledore) as Mr. Laurence, the sister's neighbour, previously covered by The Leaky Cauldron here.
To read Greta Gerwig's full Vanity Fair interview and see more cast photos, click here.