SDCC 2019 Day Two: Exclusive Interview With 'Cursed Child's' Nicholas Podany and Jon Steiger, 'Wizard's Unite' and 'The Dark Crystal' News!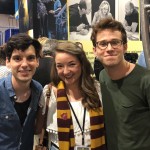 Jul 20, 2019
Day Two of San Diego Comic-Con was a brilliant flurry of fandom fun, and Leaky reporters Lauren Osborne and Sydney Dean were on-site to visit all the panels and booths of interest to the Potterdom.
With a full schedule planned and huge crowds, it's possible they commandeered a time turner from the Ministry in order to bring Leaky followers their coverage. But, as they don't let just anyone have a magical object of that magnitude, you'll forgive them for keeping it under wraps.
Undercover as Muggles, and media passes in hand, they took the shuttle to the San Diego Convention Center along with other excited fans!
We just got to Day 2 of @Comic_Con, and we're ready for a day of excitement! Follow along as @sydsketch and Lauren cover all the action, and catch up with Day 1 (featuring #CursedChild and @darkmaterials) here: https://t.co/OBWtrwphzf#SDCC2019#SDCC#SDCC50pic.twitter.com/O3hHd4rihq

— The Leaky Cauldron (@leaky) July 19, 2019
As promised Thursday, Jon Steiger, San Francisco's Scorpius Malfoy, and Nicholas Podany, Broadway's Albus Potter, were already there answering challenges–and wreaking some hilarious havoc! (Seriously, Weasley twins, anyone?)
Q: We challenge Jon & Nick to cast a spell at an unsuspecting attendee! #CursedChildChallenge
– @HPPlayLDN

A: Stupefy! pic.twitter.com/AfNOHOolPS

— Harry Potter and the Cursed Child NYC (@HPPlayNYC) July 19, 2019
Q: #CursedChildChallenge i challenge you to name all of the actors who have played Albus in 10 seconds ?? – @cursedchildaus A: Six and counting… pic.twitter.com/7Q37K9hovN — Harry Potter and the Cursed Child NYC (@HPPlayNYC) July 19, 2019
Q: Try name as many Hogwarts students as yous can in 30 seconds #CursedChildChallenge – @spideysfIicker A: Nick wins! pic.twitter.com/h6c4AEr650 — Harry Potter and the Cursed Child NYC (@HPPlayNYC) July 19, 2019
Q: Ask people to do an HP magic trick or to make up their own spell #CursedChildChallenge – @deh24601 A: Lucky we had a panel about this yesterday! #SDCC50 pic.twitter.com/d2hO4NutZo — Harry Potter and the Cursed Child NYC (@HPPlayNYC) July 19, 2019
Q: Ask a random person to try and do a British accent! ?? See how many people know how to finish 'I solemnly swear…' Test people on whether they can name Wizarding sweets #CursedChildChallenge – @TheDeeWhoLived A: …We are up to no good! pic.twitter.com/A0usgsF8At — Harry Potter and the Cursed Child NYC (@HPPlayNYC) July 19, 2019
Thanks for all your challenges, it's been magic! #CursedChildChallengepic.twitter.com/v7LcvOS4Xs — Harry Potter and the Cursed Child NYC (@HPPlayNYC) July 19, 2019
And with no Marauder's Map to guide them, Lauren and Sydney managed to track the mischievous and energetic duo down for an interview!
First on our list at #SDCC: Meet the lovely Nick and Jon (#CursedChild stars) at @Comic_Con!?? Look out for our EXCLUSIVE interview, coming soon! #SDCC2019#CursedChildChallengepic.twitter.com/LQA4ct2jn8 — The Leaky Cauldron (@leaky) July 19, 2019
For starters, we wanted to know what Harry Potter character they think they are most like. (Here's a hint: They went to the Yule Ball together!)
Part one of our exclusive interview with #CursedChild's Nick Podany (Albus Potter @HPPlayNYC) & Jon Steiger (Scorpius Malfoy @HPPlaySF) ?? Which #HarryPotter character do they think they're the most like? @Comic_Con#SDCC2019pic.twitter.com/kTHwWRMftC

— The Leaky Cauldron (@leaky) July 19, 2019
We also asked Steiger to speak about a positive lesson that Draco imparts to his son (don't be so surprised), as well as whether he thinks about Scorpius' relationship with his mother, Astoria.
What's something positive Scorpius Malfoy learned from Draco? #CursedChild@Comic_Con#SDCC@HPPlayNYC@HPPlaySFpic.twitter.com/lwUraxKLK5

— The Leaky Cauldron (@leaky) July 19, 2019
And though both Steiger and Podany play Slytherins in Cursed Child, they rather ironically–or not so ironically–call another house home in real life. (You'll have to watch to find out which!) Podany also spoke about the major theme of Cursed Child, knowing that you matter to someone and learning to express that care for someone else, and why his character's struggle to understand the importance of it makes him love Albus so much.
Jon and Nick are BOTH Gryffindors, just like our very own @sydsketch! ? ???#CursedChild@Comic_Con#SDCC@HPPlayNYC@HPPlaySFpic.twitter.com/LLjQdmPSLo

— The Leaky Cauldron (@leaky) July 19, 2019
One of the people Albus learns to appreciate and rely on is, of course, Scorpius. We wanted to know why Steiger and Podany think the two boys become such close friends. (It's well established that opposites often balance each other out remarkably well, after all!)
What is it that makes Scorpius and Albus so connected and similar? Hear it from the actors themselves! #CursedChild@Comic_Con#SDCC@HPPlayNYC@HPPlaySFpic.twitter.com/v2axoz7mGG

— The Leaky Cauldron (@leaky) July 19, 2019
Finally, we couldn't leave the interview without asking Steiger about his own "Cinderella story," going from an usher at the Lyric Theater to a cast member in his own right.
How did Jon go from a @HPPlayNYC usher to Scorpius Malfoy in @HPPlaySF?! Meeting @AnthonyBoyle / @sam_clemmett was a huge deal! As a huge #HarryPotter fan, Jon adores fan reactions to the play, and as an ex-usher he has some adorable stories!? @Comic_Con#CursedChild#SDCCpic.twitter.com/LiNtwHuv75

— The Leaky Cauldron (@leaky) July 19, 2019
Following that magical conversation with our favorite stage Slytherins, we were caught off guard by the Harry Potter: Wizards Unite panel, moderated by Felicia Day, where cynicism toward the house remains high — despite the majority of panelists being Slytherin! (Not that that's unusual…!)
Also – although most of the panel were Slytherins, we saw a lot of Slytherin shade – tell your Slytherin pals to spread the good word that not all belonging to Salazar's house are Malfoys! ??

— The Leaky Cauldron (@leaky) July 19, 2019
Representatives went on to talk about the AR game's concept and how it encourages fans to explore and engage with their communities.
Being able to create a new narrative set in @jk_rowling's world was a huge privilege, they answered, and, of course, the game is all about players getting 'their own window into this world' and interact with others #SDCC #WizardsUnite @comic_con — The Leaky Cauldron (@leaky) July 19, 2019
They then surprised attendees with an announcement–in addition to all the magical creatures and characters currently featured, the game will soon debut a new fantastic beast. Premiering at the upcoming Wizards Unite Fan Festival over the weekend of Aug. 31 to Sept. 1, the level of play is about to heat up, and drawings to register for the exciting event are now live in-app!
Just announced! We attended the live #SDCC panel (moderated by the fantastic @feliciaday!) – stay posted for more updates on #WizardsUnite…. ??? https://t.co/gU8Dx1EHOs

— The Leaky Cauldron (@leaky) July 19, 2019
Time Turner or no, we did not make it into the Dark Crystal panel, but we did hear that voice talent Taron Edgerton and Mark Hamill were there!
Taron Egerton: "we [the cast] are just the top layer of a very tall cake." #darkcrystal#SDCC2019pic.twitter.com/NMBR8ZhRaM

— Total Film (@totalfilm) July 19, 2019
According to EW, Hamill stole the stage, slipping in and out of stories and impressions from his iconic repertoire of voiceover work. He called himself a "Muppet fanatic" and said the script was "just great writing."
Edgerton chimed in, describing his first experience with original, which he viewed at the age of six or seven, saying: "My father showed me it, and I just thought it was enchanting and completely unlike anything else. I still feel that way about it."
The crowd was then surprised with a screening of the full first episode of Age of Resistance, after which Hamill was presented with the 2019 Comic-Con Icon Award, given to "an individual or group who's been instrumental in creating greater awareness of and appreciation for comics and related popular art forms."
The 10-episode television series premieres Aug. 30 and features the voices of Harry Potter alums Helena Bonham Carter (Bellatrix Lestrange), Jason Isaacs (Lucius Malfoy) and Toby Jones (Dobby). If you used up your stash of Felix Felicis to get into the panel, let us know your favorite part in the comments. We would love to hear some firsthand accounts from lucky Leaky followers!
Our reporters Lauren and Sydney finished out the day chatting with some fabulous wizarding world cosplayers and meeting up with the Wizards Unite tour.
On Day Three, look for them to spend more time on the convention floor, apparating from booth to booth. We'll also bring you news from the "Collecting Harry Potter" and "The Psychology of Fantastic Beasts: The Crimes of Grindelwald" panels, so revisit all Leaky's social media platforms through the day for the latest updates!