July 21, 2007: The final midnight bookstore queue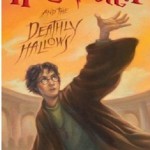 Jul 21, 2019
Twelve years ago today, on July 21, 2007, the last book in the 7-book series, Harry Potter and the Deathly Hallows, was released.  Due to the immense and ever-growing popularity of the books and films, bookstores and cinemas had taken to holding midnight release parties for the books and midnight screenings for the movies.  Fans waited in line for hours (the releases were usually timed for summer, so no frigid winter queuing wishing you had one of Hermione's portable fires) and employees gamely manned the counters as eager readers rushed in when the doors opened at midnight on release day.
New fans have the luxury of obtaining all of the books and films at once—instant gratification.  But for those of us in the first generation of Harry Potter fans, we had to wait several years between releases, our heads full of questions that spilled onto websites, podcasts, chatrooms, discussion fora, and even real life conversations with fellow fans.  The speculation raged relentlessly until we got our answers in the next book, which brought new questions and another round of speculation.
With Deathly Hallows that was all going to end.  No more wondering if Harry was a horcrux or which side Snape was on.  Would Harry survive?  What about Ron and Hermione?  Who would marry whom?  We looked forward to this book more than any of the others yet we also dreaded it because it was the last in the series.  No more Potter.  No more magic.  No more escapism into the wizarding world, except via re-reading and re-watching and fanfic.  We didn't know there would be companion books released, Pottermore, Fantastic Beasts, Cursed Child, theme parks, studio tour, etc. (Not to mention our own LeakyCon.)  It turned out that we weren't willing to let go of the magic, and the franchise owners have been more than willing to capitalise on our desire for more Potter.  JK Rowling has also thrown us more than the occasional bone, filling in background stories, adding layers of detail and meaning to the familiar, and introducing us to some of the lore and artefacts that inspired her.  But she has stuck to her statement that Deathly Hallows would be the last book in the series.
Before the release of each book, I dealt with the waiting by re-reading the previous books.  I was also particular about reading the British, not the American, editions, which presented a problem:  Since I was in the U.S., I couldn't queue up to buy the British version at midnight.  I had to order my copy from Amazon in the UK.  Their policy was to dispatch the book on release day, which meant that I received it over a week later.  It was agony watching everyone around me (by which I mean other adults on the NYC subway, when I was commuting to work) reading Order of the Phoenix and Half-Blood Prince whilst I was still waiting for my copy to arrive in the post.  I also had to stay away from online discussions if I didn't want spoilers.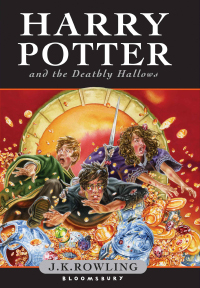 When Deathly Hallows came out, I simply couldn't wait.  I had ordered my British copy online but I also bought a copy of the American edition at midnight on July 21.  By that point Scholastic was "Americanizing" the language less than in earlier books, and I also expected that I'd be re-reading it many times so I could read the British version later.
But there was another problem:  I was only about halfway through my re-read of Half-Blood Prince, reading frantically by streetlight as I stood in line at the Barnes & Noble on the UWS of Manhattan.  I felt it would be 'cheating' in some vague, indefinable way to jump ahead and start on the last book.  I think I also wanted to put off the end a bit longer; it felt so much more tangible with the final book in my hands.  So, I agreed to let my then-partner read  Deathly Hallows first whilst I finished Half-Blood Prince.  He read it in one sitting, staying up all night.  I finished the sixth book the next day and stayed up all the following night reading, then took the book to work, reading as I walked down the street, reading surreptitiously under my desk, and reading late into the next night.  The Muggle world disappeared until "All was well".  For me, the magic has never ended; I've continued to immerse myself in all things Potter.
What about you?  Tell us your experience of reading Deathly Hallows!  Did you buy a copy at midnight and start reading immediately?  Did you discover the series when all seven books had already been released?  What space does the wizarding world fill in your life?
Here are some stories from our social media feeds today:
19 years old, I had my handmade cloak on ????? my dad drove me to Walmart for the midnight release. I cried when I had the book in my hands, cried when I started reading, cried half way and bawled at the very end. ? ? ?

— g (@thehammchop) July 21, 2019
I had pre-ordered the book from the mall, so I couldn't get it 'til morning. But I wanted to go to the midnight release, since it was the last book, so I hung out at the Barnes & Noble near the mall while that was on. Then I sat on a bench outside the mall all night. https://t.co/cA1OdfogRt

— The One True Nobody! (@Lewis_Medeiros) July 21, 2019
I was 9, oh my god that was so long ago… My mum took me to a supermarket that was doing a midnight release event with the movies playing and the store all decorated, I dressed up in my witch Halloween costume, got the book, tried to read it in the car ride home, fell asleep .w. https://t.co/qnRefFf1JD

— Angel (@SonicAngel23) July 21, 2019
Read all the way through the night and finished up before heading to a baseball game. Potter and baseball. Some things never change (aka me)! https://t.co/VrsCceL5OV pic.twitter.com/43rBpgI18J

— Christina De Nicola (@CDeNicola13) July 21, 2019