Enter to Win a Magical Stay in Hagrid's Hut This Christmas!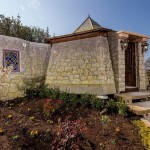 Sep 06, 2019
North Shire announced a magical opportunity for Harry Potter fans to win a holiday stay in their Grounds Keepers Cottage, inspired by Hagrid's Hut as imagined by J.K. Rowling and brought to life onscreen in Warner Bros. film adaptations.
For only £1, fans can enter the competition for a chance at one of the top prizes and know that a portion of the proceeds will be donated to Rowling's children's charity, Lumos. That certainly adds to the Christmas spirit!
The first prize package includes a 7-night stay in the cottage for up to 6 people (max 4 adults) from Dec. 22-29, 2019. The special guests will enjoy a festive Christmas hamper, an encounter with a Snowy Owl resembling the beloved Hedwig, an enchanted tea with a Harry Potter lookalike (and a bit of magic to boot!), a steam train ride in Goathland, which served as Hogsmeade station in the films, and a delightful visit from another magical fellow–Santa!
The second prize package includes 3 nights in the Ground Keepers Cottage, while the third-prize winner will enjoy a 2-night stay in the Shire House.
Leaky first reported on the new addition to North Shire's accommodations in April when book-lover Carol Cavendish expanded on her original Lord of the Rings-inspired guest house to also feature a cottage reminiscent of Hagrid's homey hut on the outskirts of the Hogwarts grounds. As fans might expect, it enchanted visitors and proved incredibly popular!
So with Christmas approaching, Cavendish, an adoptee herself, saw a unique opportunity to bless a Potter fan and contribute to Rowling's charity, whose stated mission is to "rescue children from orphanages and reunite them with families [and]…change education, health and social care systems so all children and families can access the care and protection they deserve."
She said:
"Christmas is a prime time for escaping normal lives and yet it can also be hard for many families with the cost of presents and food. 

"Since launching the Groundkeeper's Cottage this spring we've had a phenomenal response from people wanting to rent it so we thought it was a good time to help make somebody's Christmas extra special while also raising vital funds for a charity that is close to my heart."
No matter the results, Christmas will undoubtedly come early for all involved! The winning entries will be drawn on Oct. 31, and hopeful contestants can enter here.