Strike Round-Up: Anniversary of "Lethal White" publication today, filming begins, Burke & Grainger interviews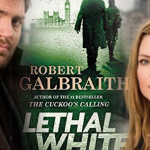 Sep 18, 2019
And we're off…! #lethalwhite #thestrikeseries pic.twitter.com/qB523SLuDE

— Brontë Film and TV (@BronteFilmandTV) September 17, 2019
One year anniversary of Lethal White publication Has it really been a full year since Lethal White was released? Indeed, it was released on September 18, 2018. I remember diving into it that day, eager to find out the resolution of the romantic cliffhanger we were left with at the end of Career of Evil.  Am I the only one who reads these mystery novels not for the skilfully-crafted mystery but for the Strike/Robin relationship?  Probably, but that's okay.  J.K. Rowling is a master mystery writer, so you certainly don't have to care about Robin and Strike's romantic tension to find each instalment in the series riveting.
It's official! ? Tom Burke and Holliday Grainger are returning to @BBCOne in 2020 for #Strike: #LethalWhite, based on the crime novel by Robert Galbraith aka @jk_rowling. More info ? https://t.co/SGHJQU4mYB pic.twitter.com/FSWtbd44aZ — BBC One (@BBCOne) September 17, 2019
Lethal White filming commences
Filming has now begun on the BBC television adaptation of Lethal White, to air in the UK in 2020.  In the U.S., HBO's Cinemax will again show the four-part series on its cable network.  Tom Burke, who most recently appeared in The Souvenir with Tilda Swinton, returns as private detective Cormoran Strike, and Holliday Grainger, who recently appeared in the five-part series Patrick Melrose with Benedict Cumberbatch, also returns as Strike's partner, Robin Ellacott.  Robert Glenister (Live By Night, Hustle) joins the cast as MP Jasper Chiswell, and Natasha O'Keeffe (Peaky Blinders) plays Strike's ex-fiancee Charlotte.  Tom Edge continues as writer on the series, with Jackie Larkin producing and Sue Tully directing.
For those who missed it, Strike – #LethalWhite is set to start filming in September, according to Tom Burke. There will be a total of 4 episodes (unless that ends up changing) ? pic.twitter.com/RwuFJjcVx7

— Cormoran Strike (@CormStrikeFan) May 22, 2019
Exciting times at Brontë HQ today with the readthrough for 'Lethal White'. We'll do you proud, Robert Galbraith!?? pic.twitter.com/SF4lWzCVAN — Brontë Film and TV (@BronteFilmandTV) September 6, 2019
Tom Burke hates interviews, but does one anyway
The Independent interviewed Tom Burke in a swanky London hotel bar about his role in The Souvenir.  Why does Burke dislike doing interviews?  Actors have quite the soapbox, and can find the temptation to give their opinions about everything quite strong in interviews:
"I think I'm going to be very careful, and then somebody asks, 'What do you think about this, and what do you think about that?' And some part of you goes, 'WELL! Here's my sermon on the mount!' It's quite painful, because your vanity comes out so much."
Careful as he may try to be, Burke soon finds himself having a go at call-out culture:
"I think there's a value in people talking, it's just that we're in this culture now where everyone wants to 'out' each other at every moment, for their unconscious bias or whatever, and people then don't feel free to just talk…it brings shame into the equation. And shame can be very paralysing to people. When you want things to move forward and evolve, it can put the brakes on." He suddenly stops himself. "See!" he cries, almost triumphant. "All this stuff you don't think you're gonna get into, and then suddenly you're talking about it!"
Burke also talks about his character in The Souvenir, and why he's drawn to playing complex characters who cannot be neatly dichotomised as good or bad.  We also learn that he was born with a cleft lip and that Snape is his godfather.  No, really!
Holliday Grainger plays detective again, pursuing Newt's brother?!?
Playing detectives seems to suit Grainger as she moves seamlessly from playing a PI in the Strike series to acting on the other side as a police detective in the currently airing BBC 1 six-part thriller The Capture, which stars Callum Turner (Theseus Scamander) as a British soldier falsely accused of a terrible crime based on doctored video surveillance footage.  The story focuses on how technology, such as CCTV, and false narratives can easily be used to frame innocent people in the post-truth era of fake news.  Grainger's detective tries to sift truth from lies in a climate where you can't trust anyone.  According to creator Ben Chanan, The Capture gives us…
"…a worst-case scenario, albeit one that reflects real fears and concerns. We walk around every day with CCTV all around us. Video evidence is regularly used by the police and in courts and we're increasingly comfortable with that. We don't mind that Big Brother is watching. Yet what's interesting is how easy it might be to abuse that comfort. Because if software can take somebody's audio and sample it and make them say what we want, how can we ever entirely trust a police confession or any audio archive? If you then apply that to video evidence as well, what happens then?"
Of his role, Callum Turner said:
'The Capture is one of the best things I've ever read and I jumped at the chance to join this wonderful team of people. Shaun Emery is an antihero. He's funny yet wounded, complex, visceral and dangerous. The epic journey he goes on was one I wanted to travel."
Holliday Grainger also recently appeared in Animals, a film abut female friendship and adulting, directed by Sophie Hyde, based on a novel by Emma Jane Unsworth.  Animals was released in the UK and Ireland in August, no word on U.S. distribution yet.
But have you seen the absolute belter of a film that is ANIMALS?! It. Is. Epic. Catch @Animals_Film in cinemas while you still can. Holy fork @S_Brocklehurst , massive congrats and bravo! ??????? pic.twitter.com/TCHlbOtH1L — Katie Leung (@Kt_Leung) August 30, 2019