Reigniting the Magic of 'Harry Potter' Book Launches at 'The Magical Place' in Portugal!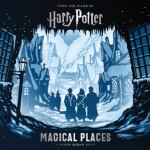 Sep 22, 2019
Recently Leaky was invited to attend a very special book launch for Harry Potter: Magical Places – A Paper Scene Book. The companion book, published by Insight Editions in partnership with Warner Bros. Entertainment, was also published as a special co-production edition with Portugal's most enchanting bookstore, Livraria Lello.
The launch event host by Livraria Lello at at the Coliseu Porto AGEAS to mark the worldwide debut of the book was attended by over 2,000 guests, and saw world famous magician Hélder Guimarães take to the stage, as well as the Lisbon Film Orchestra to perform from the original scores. Livraria Lello also included a few special surprises for Harry Potter fans!
Keep reading to find our review of the book, our interview with world-renowned illusionist Hélder Guimarães on what it's like to perform REAL magic, our visit to Livraria Lello bookstore, and our experience at The Magical Place!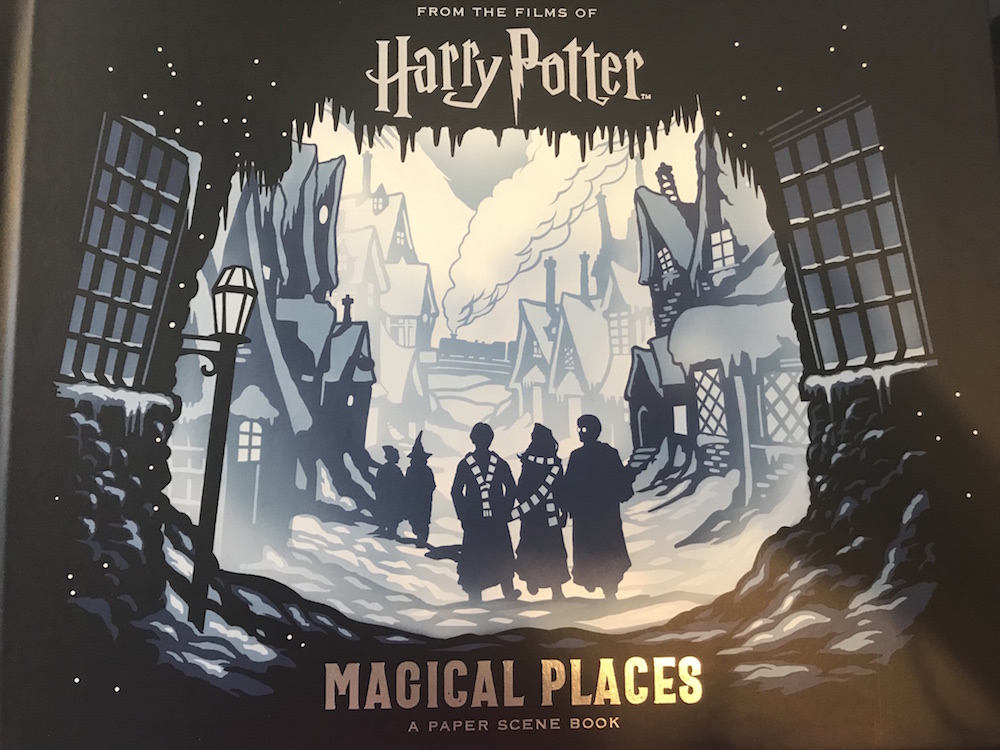 REVIEW: Harry Potter: Magical Places – A Paper Scene Book 
This 3D pop-up paper scenes book is designed by Judy Wiatrek Trum, with paper scenes created by Scott Buoncristiano, and accompanying text by Jody Revenson.
The 20-page book contains four paper scenes, and takes readers through some of the most iconic locations of the Harry Potter films, exploring the designs of Production Designer Stuart Craig. Diagon Alley, Hogwarts, The Ministry of Magic and Hogsmeade all make it into the book, as well as quotes about each location, and facts about how the sets were created in the films.
The book lists several filming locations for Hogwarts Castle, discusses the technicalities of creating Diagon Alley, and explores the influences over the design of the Ministry of Magic and importance of creating realistic snow in Hogsmeade scenes, amongst other interesting tidbits of information! The watercolour-esque artwork in this book is beautiful, and although the book isn't particularly long, it's a great work of art. The paper scenes are delicate and intricate — I've no idea how Buoncristiano managed to fit so much detail into Diagon Alley or Hogsmeade!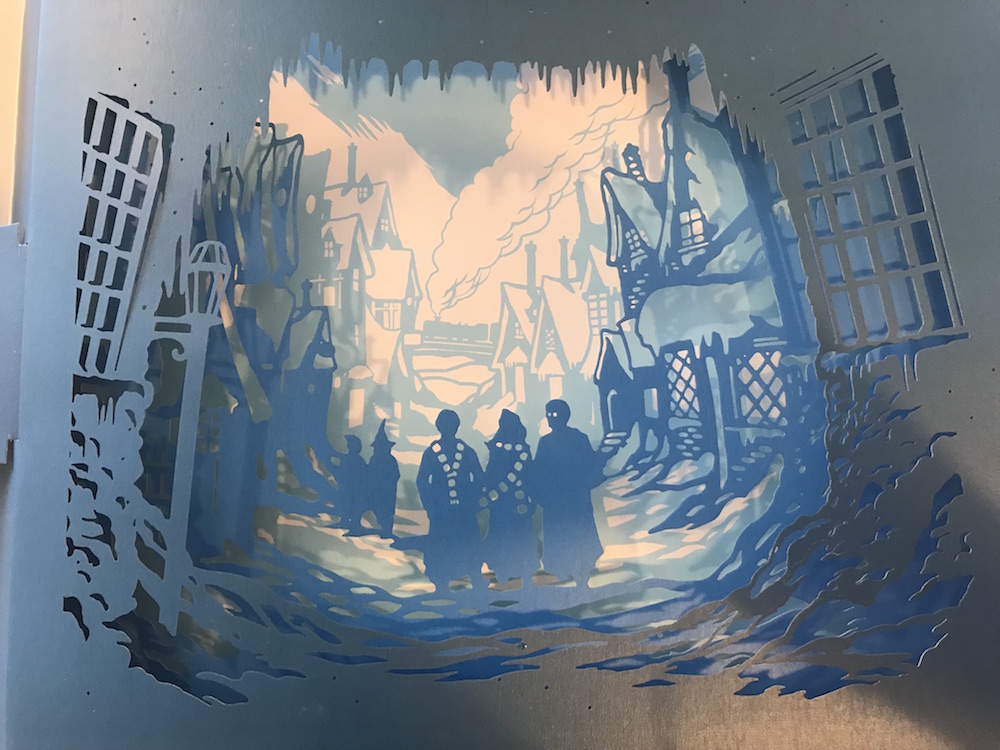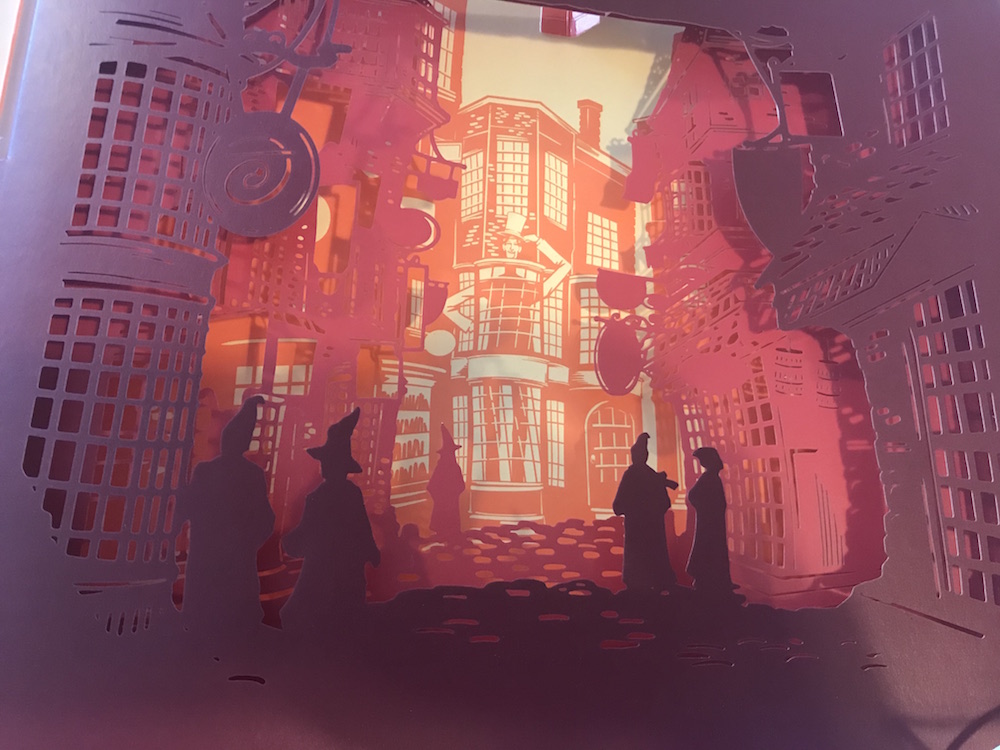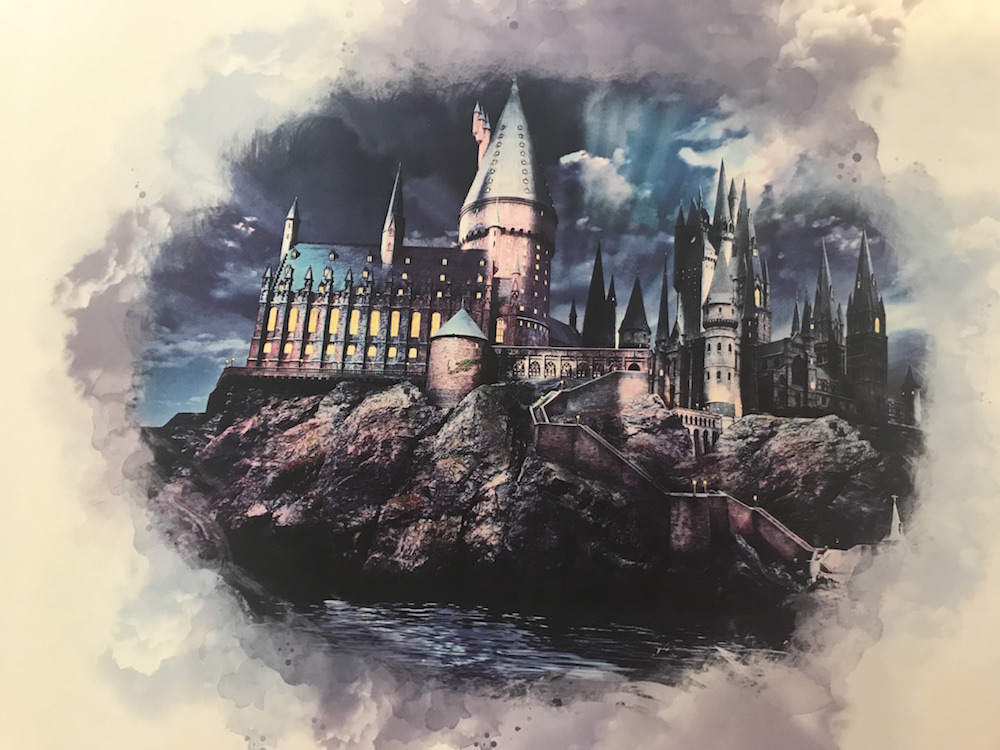 The book is available at Insight Editions, so be sure to check it out, along with other new Harry Potter books by Insight Editions.
✨To celebrate the release of 'Harry Potter: Magical Places' & #LivrariaLello's event tonight, we're hosting a giveaway of the book thanks to @insighteditions! Retweet this post & tell us your #1 Wizarding World location to enter!⚡️ https://t.co/hUsWRvTwQE #HarryPotterPaperScene pic.twitter.com/SeaTjl1qo3

— The Leaky Cauldron (@leaky) September 13, 2019
Visiting Livraria Lello
From a hidden mirror showing old lottery tickets under the bookshelves, to the (still functioning!) old book cart that used to wheel books down the track from the front door to back shelves and now holds Harry Potter books, to the magnificent staircase standing centre-stage in the bookstore – it's fair to say that Livraria Lello takes your breath away when you first walk in. A mix between a museum and fully-operating bookstore, you can see why Livraria Lello is rumored to be one of the inspirations for Hogwarts, due to J.K. Rowling's time living locally in Porto, Portugal whilst writing the first Harry Potter book.
We're officially in Hogwarts! 😍 Have you ever been to #LivrariaLello in Porto, Portugal? With plenty of first edition copies of books, including signed, first edition #HarryPotter books, it's the perfect place for Potter fans 😍 pic.twitter.com/MK7NVFZxKG

— The Leaky Cauldron (@leaky) September 13, 2019
We got to explore the bookstore before The Magical Place book launch event, and saw some marvellous first editions of the Harry Potter series (some of them are signed, most of them have the mark of authenticity!), held in a glass case with old copies of Portugal's epic poems and folk tales.
On the top level there's a hidden room behind glass doors holding precious artefacts – from original manuscripts and letters from iconic writers and artists, to the deluxe illustrated editions of Harry Potter and first-edition copies of Alice In Wonderland, you can feel magic held in the pages and walls of the room – it's truly worth a visit!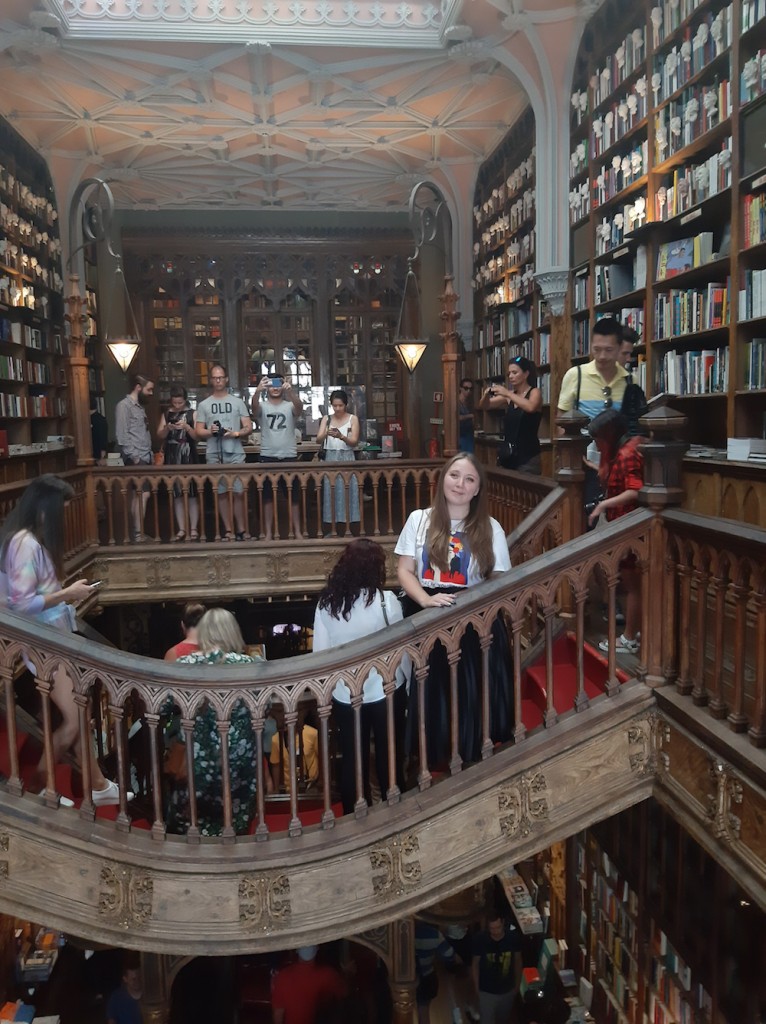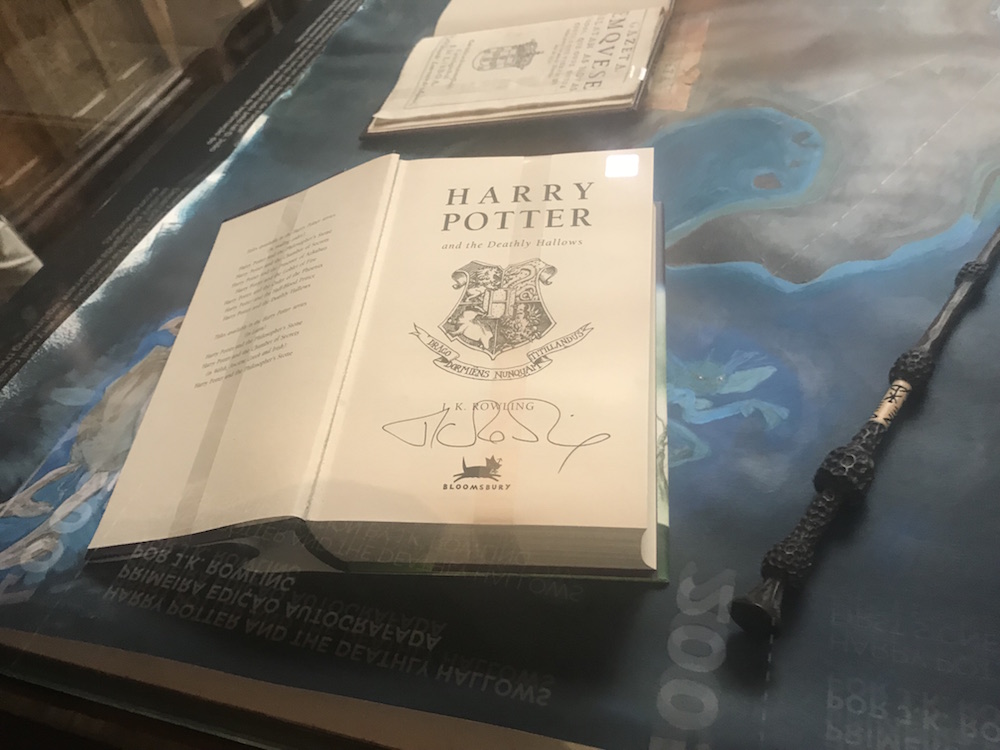 One of my favorite details in the bookstore is a fairly recent addition. Surrounding the bookstore's shelves are immaculate faces carved out of clay. The Faces of Porto were commissioned by a local artist, who spent days hand carving the faces of locals in Porto, immortalising them in the enchanting book store: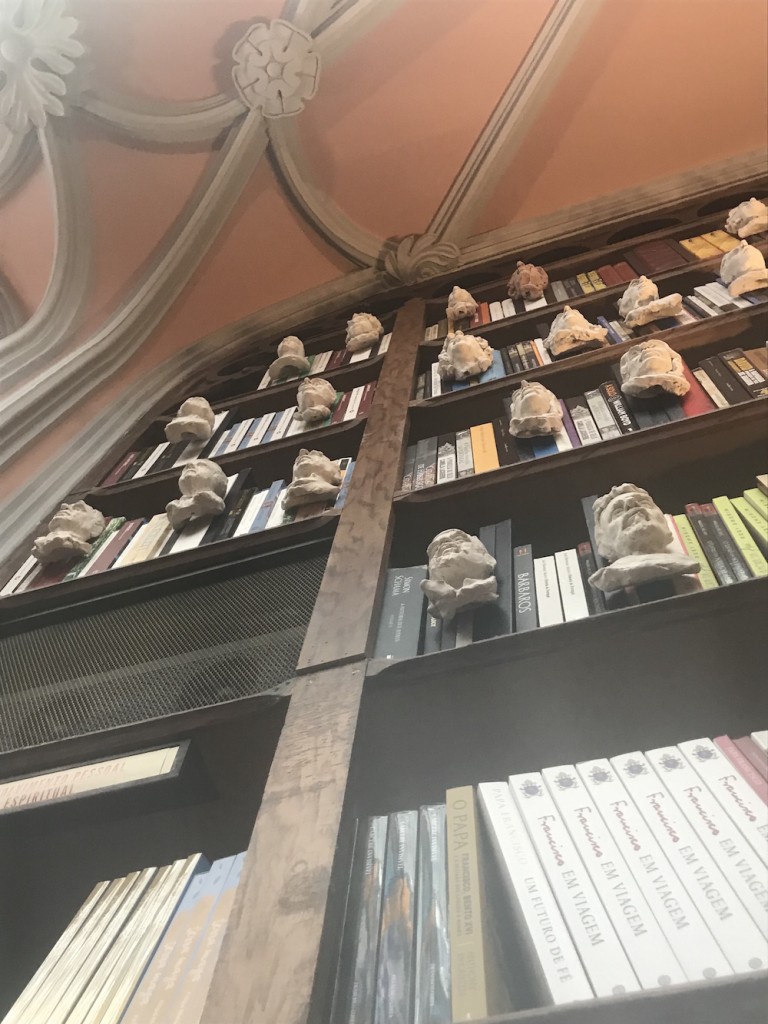 That's not the best of it, either. On the bottom level at the back of the store, there's a nook entirely dedicated to Harry Potter, with brooms, candles and snitches hanging from the ceiling – we're told it's a work in progress, and they'll be making even more exciting additions soon.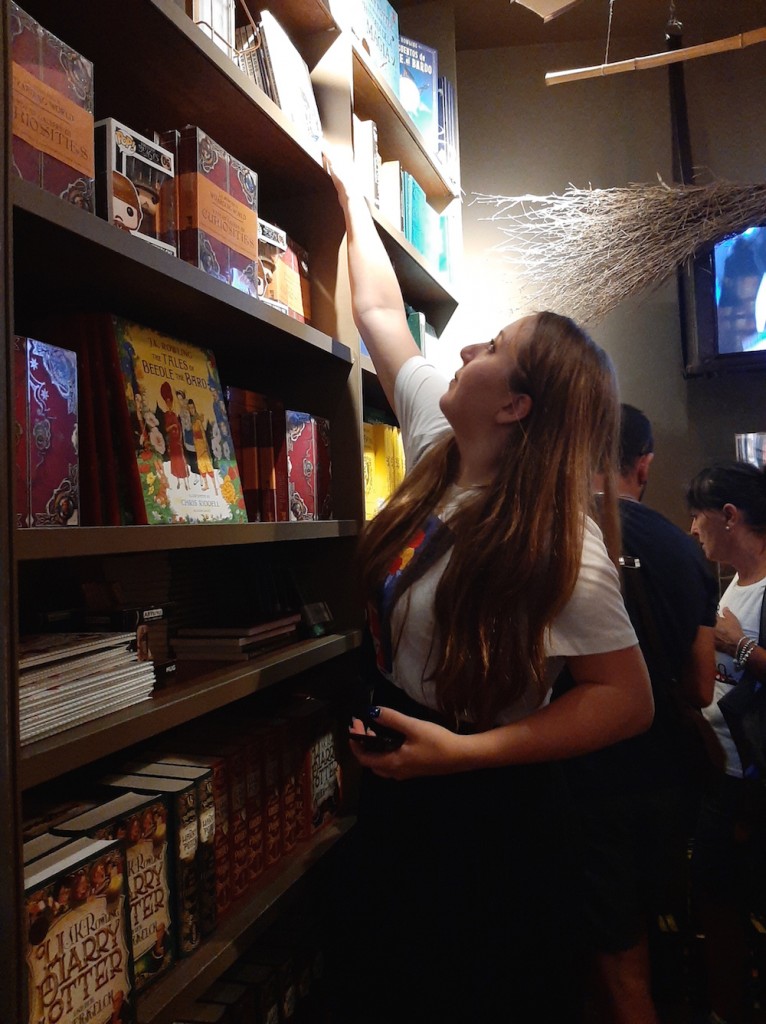 In the bookstore's secret basement are some beautiful traditional Valentine's Handkerchiefs, a Portuguese tradition of stitching love notes into handkerchiefs. In Livraria Lello, however, all of the Valentine's Notes are accompanied by old editions of classic works, including a quote from Shakespeare's As You Like It (the line actually originates with Christopher Marlowe, but it makes a pretty lovely Valentine's Handkerchief!).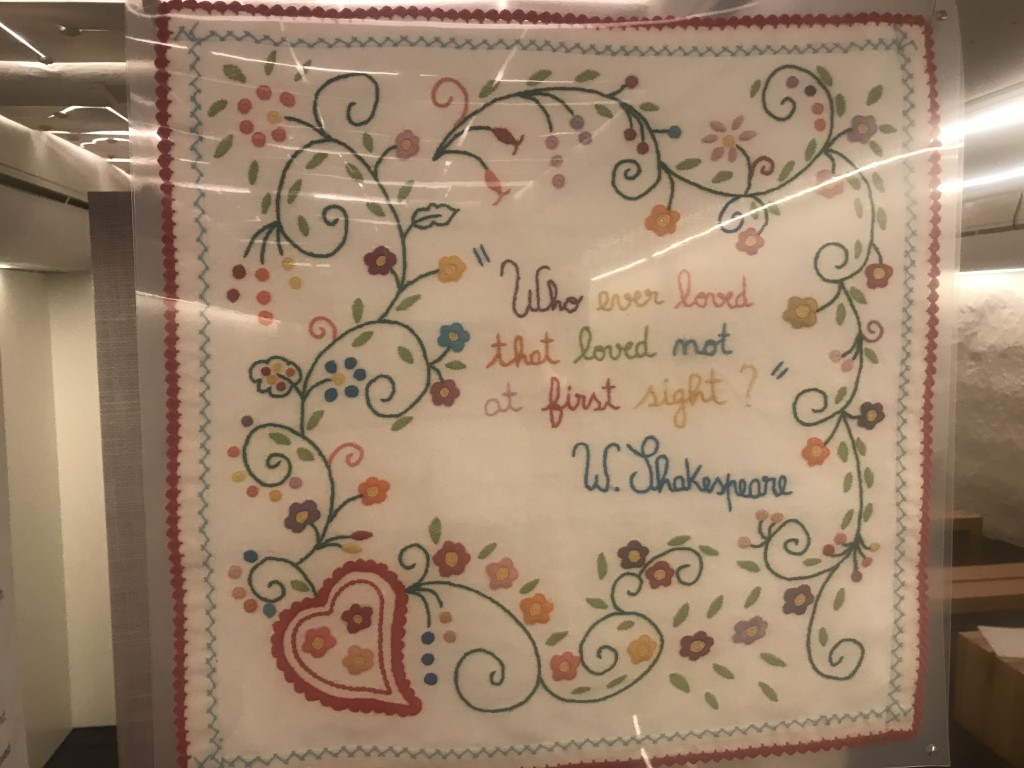 Food for the evening was provided by Muda, a beautiful restaurant in Porto that agreed to serve the signature dish for the evening in none other than a leaky cauldron!
A Leaky Cauldron is on the signature dish for #livrarialello's special Harry Potter event #TheMagicalPlace tonight! The dish is being served by Muda in Porto, Portuga, celebrating the release of 'Harry Potter: Magical Places' by Livraria Lello bookstore and @insighteditions ⚡️ pic.twitter.com/TXQmXqKbAa

— The Leaky Cauldron (@leaky) September 13, 2019
When we finally arrived at Coliseu to begin the celebrations, we were delighted to find the venue full of other Potter fans, and another cauldron:
We've arrived at @ColiseuPorto for #LivrariaLello's #TheMagicalPlace Harry Potter event, celebrating the launch of their book in partnership with @insighteditions, 'Harry Potter: Magical Places'! ⚡️#HarryPotterPaperScene pic.twitter.com/HX8MYvxu3S

— The Leaky Cauldron (@leaky) September 13, 2019
A special introduction for press allowed us to get up-close and personal with a first edition copy of Harry Potter and the Philosopher's Stone:
It's the Philosopher's Stone! AND #LivrariaLello's first edition copy of Harry Potter and the Philosopher's Stone! 🤩⚡️ Look at that stage – we're in for a treat tonight! #TheMagicalPlace #HarryPotterPaperScene pic.twitter.com/VZRM5zB38X

— The Leaky Cauldron (@leaky) September 13, 2019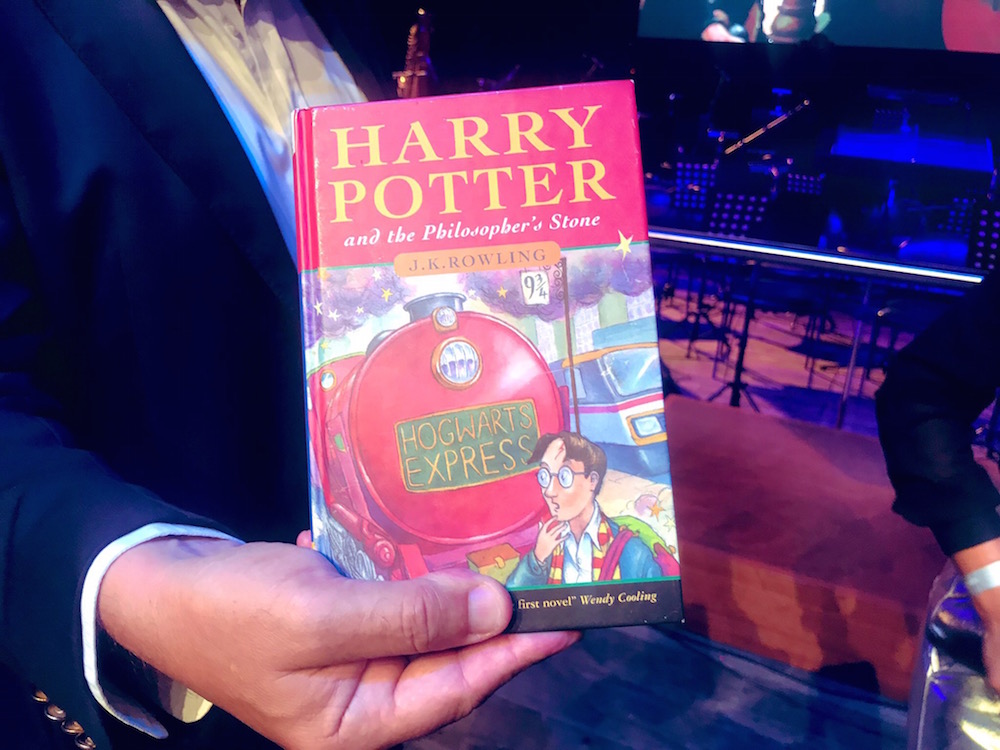 A close-up of Portugal bookstore #LivrariaLello's First Edition copy of @jk_rowling's #HarryPotter and the Philosopher's Stone at tonight's #TheMagicalPlace event at @ColiseuPorto ⚡️✨ pic.twitter.com/QZFLhYAp4E

— The Leaky Cauldron (@leaky) September 13, 2019
Prior to the main event, we were able to interview world famous, real-life wizard (well, magician and illusionist) Hélder Guimarães, on what it's like to perform magic to Muggles.
Read our exclusive interview with him below to find out how he gained the title of World Champion of Magic, why Harry Potter fans are the best audience to perform to, and how Hélder got involved in magic in the first place:
Q: How excited are you for this evening? Have you ever done anything like this show with Harry Potter fans before?
A: Very excited! No, it's the very first time I'm combining the two worlds in a show. I'm really looking forward to it!
Q: How long have you been doing magic?
A: I've been doing magic since I was four, so right now it's around thirty-four years! I started very young – my father did magic as a hobby, so he taught me – I'll talk about that a little in the performance. He used to tease me with it a little bit, so thats how I grew up. Then I started developing more skills around the area, and when I was twelve that's when I started diving in more seriously, like, "I really love this and I really want to do this as my life".
That's how it all started, so it's been a long time!
Q: It sure has! How did you get the title of World Champion of Magic?
A: There is a championship every three years, hosted in different cities around the world with an organisation. The year I went in 2006 it was in Stockholm. I was twenty-three at the time. Each presentation is ten minutes, so in those ten minutes you really have to wow them! In front of you there is a panel of around seven people who are some of the most knowledgable magicians in the world. Some of them already won the World Championship before.
Half of the audience when I finished told me they thought I was using stooges from the audience, which I never do – that's not ethical. But the magic was so strong that they were like "Oh my god, this is impossible!'". So they actually had to ask me how I did what I did for them to understand! If they weren't certain I hadn't used stooges they wouldn't classify me, meaning ultimately I would be disqualified, so I had to explain to them, and they were like, 'Oooooh!'.
At the time I knew I'd gotten something right, and went on to find out I won the award two days later!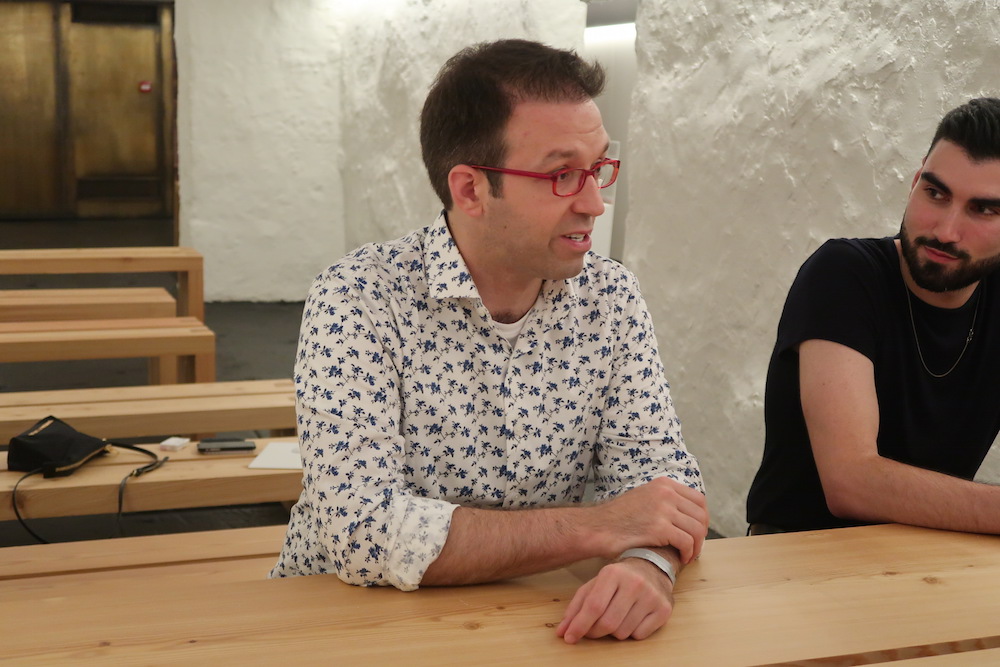 Q: That's incredible, and must've felt so great to have confused the judges! Speaking from a Harry Potter fan perspective, we're used to hearing about the fantasy magic that – unfortunately – us Muggles can't do, so do you get a lot of fans of fantasy series like Harry Potter interested in your work and moving into this line of magic and illusion?
A: I notice that there is something that connects people who love the universe of Harry Potter – the willingness to believe in what they saw when they go to a magic show. When you to a magic show there are people who go for all different reasons: There are people who go and are like "I'm going to find out how they do it-"
Q: The Ravenclaws.
A: Exactly! And there are people who go to a magic show and they are interested about it, but there's a part of them that doesn't let them be immersed in the performance because their rational side is kind of pulling them back a little bit. I get people that come out of my show and they're like, "I loved it but I'm so frustrated!", and I don't want that!
Then there's the other side, that go to a magic show and are like, "Please, make me believe". I think a lot of people who love Harry Potter are in that side. They're all like, "We want to believe it's real – that's why we read the books!".
Q: Is that better for you as a magician, and for the audience?
A: I think it's definitely better as an audience in terms of your experience. I always make this analogy: if you go to a play, any theatre play, and you see an actor playing Hamlet and every five minutes you say to yourself, "He's just an actor", you're not going to enjoy the show. The show is only interesting if at one point you enter into that universe and start to believe that person is Hamlet.
You have to let yourself go, and I think magic works exactly the same way. You have to get into that world and believe that impossible things are possible to fully enjoy the show.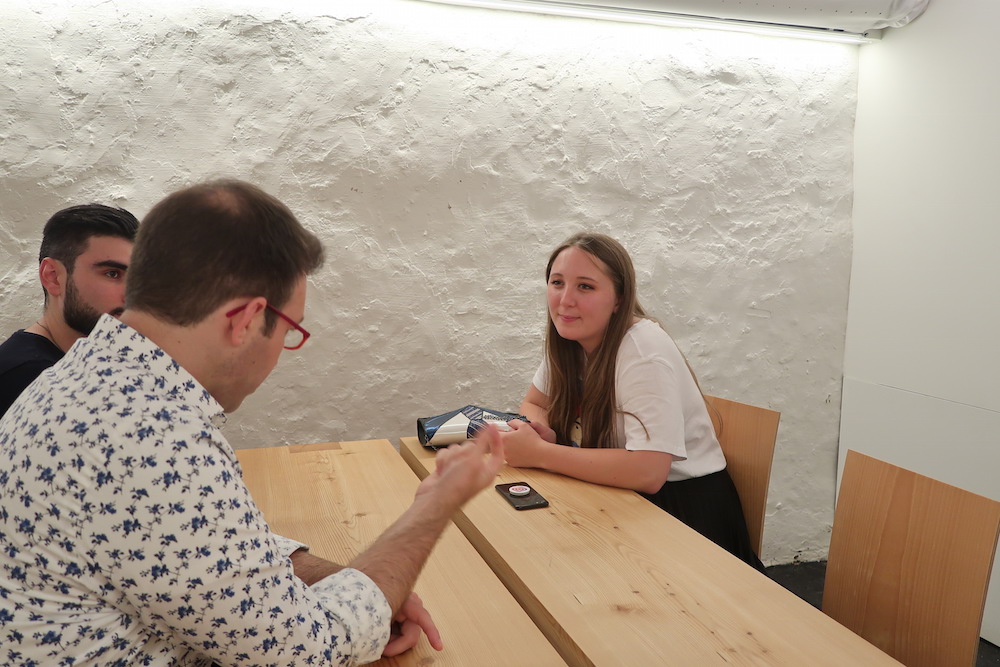 There are strategies from my side to get people there. The type of magic I start with is card magic and sleight-of-hand techniques. I build up to a point where you can start to believe. I show some tricks at first where it's like, "Oh okay, I understand how that could be possible", and then all of a sudden it gets to a point of, "Okay, he clearly knows what he's doing and I have no idea!". 
But yes, I definitely prefer it when people come to a magic show like, "Come on, I want to believe"!
Q: So there are 2,000 Harry Potter fans coming tonight. How do you captivate that big an audience?
A: I've studied theatre, so there's a part of it that is learning staging and learning how to communicate with an audience, which I think are things you may learn from doing show after show after show. But there are other things that at an academic level you learn how to make better choices than others.
I think the fundamental part of a performance like this instead of an intimate performance is how much of a story you put into it. On top of the magic you need a story when it's a larger audience to grip the attention. There's a little bit of humor, there's are visual aides, and some thematic tricks!
You can find Helder at his official website – he'll soon be touring his show, Invisible Tango and tells us he's currently consulting on shows and other projects he can't announce just yet, so be on the look out for more soon.
His performance at The Magical Place left us utterly speechless – from sleight-of-hand card tricks to audience trickery, Muggle Magician or not, he left us believing in magic!
There's sleight of hand, and then there's @thisisHelder … We're pretty sure the Ministry of Magic's after him after what we've seen tonight at #TheMagicalPlace at @ColiseuPorto #LivrariaLello ⚡️✨ pic.twitter.com/461cAYpYrH

— The Leaky Cauldron (@leaky) September 13, 2019
These cards were shuffled and chosen by audience members and all turned out the same number. HOW?! @thisisHelder is a wizard: confirmed. ⚡️#TheMagicalPlace pic.twitter.com/F0eMlqeyC3

— The Leaky Cauldron (@leaky) September 13, 2019
Remember these slips from earlier? @thisisHelder just got everybody to bring theirs up to the stage, and put them in a huge pot…. He then got help from an audience member, and proceeded to guess the word on each slip #TheMagicalPlace ⚡️ pic.twitter.com/JZx0IX5Vo8

— The Leaky Cauldron (@leaky) September 13, 2019
Until, that is, the random slip (from the huge pot!) that the volunteer put in her back pocket. When @thisisHelder opened the slip, it read 'Ford Anglia'. There's been an envelope hanging from the ceiling the ENTIRE show – and look what it said in it?! 😱⚡️ pic.twitter.com/RbB32LIIiJ

— The Leaky Cauldron (@leaky) September 13, 2019
AND THEN LOOK WHAT CAME ONSTAGE?! ⚡️🤩 #TheMagicalPlace @ColiseuPorto #LivrariaLello pic.twitter.com/npftLm8wbs

— The Leaky Cauldron (@leaky) September 13, 2019
Finally, we watched the Lisbon National Philharmonic Orchestra perform moments from the scores of the first four Harry Potter films – it was a wonderful way to end the evening!
Professor Trelawney seems to be visiting audience members! 🔮🤪⚡️ #TheMagicalPlace pic.twitter.com/Tpj2CRFBF7

— The Leaky Cauldron (@leaky) September 13, 2019
– Orchestra
The @LFilmOrchestra have been AMAZING tonight!😍⚡️🎼 #TheMagicalPlace @ColiseuPorto pic.twitter.com/eosIinrt4v

— The Leaky Cauldron (@leaky) September 13, 2019
Which #HarryPotter score is your favorite? @LFilmOrchestra performed tracks from #PhilosophersStone flawlessly tonight at @ColiseuPorto #TheMagicalPlace with #LivrariaLello ⚡️✨ pic.twitter.com/8ZyFxqcnFp

— The Leaky Cauldron (@leaky) September 13, 2019
We 🧡 Fawkes 🔥⚡️ @LFilmOrchestra @ColiseuPorto #TheMagicalPlace #LivrariaLello pic.twitter.com/v2tV1SZwfJ

— The Leaky Cauldron (@leaky) September 13, 2019
A performance of the #ChamberOfSecrets score = goosebumps! 💖 @LFilmOrchestra @ColiseuPorto #TheMagicalPlace #LiverariaLello pic.twitter.com/qBLDxaUPiT

— The Leaky Cauldron (@leaky) September 13, 2019
Is the #PrisonerOfAzkaban film score your favorite? Watch @LFilmOrchestra at @ColiseuPorto! 🤩⚡️ #TheMagicalPlace #LivrariaLello pic.twitter.com/l3LfT2wViM

— The Leaky Cauldron (@leaky) September 13, 2019
We can't thank Livraria Lello enough for inviting us to be a part of this special celebration, and Insight Editions for sending us a review copy of Harry Potter: Magical Places – A Paper Scene Book and letting us host a worldwide giveaway. Find out more about the book here, and more about Livraria Lello here!