Pottery Barn launches new Harry Potter line just in time for the holidays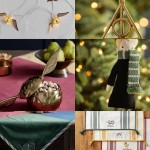 Sep 26, 2019
Here at Leaky we see a lot of Potter-themed products.  A few, unfortunately, have been poorly made catch-pennies, created without concern for quality or authenticity by companies (quite naturally, it must be said) hoping to cash on the global popularity of everything Potter-related.  But Pottery Barn has consistently wowed us with Potter-inspired collections for kids, teens, and adults that have captured the aesthetic appeal of the magical world in products that your Muggle relatives would not recognise as fan-related.  Magic in plain sight, if you will.  For example, I have these sheets and this duvet cover and shams set in my guest room and not one person has noticed anything but that they are beautiful.  I have painted the walls to match and intend to Potter the heck out of that room with lamps and mirrors and canopy, etc., when I can afford it.
The new additions to the existing Harry Potter line are aimed at adult fans and include tasselled sofa pillows in house colours, which you can purchase individually or as a collection of all four house pillows together, a golden Snitch snack bowl (one of our editors has this and loves it), house crest leather coasters, a tasselled house crest table throw, house crest (you see a theme here?) tumblers, an appetiser plate with a spell border, in case you forget any useful incantations at your party, a Sorting Hat snack server (this is a little kitschy, we must admit), holiday Hogwarts crest tumblers (my personal favourite!), along with a Hogwarts crest holiday mug, tasselled house crest placemats and coasters, house cloth napkins, a "Happy Christmas" garland, a floating candle, and golden Snitch faery lights.
Fantastic Beasts has its own collection, whose art nouveau- and art deco-inspired motifs evoke the 1920s.  Check out this gorgeous art deco mirror, elevator jewellery holder, and art nouveau duvet cover and pillow sham set.
Sister-site Williams-Sonoma also has a Potter-themed collection of kitchen tools and aprons.  This year I'll be asking Father Christmas for the Gryffindor spatula set and water bottle, cookie cutter set, house crest ice cube trays, and Hedwig cookie jar.