Harry Potter Alliance announces new campaign for justice, equality, climate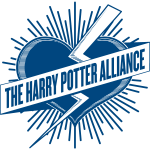 Oct 08, 2019
The courage and self-sacrifice of Harry, Hermione, Ron, Neville, Ginny, Dumbledore, the entire Order of the Phoenix, and every other character who worked to save the wizarding world, has inspired Harry Potter readers to fight for a better Muggle world.  There are Potter-themed charitable initiatives around the globe.  At this weekend's LeakyCon in Boston, there will be a panel on Potter-powered global activism—look for an update on these inspirational initiatives next week.
One of the oldest and most well-known Potter-inspired activist organisations is the Harry Potter Alliance.  Formed in 2005, "The Harry Potter Alliance is a game-changing, innovative organization that uses the power of pop culture to transform fans into activists. We bring community organizing to online and offline fan spaces and channel fans' creativity, passion, and critical thinking into making real world change. By pivoting people to action using the stories they already love, the HPA provides fun, hopeful ways for fans to become long-term activists."
The HPA seeks to "reclaim and rewrite the story of civic engagement in America and around the world," and they are succeeding:  They have over 90K members in the U.S. and 30 more countries, and have campaigned for equality, human rights, and literacy worldwide.  You can read more about their mission and achievements here.  Their fall 2019 campaign is focused on immigration, climate, and activist training.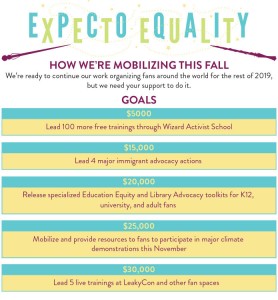 You can contribute via Indiegogo here.  The HPA hopes to raise a minimum of $20,000.  As of today, there are 23 days left in this campaign and they are about halfway to their goal.  They also have lots of cleverly captioned merchandise for sale on their website, including glasses, mugs, t-shirts, sweatshirts, and posters.