Kelsey Ellison on Creating Upcoming 'Sisters of House Black' Fan Film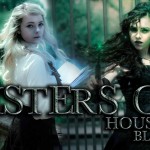 Oct 21, 2019
This week, Harry Potter fans will finally be able to watch fan film Sisters of House Black, and we sat down with its creator and star, Kelsey Ellison, to find out how she assembled a team, cast, story and soundtrack to bring her imagining of Narcissa, Andromeda and Bellatrix's story to life on screen for fans.
You may recognise Kelsey from the viral Dancing Hermione videos circulating the internet, or otherwise on her YouTube channel, where she began creating more Harry Potter content in recent years. She's been a fan of the series for decades, and Sisters of House Black brings to life a story she's been most interested in since reading the books.
Written by Kelsey and co-directed by Thomas Fisher and Petros L. Ioannou, Sisters of House Black is a fan story of the Black family sisters in the 1970s wizarding world, during Voldemort's first rise to power. The film stars Kelsey as Bellatrix alongside sister Abbi Kaye Ellison (Andromeda) and fellow YouTuber Hannah Snow (Narcissa), as well as a cast full of familiar characters such as Lord Voldemort himself (Bob Hurford), Rodolphus Lestrange (Peter Kingston), Cygnus Black (Simon Alison), Sirius Black (Tollin Pamphilon) and others.
Kelsey explained where the idea for a fan film based on the ancient House of Black came from:
'I had this idea a couple of years ago. I think I saw somebody do a fan project on YouTube, and my imagination started going wild – I was like "Why isn't there a film about the Black sisters?", because I've always been interested in that family — Sirius is my favorite character.'
'I started imagining short little scenes, but I never really went anywhere with it because I hadn't studied film, I wasn't really a filmmaker. I'd written stories in the past, but never put them out publicly. Surprisingly enough I've never written fan fiction until now. The only one I've read is one where Harry is a Ravenclaw — kinda like a cool parallel universe kinda thing.
Before Sisters of House Black, Kelsey created her own series on YouTube, stemming from her love of Harry Potter:
'I started making this series called Diaries of the Quiet Heroes. Basically I made a Harry Potter series in my bedroom, which involved researching around the First Wizarding War, and that kind of inspired me to start writing Sisters of House Black at the same time. Diaries of the Quiet Heroes was just a project to experiment with my writing, and I wanted to do that with Harry Potter because it's something that I really know and love. I want to eventually make my own original stuff but it was a great way to move toward that.
'My friend Layla played a character, but apart from that it was pretty much just me. My housemate also helped me do magic and spells, she would throw stuff at me when I cast Accio, that kind of thing! [laughs]'
She also explained why it was important to her that the story focused on the three sisters, as oppose to the males in the House of Black:
'When I started writing Diaries of the Quiet Heroes I started realising that there are so many cool female characters in Harry Potter, both on the good and bad sides, and especially Narcissa and Bellatrix. Narcissa is actually one of my favorite characters, and I thought it would be great to have them as a lead role. Obviously Harry Potter has Harry, and Fantastic Beasts has Newt, but I wanted to delve into the idea of having a female as the main character. That was another thing driving me to do this.'
Although Narcissa is one of Kelsey's favorite characters, she's really excited for people to see their imagining of Andromeda, as she was cut from the Deathly Hallows film. Andromeda will be played by Kelsey's sister, Abbi Kaye Ellison, which Kelsey said adds to the sisterly dynamic on-screen:
'I put out a casting call for Diaries of the Quiet Heroes, and my sister wanted to be in it. I was like, "Hang on, you're a really good actress and I think you'd really suit another role I'm writing!".
'Originally I wasn't going to play Bellatrix, but then when I cast my sister as Andromeda, and had somebody back out of playing Bellatrix as they went on a cruise, I was like, "You know what, let's do this, we'll have two sisters play two sisters!".'
Creating the film took the team to several locations around London to film scenes set in Hogwarts, the Forbidden Forest and further afield:
'Everything was filmed in London, mostly in North London – a place called Barnet. Hogwarts was in London, in Clapham Junction. Hogwarts was a pain to find, because obviously we had a set amount of budget for the location, and a lot of places were incredibly expensive, but we managed to find it in the end!'
Sisters of House Black also features an original soundtrack, which you can get a taste of in the trailers. Written by Kelsey and composer Matthew Pearson, it's a slightly different sound than fans are used to (for obvious copyright reasons), but still manages to feel familiar and magical:
'The soundtrack was incredibly important to me because I'm also a musician, and music is one of my favorite parts of films. Every time I watch a film I'll listen to the soundtrack after.
I had set in my mind what I wanted it to sound like. I wanted a nod to Harry Potter, but I also wanted a more Gothic kind of feel to it. It's also set as a prequel between the 60s and 80s, so I wanted it to feel a little bit older. The family are quite a traditional family, so we added some darker tones in there.
'The guy I worked with for the main soundtrack, Matthew Pearson, he really got what I wanted straight away. Every track was exactly as I'd imagined it in my head. So it was great to work with someone who really understood what was in my mind.'
As a fan, we wanted to know what the research process was like for creating this movie, especially as it's dealing with a family we don't know a huge amount about. Kelsey admitted that there was a setback thanks to mobile game Harry Potter: Hogwarts Mystery being introduced into canon, but she's enjoyed the process and learnt a lot from it:
'I've been so particular with the research on this film. I'm still terrified! I did a huge amount of research on the Black family —  but there's not a huge amount to find! I did have to give it some leeway and imagination, which was a lot of fun, especially Cygnus, Druella and Andromeda – there really isn't that much on them at all. Andromeda was really fun to write because I just kind of had free reign. We see her a tiny bit in Deathly Hallows. 
'I also had to figure out the timeline for the First Wizarding War, which again there's not a huge amount of information on, like when exactly Voldemort rose to power. I researched a lot on Pottermore, in the books, and fan pages and Wikias.
'However, I didn't play Hogwarts Mystery up to where Tonks comes into it. So I had a brief timeline of when Tonks could have been born when I was writing this, and then I found out a couple of weeks ago when Tonks was born, which completely went against what I wrote! Harry Potter fans will totally spot this,  I know how particular they can be, so we've been trying to fix it in post-production!'
Of course, research like this is no mean feat, so it will come as no surprise that she's been in the Harry Potter fan community online for years:
'I've been on the online community for years. Ever since The Leaky Cauldron and MuggleNet came out I'd be on there as a kid on these websites checking for news! Definitely an old-school Harry Potter online fan. When A Very Potter Musical came out I was obsessed. That was probably the first fan thing I found. So I've been a fan online for a long time, had a Harry Potter Tumblr at some point!'
'Maybe two years ago a lot of Potter YouTubers started springing up, and I love it! It inspired me to start doing more Harry Potter videos, because it was something I'd been a fan of for such a long time but I hadn't really expressed it on my channel, and I'm so happy I can do that now!'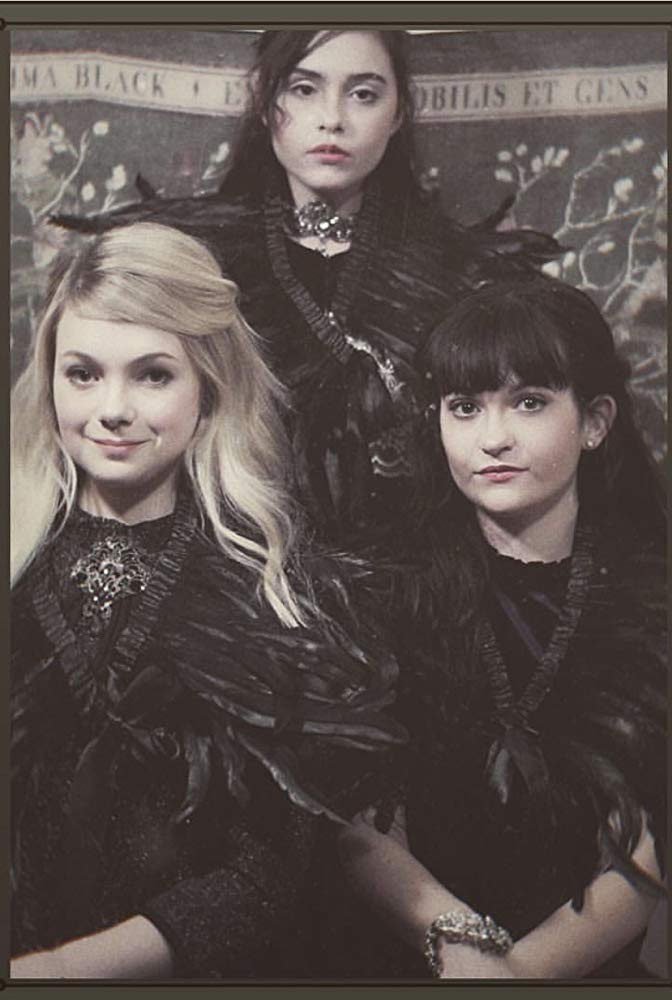 Given this experience, we also wanted to know what her and the team behind Sisters of House Black had learnt about creating fan films, and what advice they would give to aspiring fan filmmakers (because we know there are plenty out there!):
'With fan films it's different because there are a lot of legalities to work out. In terms of the creative process, I've never been to film school. I couldn't afford it, but you know what? There are so many resources on YouTube. I spent months researching how films are made and written. One of my struggles was that I wrote the story more like a novel at first, rather than a script, so I had to adapt it to fit that format. I learnt a lot on YouTube about script writing. 
'I was also really lucky to team up with Petros, who has studied film. He helped me a lot with making it into a film. I would just say that if you have an idea, write it. Just go for it. I don't know what set me off, I didn't really think it would happen, but if you never write it, it'll never happen! The hardest part is actually writing it, so when you've got that, you're sorted — there are a lot of other steps, obviously, but that's the most important!
'Keep yourself inspired. Find a community to help you, and help promote your film. Facebook is amazing, and Reddit – there are lots of groups and threads for filmmakers. Especially if you want to go down the fundraising route. Films are expensive!'
Sisters of House Black started as a fundraiser, and achieved its goal through the team's hard work, and the fan community coming together to support their idea. However, a tactical approach is necessary when funding a project based on an original work (especially when it's as big as Harry Potter is!), so heed Kelsey's advice for fundraising fan films:
'If you're going to do a fundraiser for a fan film, do a lot of research on what they allow for rewards. I think one of the reasons why our IndieGogo stayed up was that we weren't offering official merch or anything.
'For example, instead of saying they'd get Bellatrix's wand, they'd just get a wand. Things that aren't copyrighted. You have to be creative with the rewards, and make sure you're wording things so it doesn't sound like you're selling merchandise.' 
And finally, part of the fun of writing a movie is getting to hide details for viewers to go back and spot later. We wanted to know if there were any surprises in store for viewers:
'There are Easter Eggs — I'll tell you one. Grindelwald is in the film. You may also spot a familiar character in the background in Hogwarts! They're not a main character but if you look close enough, you'll know who they are…'
Sisters of House Black will premiere live on Kelsey Ellison's YouTube channel on October 24th at 7pm BST. Watch the final teaser trailer below, and subscribe to Kelsey to be the first to see when it goes live!