PREVIEW: 'Harry Potter and the Cursed Child: The Journey'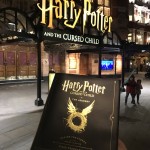 Nov 01, 2019
Harry Potter and the Cursed Child: The Journey is now available, and we're absolutely loving our copy! Take a look at some of the revelations and interviews included in the book below: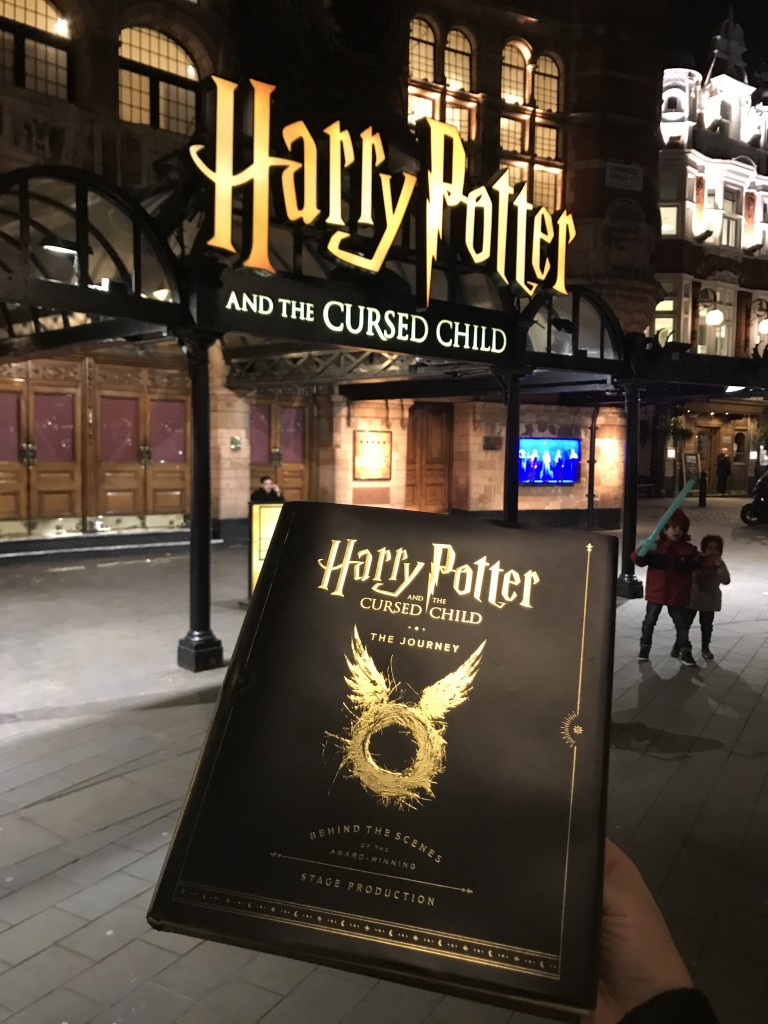 Aside from having a foreword by J.K. Rowling, who speaks of her pride in the team for having executed an idea she never would have guessed she'd approve so well, it's also designed beautifully. The theme of time is hugely important in Cursed Child, and the moon phases in the core 'H' compass and sundial-esque designs (as seen in the theaters) signify this in a beautiful way throughout the book: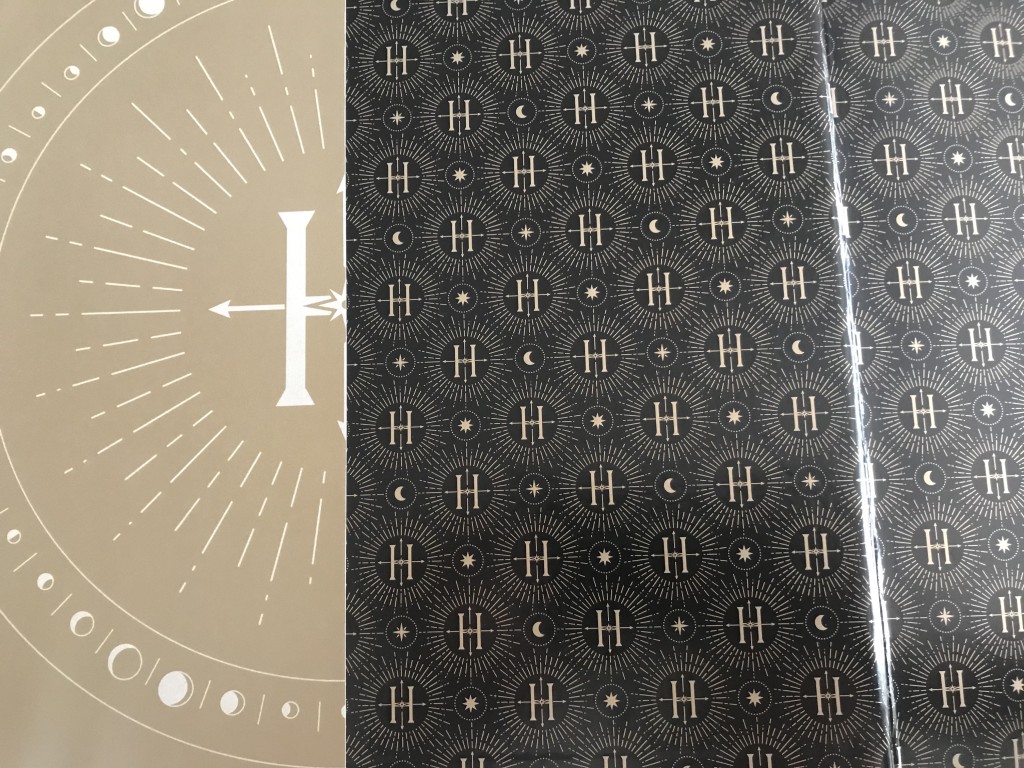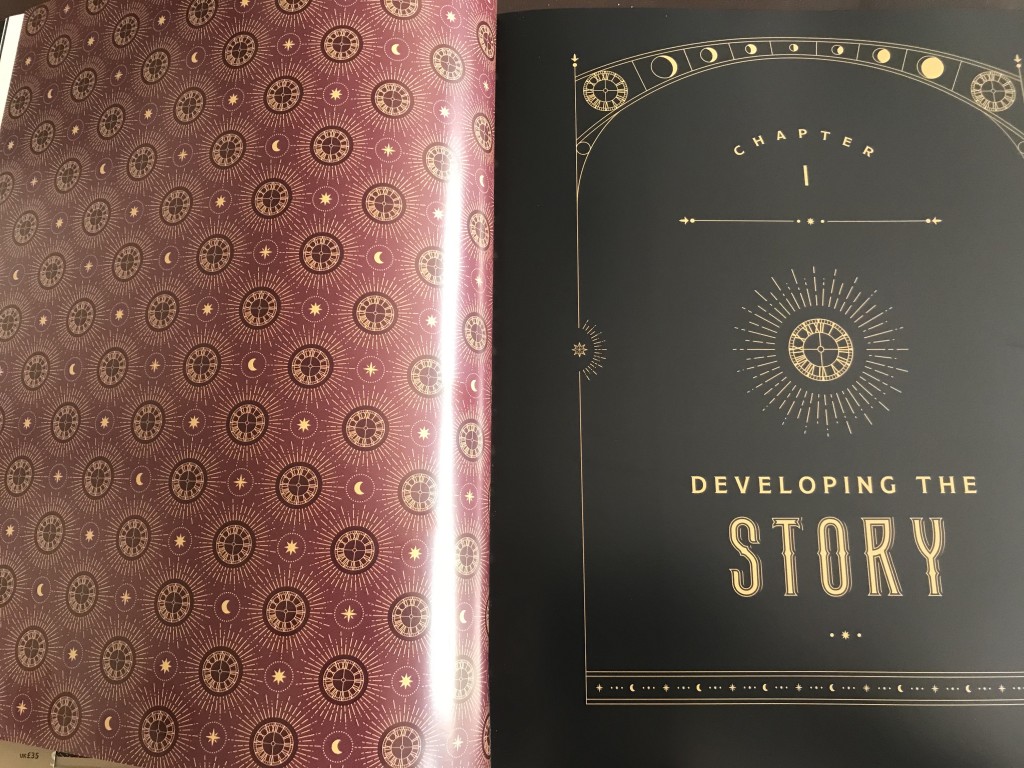 The slip case (seen above), is beautifully intricate, whilst the book's hardcover is a shining gold, just like a time turner! The book warns of spoilers, so you know it's not necessary out to #KeepTheSecrets: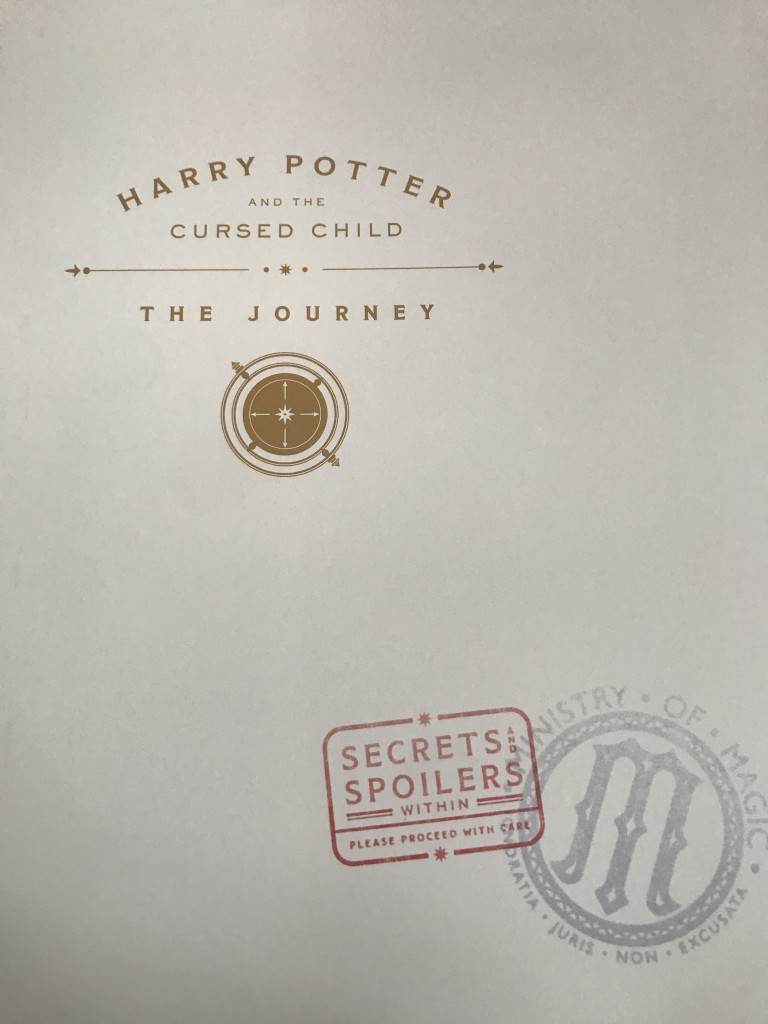 Harry Potter and the Cursed Child: The Journey takes readers on a read throughout the journey of Cursed Child from conception, all the way through to winning Tony awards after its U.S. Broadway debut and beyond. 
Photos of the creative team, play and cast are included throughout the book, many that have never been seen before.
Forming the Creative Team
Cursed Child: The Journey begins by telling the story of the play's conception, in a meeting between coproducers Sonia Friedman, Colin Callender and J.K. Rowling: "It was a meeting about parents", says Colin Callender. Running through the meeting in Edinburgh, we find out that Sonia arrived at the venue in Edinburgh having been reliving her father's death, which had occurred nearby, and connecting with Jo over feelings of loss. Jo slowly opened up to the idea of a play, and said it was Sonia and Colin that convinced her:
"I had always been quite resistant, if I'm honest, to the idea of putting Harry Potter onstage […] And I'd always said Harry's story with Voldemort is done, it's over. So it had to be something really remarkable to make me change my mind. And then Sonia and Colin came to me with a proposal that I really liked."
The first step to creating Cursed Child was to figure out the logistics & creative team. John Tiffany, having already met Jo when he was working as associate director at the Traverse Theater in Edinburgh, seemed like a serendipitous find for a director. It turns out he had seen Jo writing for hours in a café with a baby in Edinburgh many years before, and their first meeting with Jo also took place in the Tiffany Room. Cursed Child was born on coincidences and fate, it seems.
Script writer Jack Thorne was asked to be involved by John Tiffany, on the way to the South Bank Sky Arts Awards. He says he almost fell over when John put the idea to him, and later that night met Sonia Friedman at the event, where both John Tiffany and Jack Thorne won awards for Let the Right One In. Sonia said:
"We didn't talk about Harry Potter at the time, but I met this beautiful, shy, very modest, very tall man who just said, hi, hi, hi, hi."
Jack is most definitely a Potterhead, he says, and had a year and a half to get the script right, which any fan would find incredibly pressurising!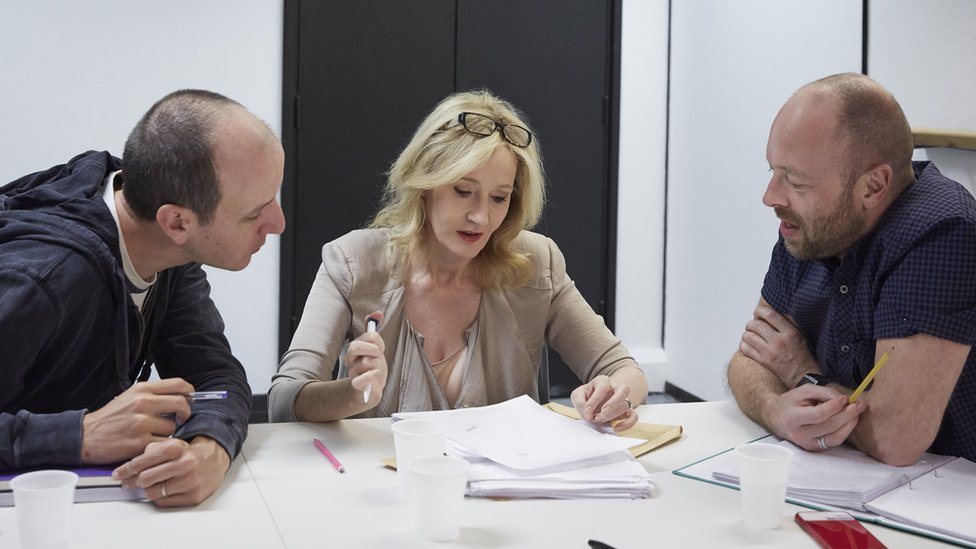 On creating the story 
The book next offers an inside look into the mechanics of making Cursed Child work. Friedman, Calendar, Tiffany and Thorne all agreed that this should take place after Deathly Hallows, and that there was something very significant in Scorpius Malfoy and Albus Severus Potter being put in the same year at Hogwarts. Thorne said:
"We wanted it to be about where Harry was now, adnd the scars that accompany him from tat time […] What happens to a kid when they don't have any parental support, and they're entrusted with the world? How do you come out of that with any sense of sanity?"
They soon figured that the book would deal with the 'emotional fallout' of Goblet of Fire, as Thorne felt Cedric's death was transformative for Harry.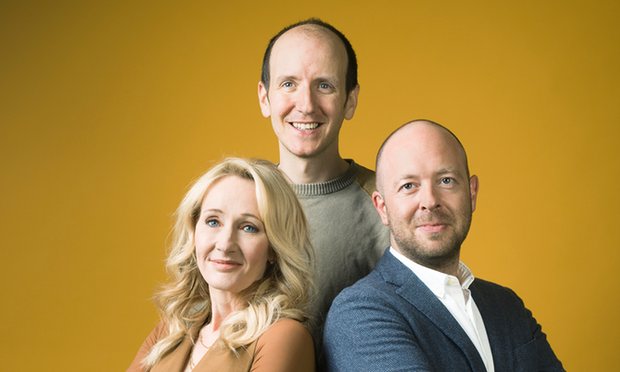 Meeting Jo
After deciding the details of the story, the Tiffany and Thorne met with Jo in her writing room, and – as is the dream of any Potter fan – got to ask her questions about the characters. For example, where exactly Hermione ended up, and deep core 'mining' to tie into Jo's idea of this story. This is also the point where they asked Sonia and Colin to split the play into two parts – the story they were crafting 'went beyond the scope of the typical stage production', Sonia says.
We're also told Jack bonded with Jo over how they "both found school excruciating", and wanted to write about fear of loneliness, fear of not fitting in, drawing on Albus voicing his concerns about being sorted into Slytherin. The theme is explored also through Scorpius Malfoy, who Jack said he wrote a lot of himself into:
"It's nice that it's turned into a celebration of the nerd. But there's also a lot of pain in Scorpius, and that was important to me"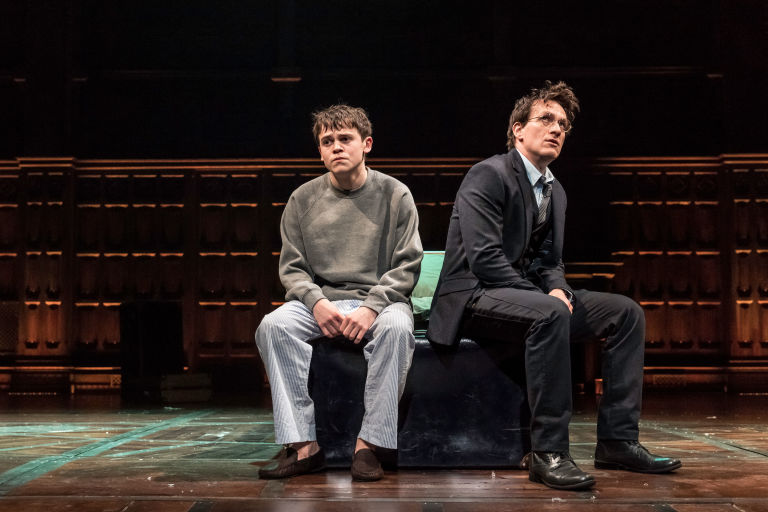 Some things that DIDN'T happen in Cursed Child:
Some of the best parts of this book deal with some of the ideas that didn't happen in Cursed Child. Friedman says on the characters they would be involving, and knowing there would have to be a purpose for these characters:
 "I wanted Dobby in it, but that didn't happen, and we talked a little bit about whether Sirius Black could be there or not" (Friedman) – had to be a purpose for the characters,
Thorne also wrote about a headmaster of Hogwarts he'd imagined after Deathly Hallows, a professor named Marazion. Rowling corrected this, said this should actually be an elderly Professor McGonagall. We see an email chain between the two dealing with this, an inside look at the construction of the play with Jo:
Thorne also explains the absence of Teddy Lupin: "We realised that we just couldn't do service to him … we reached out limit quite quickly without it feeling like cameos"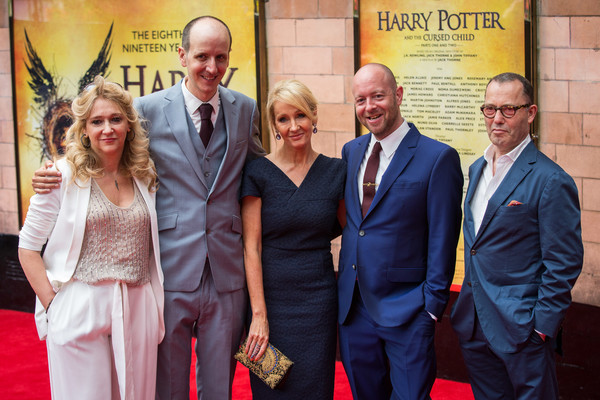 Another character who never made it past rehearsal was Luna Lovegood. Thorne said that originally, he wanted to have the smell of cinnamon wafting through the theater during elements of the story "heralding the return of darkness": they would have had Luna sensitive to the smell and in the Ministry of Magic asking "Has anyone smelt the cinnamon?". However, air conditioning made this an issue, so the idea was scrapped, and they felt Luna wouldn't be done justice.
Astoria Malfoy also appeared in the first few drafts, but the play "didn't have time to go into Draco's private world" . Thorne pitched idea of her being dead to Jo, and it was Jo who immediately gave the blood malediction idea to them, which feels very significant given that Nagini, as we know from Fantastic Beasts: The Crimes of Grindelwald , is also suffering from a blood malediction, and is known as a Maledictus!
Thorne said on making the call to cut Astoria:
"I miss the fact that we don't get to tell that story, but hopefully there's hints of her in Scorpius"
Thorne also discuss the moment Harry and Albus have an explosive conversation at the beginning of the play, in which Harry tells Albus he didn't want him as a son. Thorne took the moment out of the original draft, but says "John pushed me back to that brutal place" . It turned out, Rowling loved it. Thorne explains the choice:
"I don't think it makes him a bad man, I think it makes him very confused. He has to be in a dark place from his childhood, and that's the way of exposing it; we had to go there."
We also hear more about the process of rehearsals, from original workshops in the Century Club on Shaftesbury Avenue in 2015, to read-throughs with 'superfans':
"We had also invited some real Harry  devotees, 'superfans,' […] who weren't a part of the theater company or weren't part of the production, and who didn't know what was going to happen, didn't know what the play was or what the story was."
One interesting point mentions the use of suitcases to build sets and enhance movement. Hoggett says: 'with the theme of travel and journeying, it was no surprise that suitcases would become one of the most iconic elements of the play'. The creative team liked 'The idea that a suitcase could become a hundred things'.
We also find out that Thorne had a 'clique of Potterheads', which included Chris Jarman (original Sorting Hat / Hagrid), deputy stage manager Jennifer Tait and Imogen Clare-Wood. Drafts of the script were never emailed, but instead carried around London on memory sticks. Clare-Wood shared the fear of losing the memory stick, saying she was constantly thinking: "'I'm carrying around the eighth Harry Potter story.' It was terrifying."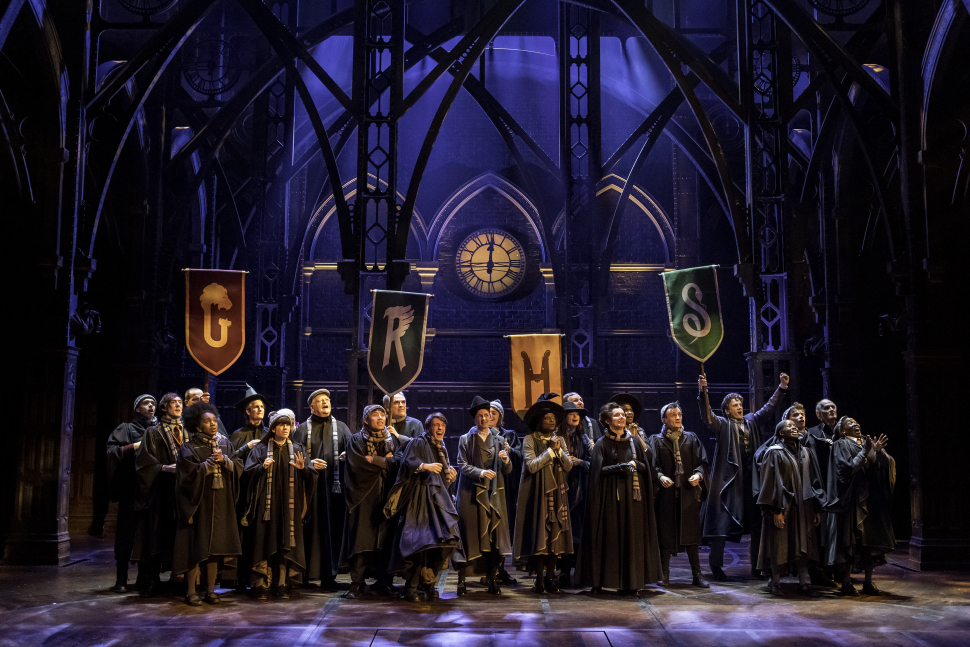 Casting
Many of the original West End Cursed Child cast had worked with Tiffany / Friedman before. Specifically on the Noma Dumezweni casting as what became known as the 'Black Hermione' casting (and turned out to be a controversial move), Tiffany said he knew he didn't want the trio to be all-white, and they "loved Noma as a performer, she just seemed to have that majesty, Hermione's intelligence and strength"
Dumezweni said on the importance of the decision: "There are so many kids of color who go, 'I'm Hermione,' because you're an overachiever, or you're from an immigrant family, or any other thing."
Scorpius Malfoy was hardest actor to find, and Callender explained why: "there's so much of Jack Thorne in him – so we really had to get it right."
The West End rehearsal room became 'something of a Room of Requirement', in which the cast were learning how to make magic, said Christine Jones. 'Introduction to Magic' was on the call sheet, during which Jamie Harrison and Chris Fisher taught the cast how to create magic on stage, beginning by teaching two or three tricks they can go home and show people:
"An important part of the first lesson is initiating the idea of keeping the secrets. "When you know how magic is done, it's inherently disappoint," says Harrison. "It's the layering of misdirection and psychology, along with costume and lighting and sound and script – that's where the magic really is. So, we have to make sure that the cast feels as protective over these concepts as we do."
The book goes on to show many of the props, casting decisions and much more throughout Cursed Child, including clippings from Thorne's research, notes from Friedman's first read-through of Thorne's draft script, sketches of the set designs, a double-page spread of Hermione's Ministry of Magic desk, as well as a double-page spread showing some of the choices behind the Cursed Child wands: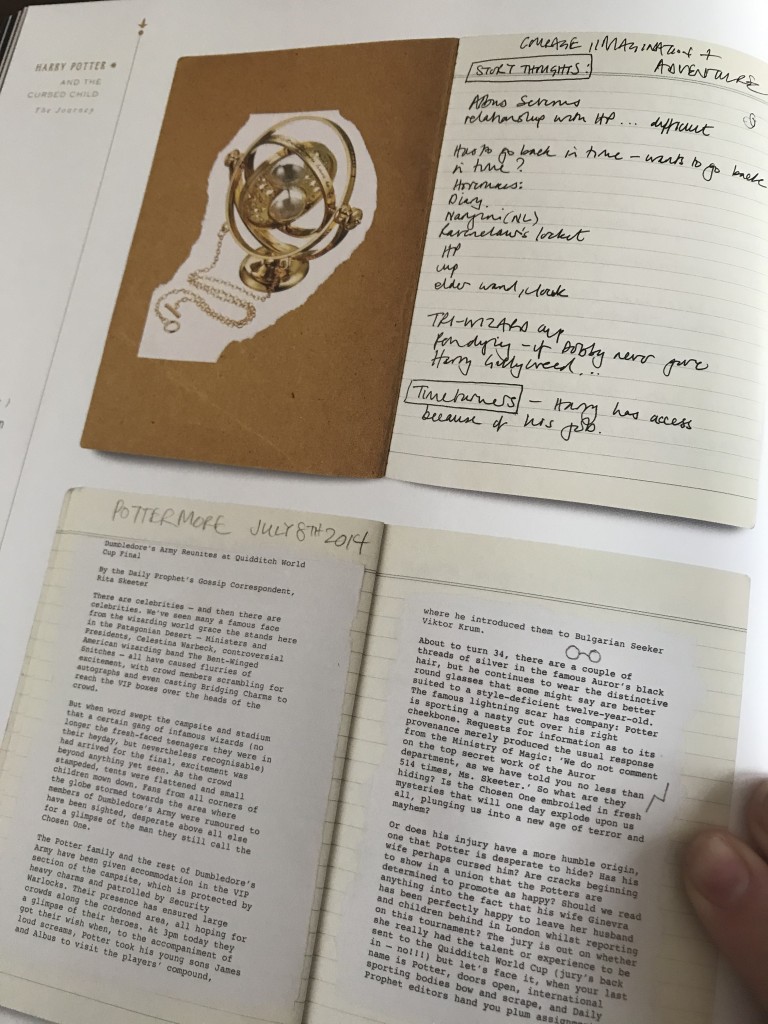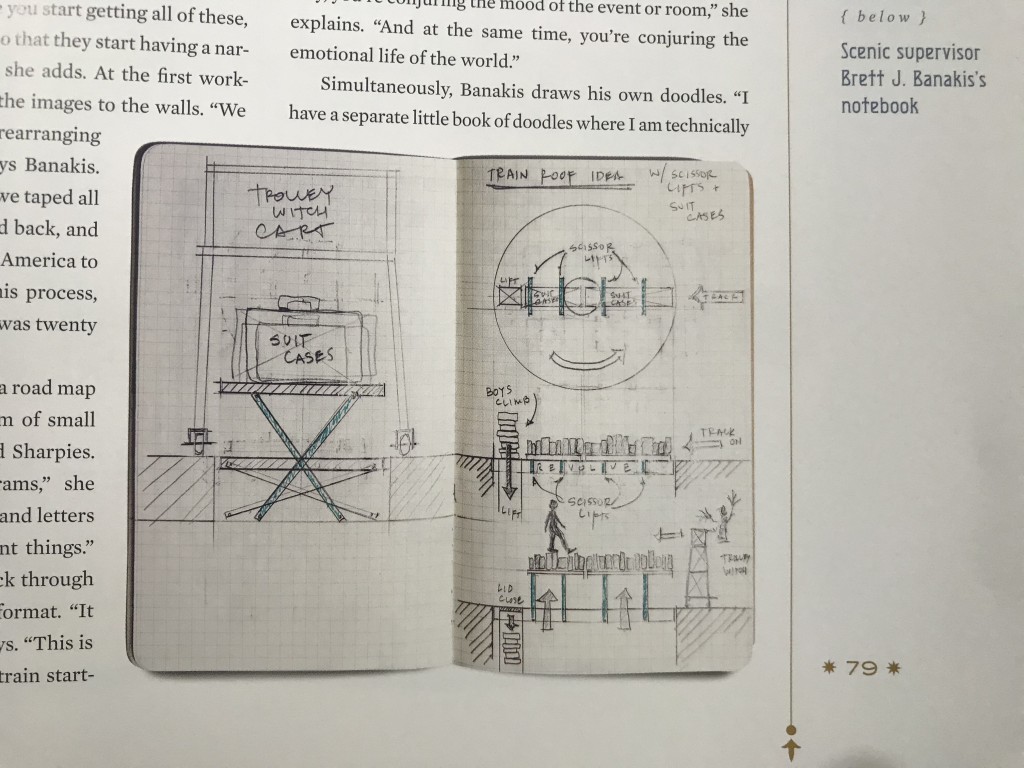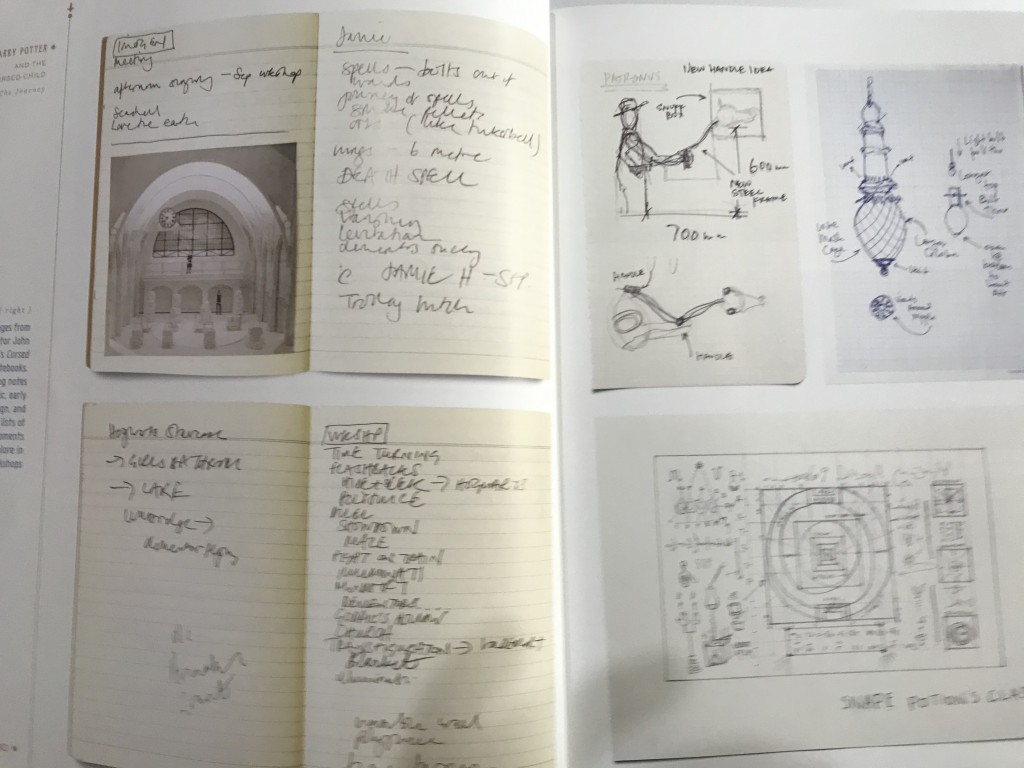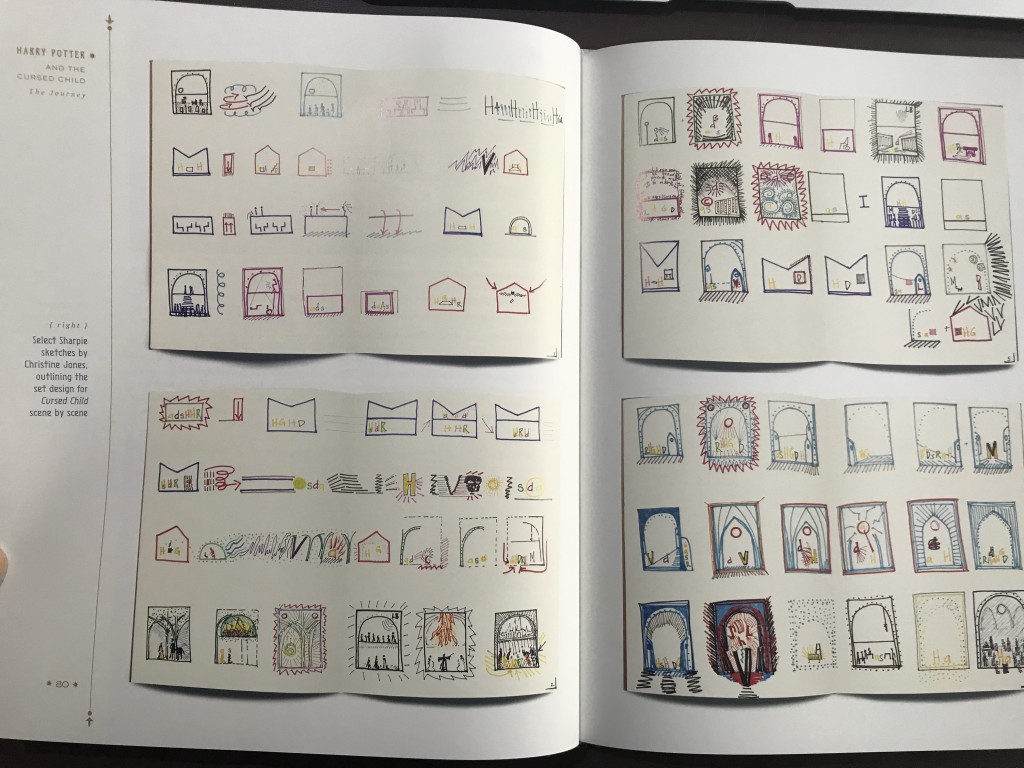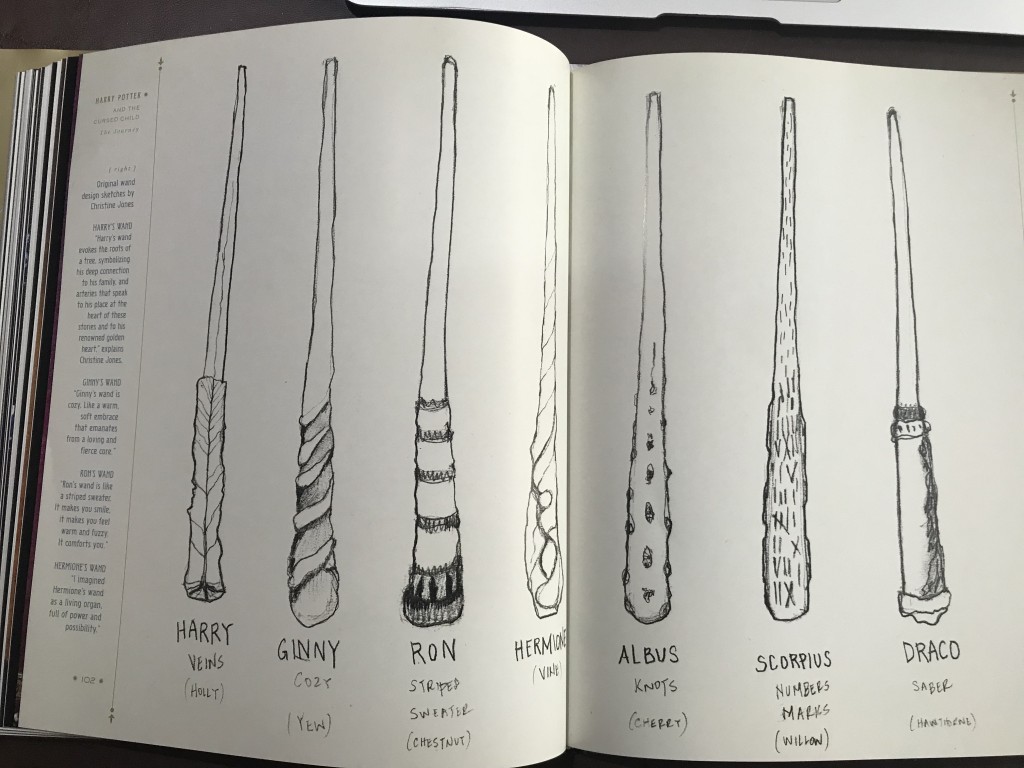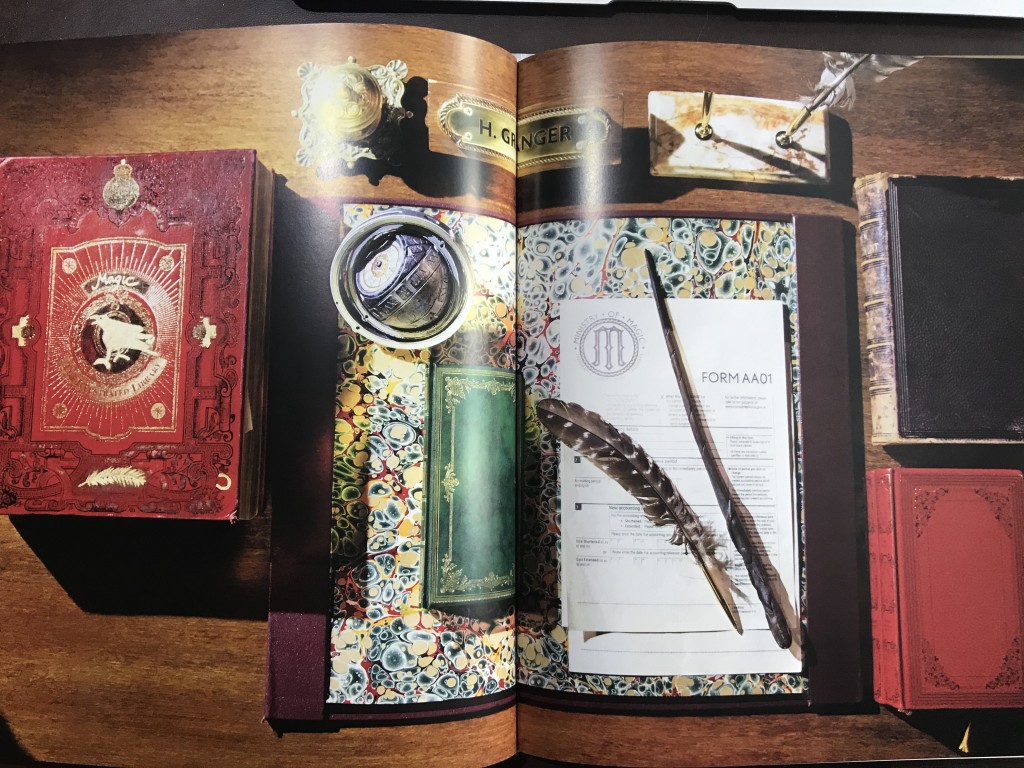 All in all, we recommend this for any fan of Cursed Child. Though the magic of the play on stage is unimaginable, this look into the technicalities of the play gives a new appreciation for the talent and mastery of those involved in creating such a visually and atmospherically pleasing show. Let us know if you've read Harry Potter and the Cursed Child: The Journey, and order your copy here!