Win Front Row Tickets to the Opening of 'Cursed Child' in San Francisco!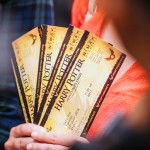 Nov 28, 2019
This weekend, Tony and Olivier Award winning play, Harry Potter and the Cursed Child, will open at the Curran Theater in San Francisco. To celebrate the arrival of the play in the San Francisco Bay Area, the production will host a citywide Cursed Child challenge TOMORROW, November 29th.
The contest will give those in the Bay area the chance to get their hands on a pair of front row tickets to Opening Day (Parts One and Two) at the Curran Theater on opening day (Sunday, December 1), as well as dinner between Parts and a copy of The Journey: Behind the Scenes of the Award-Winning Stage Production signed by the San Francisco cast.
Do you have what it takes to complete the Cursed Child Challenge? Get your wands at the ready and you just might win front row tickets to opening night in San Fransisco! #CursedChildSF pic.twitter.com/Uk69CquDKX

— Harry Potter and the Cursed Child SF (@CursedChildSF) November 27, 2019
How well do you know Hogwarts? We tested the knowledge of Gryffindors, Hufflepuffs, Ravenclaws and Slytherins in San Francisco with #HarryPotter trivia! #CursedChildSF #HousePride pic.twitter.com/Og0sNOXJO2

— Harry Potter and the Cursed Child SF (@CursedChildSF) November 7, 2019

If you'll be in the area and have some Felix Felicis handy, the competition will begin at 11:00 AM PST on Friday, November 29, with three tasks announced via the production's official social media channels (Facebook/Instagram: @CursedChildUS, Twitter: @CursedChildSF).
The posts will direct those participating in the challenge to three areas in San Francisco, where participants must take a selfie (remember your House colours and wands!), and post to their social media channels using #CursedChildSF. The first five players to complete ALL THREE tasks will win the prizes described above, so be quick!
Tickets to the San Francisco production are currently on sale through June 20, 2020, at HarryPotterOnStage.com and in-person at the Curran Theater box office.
These wands had a mind of their own. Thanks for inviting us to perform Wand Dance at @UnionSquareRink. #CursedChildSF pic.twitter.com/Ks1ho2aCVV

— Harry Potter and the Cursed Child SF (@CursedChildSF) November 13, 2019
We previously shared the San Francisco cast of Harry Potter and the Cursed Child, which includes John Skelley as Harry Potter, Angela Reed as Ginny Potter, and Benjamin Papac as Albus Potter; David Abeles as Ron Weasley, Yanna McIntosh as Hermione Granger, and Folami Williams as Rose Granger-Weasley; Lucas Hall as Draco Malfoy and Jon Steiger as Scorpius Malfoy. Get your first look at the cast here.
Good luck, Potter fans. Let us know if you're one of the lucky winners tomorrow, and look out for our coverage of the opening of Harry Potter and the Cursed Child in San Francisco this Sunday, December 1!