Italian 'Harry Potter' Cover Artist Serena Riglietti Explains The Mice On Her 'Philosopher's Stone' Cover! (Translated Interview With Fansite 'Portus')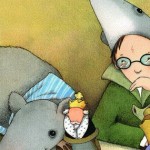 Apr 24, 2020
J.K. Rowling has been active once again on Twitter, and recently shared that she kept her copies of Harry Potter in her office, and loves seeing all the different editions and cover art. One edition in particular caught her eye: the Italian Harry Potter and the Philosopher's Stone cover art.
Rowling said the edition had always been her favorite for all its oddities and questions it raised, and when J.K. Rowling has questions, Potter fans look for answers!
This is the italian first book, first edition.
I screwed it up with a drop of coconut oil 😭 pic.twitter.com/3bDPpw4TXT

— Needle ⚔️ (@aryastarkno) April 21, 2020
I've always loved that cover because it's so odd. Why the rat head? Why the giant rat in the headscarf? I never met the illustrator, so I still don't know. https://t.co/x4aeLU5xeL

— J.K. Rowling (@jk_rowling) April 21, 2020
Of course, the first thing we did was reach out to the cover artist, Serena Riglietti. She had already agreed to interview with Italian fansite, Portus, however, both kindly agreed to allow us to post a translated version of the interview on The Leaky Cauldron – many thanks to Portus for being so gracious! (Find the original, FULL article here, in Italian and English!).
The interview with Portus covers everything from Riglietti's work on the Italian covers (and illustrations) of the Harry Potter series, and, if you read to the end, you'll find the answer to Rowling's questions: "Why the rat head? Why the giant rat in the headscarf?"!
On which of the covers was her favorite to illustrate, Riglietti told Portus a personal story that inspired the cover:
The cover I'm most fond of is The Order of the Phoenix because I finished it on the day my son Francesco was born. Since we decided to have this interview, I like the idea of telling something about my world, which totally influences my work.
It was September 2nd, 2003, the hottest summer of the century until then; actually, the temperature had been around 40 degrees for months, and I was carrying my first baby. The night before the life-guards where I go to the sea had organized a fish dinner on the beach, to end the season and say goodbye; the air was yellow as were the wind, the sun-umbrellas, and people. I felt like I was living in a yellow-toned photograph. While waiting to sit at the table I went to the shore to put my feet in the water. At some point, something touched my feet, and the retiring wave left a very small plastic child on the sand in front of me. It was one of those figurines that are used at Christmas to represent the baby Jesus in the crib. I showed it to everyone, and we decided it was a sign: my baby would be born soon. The next morning I went to the studio, I had to finish the cover of an important book . The work was almost ready, and while I was deciding where to put the red, the punctum that marks the end of all my drawings, I was pondering on the fact that, in the end, the Arabian Phoenix does not have the exclusivity of its destiny; maybe it somehow affects everyone . I was pondering that the birth of a child coincides with the rebirth of a person, who becomes a parent from that day. Therefore, I decided to add the sentence that flows behind Harry 'Refecta mea vivo mortis': Regenerated, I live my own death. I changed the sentence, removed the initial 'r', the 'v', and the last 'is' are hidden.
I wanted the sentence on the cover to find its extension even outside the book and I immediately imagined the reactions of the readers, which promptly took place. The cover was finished … just in time to realize that everything was about to happen; I packed it up and made a phone call to be escorted to the hospital, I also called the courier and told him to come and pick it up in the maternity ward.
Riglietti also discussed some of her illustrations in the books with Portus, and shared her favourites:
One of my favorite moments in The Philosopher's Stone is when Harry first sees his family in the Mirror of Erised, I found it very moving.
Instead, the illustration of that book that I love most is the first – the meeting between Dumbledore and McGonagall at Privet Drive, it was the beginning of everything, and perhaps this is the reason. Then Dudley with the pig tail … and Fluffy … but really, I liked to draw everything in the first book: I worked with my usual method, without anxiety and with a lot of creative freedom.
Portus pointed out that it has been 20 years since Harry Potter was first published, and asked how Riglietti's work has changed since working on the cover art for the series: 
I have published about 80 books with publishers from all over the world, I worked on a very famous series for Usborne, with Simon & Schuster of New York, with Grimm Press … in short, always for things I deemed important, and for a long time I thought that would have been the case for a lifetime. But then I said to myself: 'But if you drew (for Italy) the most famous book in the world, what are you still doing here?' To me, life is one with my job, and life is too short to do just one thing! Now I am a publisher of tourist guides dedicated to children, I teach at the Academy of Fine Arts in Urbino with great satisfaction, I accept works as an illustrator when I like the project very much, I make exhibitions (the last one in Italy a few months ago and before that in Washinton DC where I was selected to represent Italy) I'm preparing one for Köln in September. I worked on a series about angels, now I make oil works on Franco Arminio's poems …. in short, I don't introduce myself as the 'Italian Harry Potter illustrator', I introduce myself as Serena Riglietti, and every time I get involved as if were the first time, this makes sense to me.
Riglietti's also admitted that Harry Potter being a phenomenon also left her work open to commentary, and that those who would comment on minor details was surprising to her, saying that she often wouldn't respond to questions on the reasoning behind her work: 
Actually, being in itself a phenomenon, I believe that everyone expects to know who knows what can be behind it: many personal things, yes, but the work itself, for me, was a book to illustrate, no more no less. I often found myself reading really surprising comments, but not only for what they said, but for the very fact that someone wanted to make them. I understand that there is a whole generation that has identified with the character, and that they also considers him a bit theirs, but I also think that sometimes someone exaggerated a little. It is normal that, especially after the movie, someone found some big inconsistencies in my drawings, or that the readers' audience, growing older together with the book, at some point found my drawings inadequate to their imaginary that was evolving; but I have never had a worry about it: it is so obvious that when you do something so visible there will be someone who loves your work and others not, if you think about it, the opposite would be really strange. Let's say, however, that perhaps all this attention to every little detail (or for someone 'mistake') aroused a certain dislike of mine for the whole question more than once, so many things happened that I could write a book about it. Sometimes I received emails, even from the other side of the world, with absurd questions, I don't even think I answered all of them.
And finally, Portus asked the big question, asked by J.K. Rowling herself: why does Harry Potter play chess with a mouse and why does he wear that hat?
Harry doesn't play chess with a mouse, Harry plays chess next to a mouse, and the player on this side could be each of us behind the cover. Metaphorically, the chess game is used to tell of someone who is playing their destiny using intelligence, and this was my wish to the author of the book.
This is the cover that I drew without reading the book and knowing only that Harry Potter was a child who would have to face a whole series of tests in the magic school. One of the final tests could have put his life on the line. I was also told that students in this magic school could bring a mouse or owl with them. Nothing else!
So here is the reason for chess and the mouse:
About the mouse hat why … I'm sorry to disappoint, it's the question I've been asked a hundred times, and now that J.K. Rowling has asked it, the whole world wants an answer! Yesterday they wrote me from Brazil, from England … a lot of people would now like a very interesting answer. Except maybe the answer is not, or maybe yes, what I know is that the answer is simple:
Harry wears a mouse hat because it is one of the characteristics of my works, I like to put strange hats on the heads of my characters , I do it whenever I get the chance. I myself would like to have crazy hats! And then … in this world it is so difficult to get noticed!
After all, if after twenty years one still wonders why, it obviously worked!
So, there you have it! We absolutely love Riglietti's answer, and think it's very Dumbledore indeed to simply love crazy hats! After all these years, people are still wondering about those mice, and she's right: It worked!
A huge thanks to Portus (@Portkey) once again for allowing us to publish this translated version of their interview with Serena Riglietti (read the FULL interview here!), and a huge thank you to Serena and her team for working with us and providing translations!
Dear @jk_rowling I am aware that my cover has aroused curiosity. Moreover, after your twit, I received many messages … everybody is eager to see your question answered! : I too am pleased to answer you, and so I did in an interview and I would be happy if you could read it.

— serena riglietti (@SerenaRiglietti) April 24, 2020