Exclusive: First Look at The All-New House of MinaLima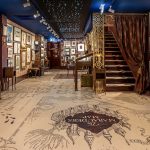 Sep 16, 2020
The all-new House of MinaLima on Wardour Street opened recently, and The Leaky Cauldron were there on opening day to explore the new two-storey gallery, and chat with Miraphora Mina herself about the move!
**Find out how to see an exclusive video with Mira, in which she shows us a hidden detail at the gallery that you could easily miss, at the end of this piece!**
House of MinaLima is home to MinaLima, the design team behind the graphic props of the Harry Potter and Fantastic Beasts films, run by Miraphora Mina and Eduardo Lima. This month, House of MinaLima moved from Greek Street, just behind Palace Theatre (home to Harry Potter and the Cursed Child) to Wardour Street.
The new gallery combines the MinaLima shop, gallery and studio in one building. As we spoke to Mira, Eduardo was upstairs in the studio working on Fantastic Beasts 3 material – this is truly where the magic is happening!
"Eduardo and I used to joke when we first opened our old studio." Mira told us, "It was only the two of us at first in this three storey building and obviously as the MinaLima team grew and grew, we had this joke where we'd call it MinaLima Tower, like some big business tower or something. But now we've got the whole of this huge building, it's actually like we've got our own MinaLima Tower!"
Upon arriving at House of MinaLima (we recommend walking up Wardour Street from Shaftesbury Avenue to see the HUGE MinaLima sign on the side of the building!), you're greeted as you walk through the door by a portrait of Mira and Eduardo, illustrated by their friend and turned into centrepieces.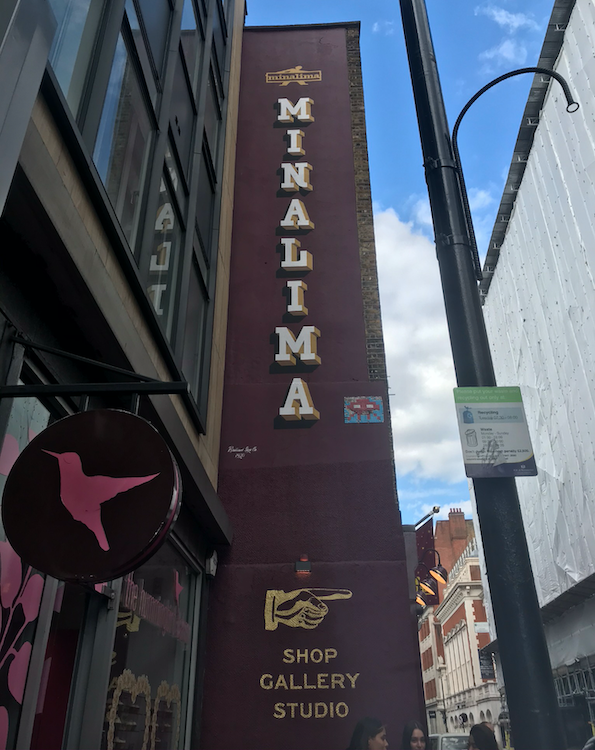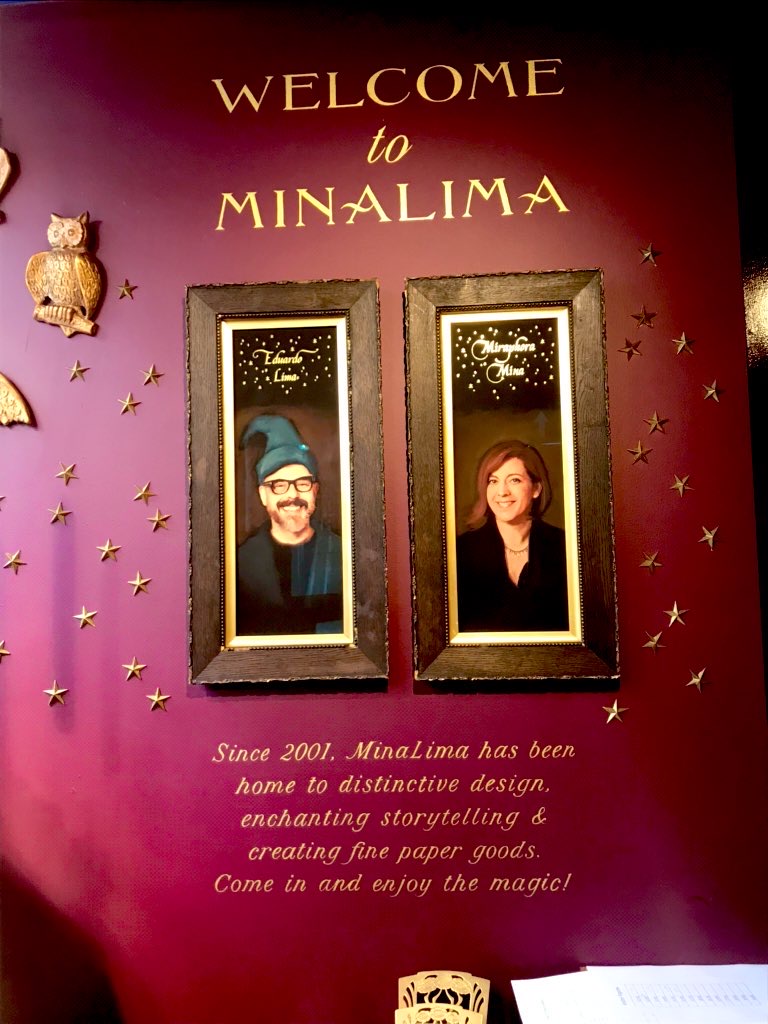 As with the previous gallery, the gift shop is the first stop, and it's truly a spectacle. With every single nook and cranny decorated and the entire room filled to the brim with notebooks, pins, tea towels, postcards, card holders, bags, badges, gift wrap, wallpaper and more, all sporting designs from either Harry Potter, Fantastic Beasts, MinaLima's Illustrated Classics series, and their Collective Noun series.
In addition to new MinaLima masks (blue and black birds from their "A Murmation of Starlings" Collective Nouns print, plus a black and white zebra mask), we've been let in on a few more very exciting new additions to come, so stay posted!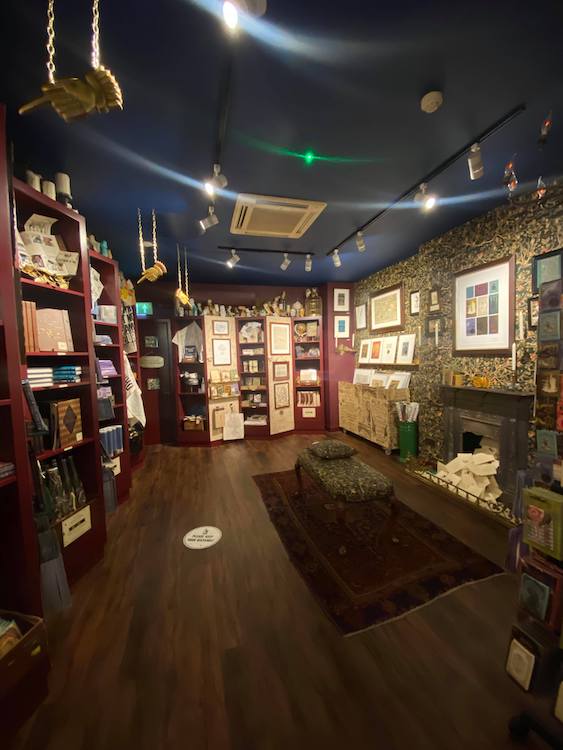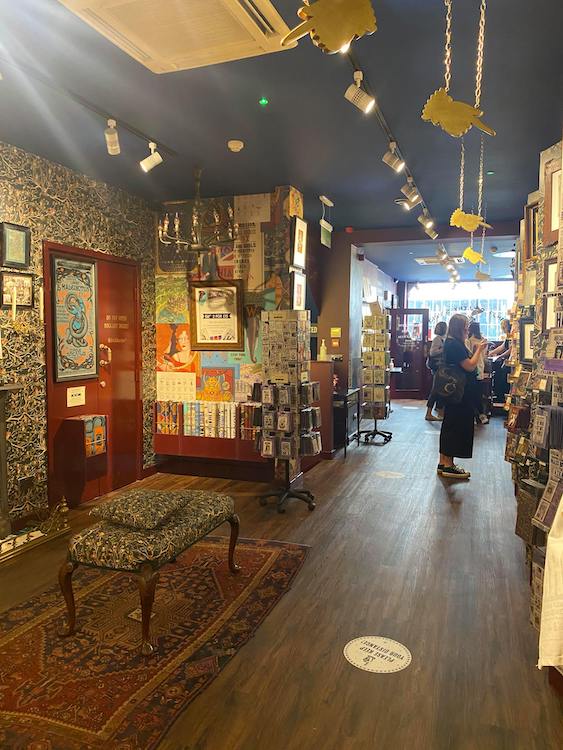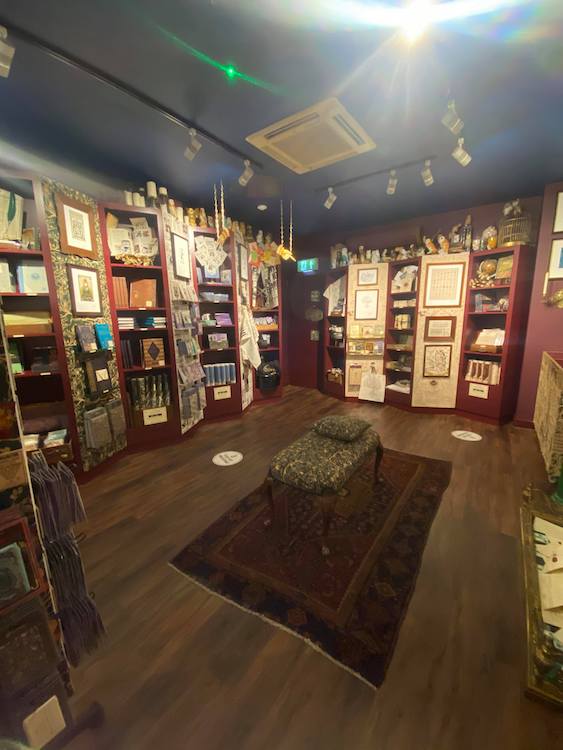 Above the shelves of the gift shop, you may notice an abundance of owls. We spoke to Mira about a few of her favorite parts of the shop, and she had a special request for fans:
"Well obviously I love the entire gallery, I've been here day and night decorating and seeing it take shape! You may notice we have a lot of owls hidden around the gallery, and on the tops of the shelves here [gestures to the owls in the gift shop]. They all have their own personalities, I think – there's more downstairs, too, so they're everywhere!
We actually thought it might be fun if guests bring their own owl in from home to go with the rest of them, if they feel like it…"
We promised we'd spread the word, so get preparing an owl ornament to donate to House of MinaLima – we expect to see the tops of the shelves FULL of owls next time we visit!
Once you've finished taking a look around, it's time to head down to the gallery, or "The vault of most wanted":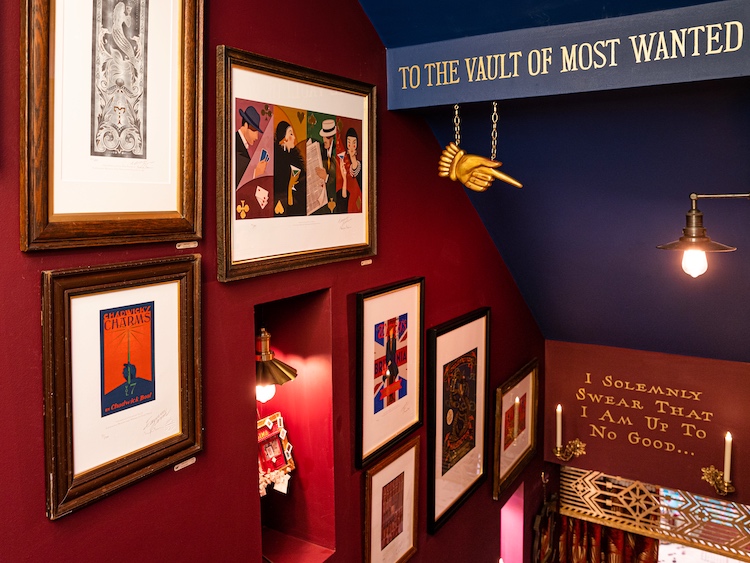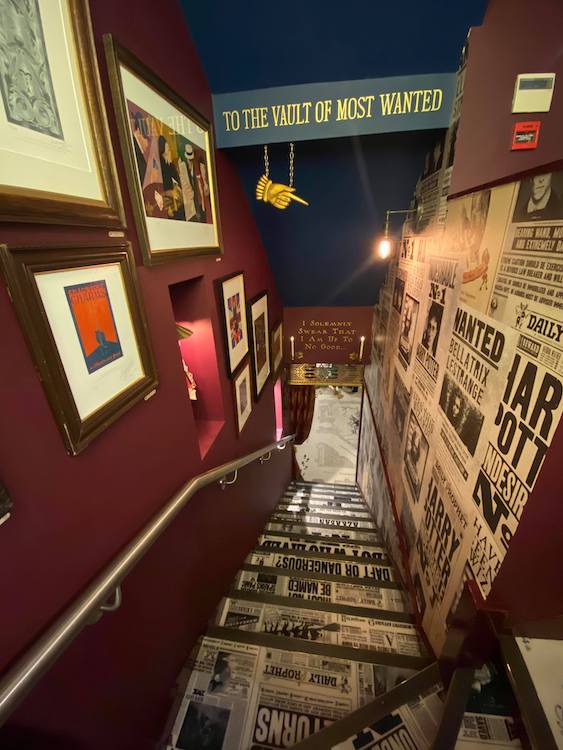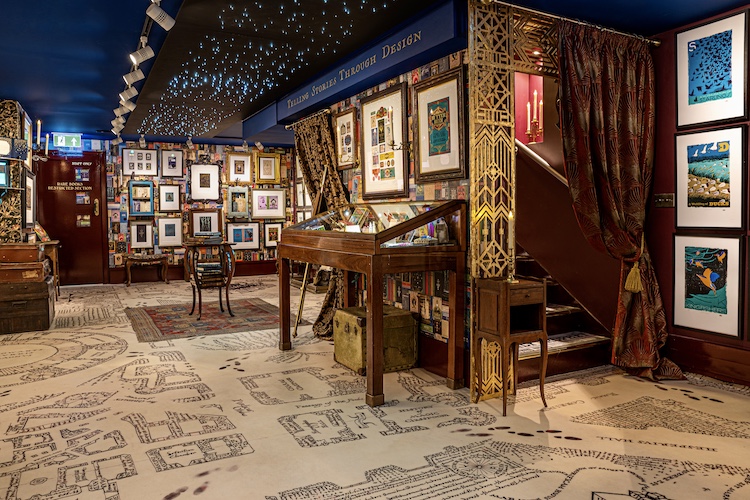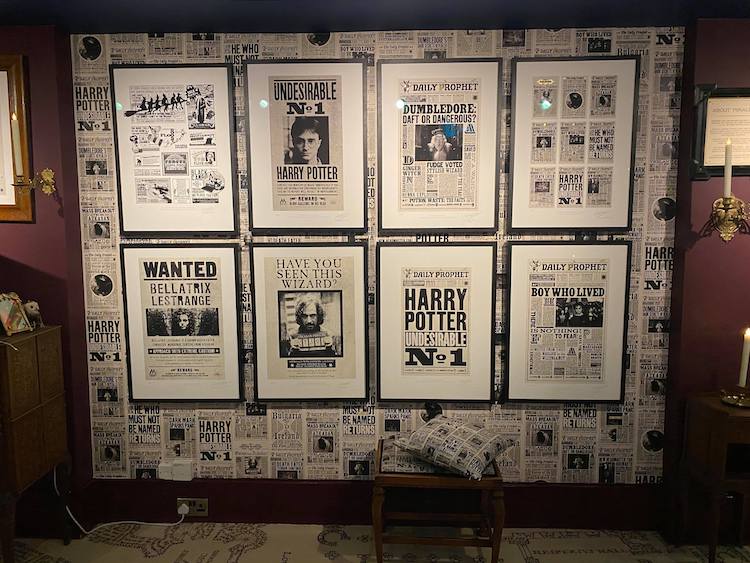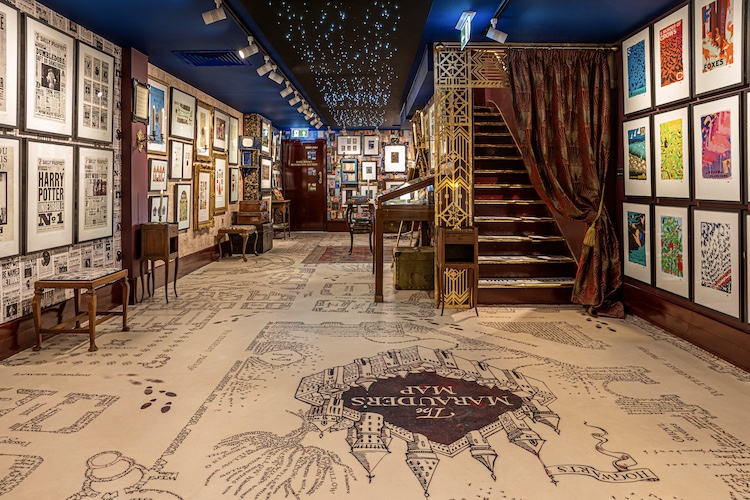 The new gallery is utterly stunning, with atmospheric twinkling lights making you feel like you've walked into a hidden part of Hogwarts, plus recognisable print on the walls and floor, Miraphora Mina tells us it's a "grown up" version of the old studio, but thankfully it's retained every bit of the charm of the old place!
"We wanted to make sure this was a place for fans, that was really important to us. Putting the fans first and making this a space they feel art home in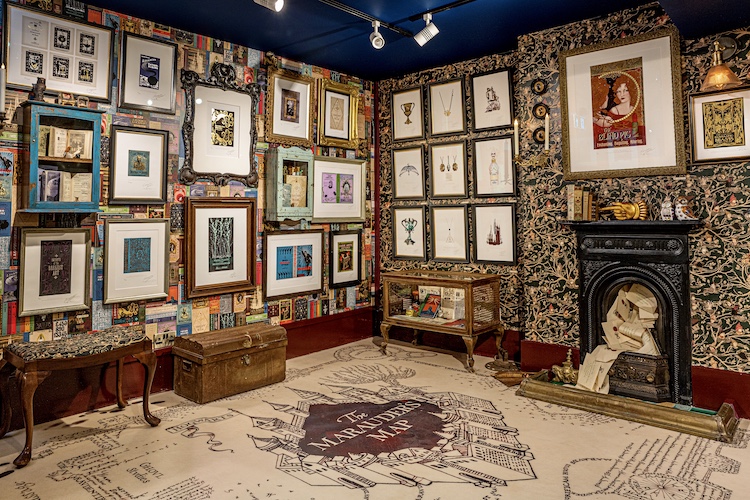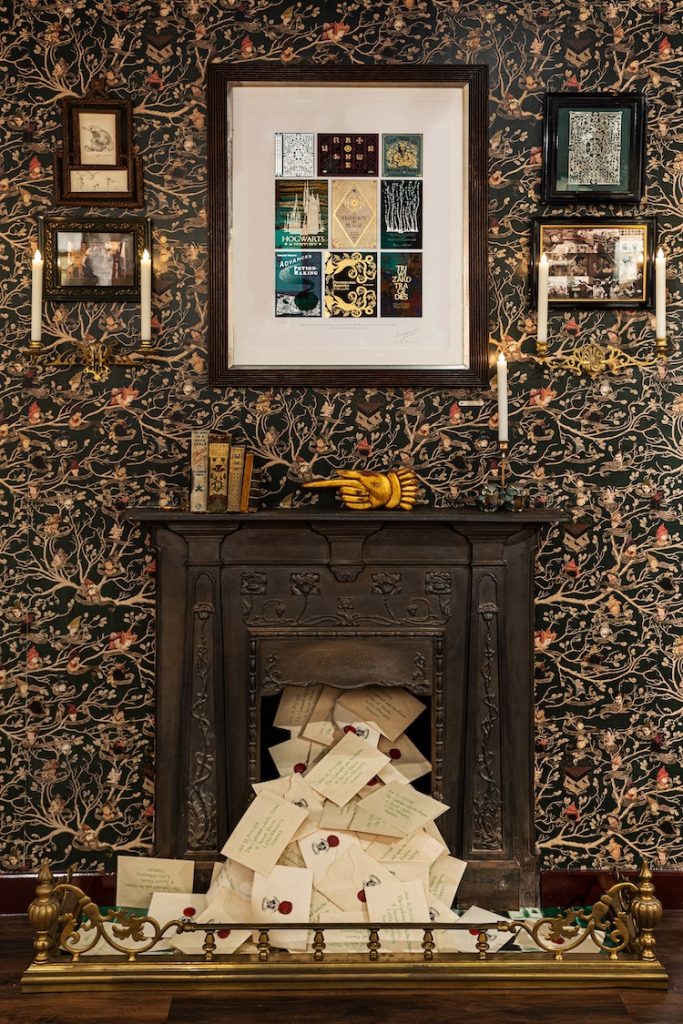 A screen in the corner of the gallery plays through various scenes and props in Harry Potter and Fantastic Beasts which showcase MinaLima's design work, and which Mira hinted would be a great place for a film night – here's hoping, once Covid-19 is long gone!
"We definitely want to hold more events, when it's safe to do so again." Mira said on future events. "Events from the learning side of things, of course, maybe some drinks and a sleepover – who knows! The space is brilliant and very cosy!"
The new gallery holds prints and work from Harry Potter, Fantastic Beasts, Collective Nouns and Illustrated Classics by MinaLima all in one room, and with more Fantastic Beasts and Illustrated Classics on the way, we were told by Mira that it's likely this space will move around and change as required, as with the old gallery.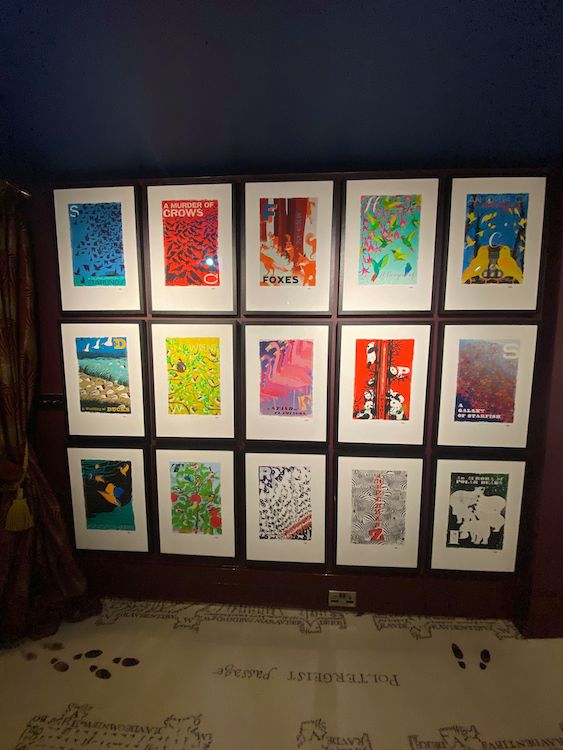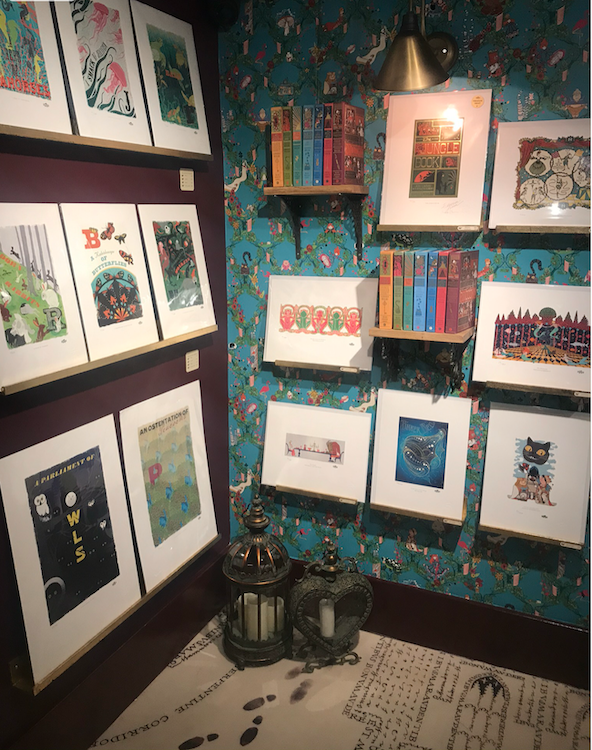 Face masks are mandatory when entering the studio (in line with government regulations), and two metre social distancing must be abided by. Limits on numbers are enforced and extra guests will need to queue outside the gallery, as a maximum of 20 guests are currently allowed at any time.
Be sure to visit House of MinaLima at 157 Wardour Street as soon as you can and feel safe to (virtual tours will also be available soon), and don't forget to bring an owl ornament (handmade, hand painted, bought in a store, found in an antique shop) for them to display! Head to MinaLima.com to see the range available in the gift shop and much more, as well as options available for international shipping.
**To see an exclusive video with Mira showcasing a hidden detail at the new House of MinaLima, subscribe to Mischief Media's Patreon, where The Leaky Cauldron will be sharing more exclusives, opportunities, and bonus content for supporters, plus get access to the Mischief Media Discord server!**