AUDIBLE and POTTERMORE add "Harry Potter and the Sorcerer's Stone to "AUDIBLE PLUS" catalog through August 4th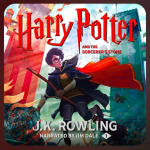 Jun 26, 2023
Audible and Pottermore today announced the first Harry Potter audiobook, Harry Potter and the Sorcerer's Stone, has been added to the Audible Plus Catalog. The Audible Plus Catalog is available through both Audible Premium Plus membership and Audible Plus standalone membership. Previously, customers could purchase Harry Potter and the Sorcerer's Stone as an a la carte purchase or for 1 credit with an Audible Premium Plus Membership, but through this limited time offer Audible members can stream the first title in the Harry Potter series at no additional cost through August 4th, 2023. Both plans are available with a free 30-day trial.
The addition of Harry Potter and the Sorcerer's Stone to Audible Plus is part of the 25th anniversary celebration of its original release in the U.S. and Canada and coincides with "Starting Harry Potter," the annual invitation for new, young listeners to begin their Harry Potter journey. Narrated by Jim Dale, the Sorcerer's Stone audiobook is among the most listened-to titles of all time on Audible. Over one billion hours of the Harry Potter stories have been listened to on Audible globally since the audiobooks were first made available there seven years ago.
"Harry Potter and the Sorcerer's Stone is a cultural touchstone, and I'm honored my performance helped make the audiobook a gateway to family listening for the past twenty-five years. Having the audiobook accessible to more families through Audible is the perfect celebration of this anniversary. My hope is that many more generations to come will find the same listening magic, decade after decade," said narrator Jim Dale.
Other beloved Wizarding World titles available on Audible include The Tales of Beedle the Bard, Harry Potter: A History of Magic, Fantastic Beasts and Where to Find Them, and Quidditch Through the Ages.