Supplies
There are many different ways to make stencils. This is the method that the author found to be the easiest.
Tank top or T-shirt
Stencil
Exacto knife
Spray adhesive
Cardstock or other strong paper to print your image on
Printer
Contact paper
Fabric paint
Small sponge or small sponge roller
Note: Use the roller if you can find one, they work best. They can be found at craft stores and other superstores
Sequins
Small plate
Cardboard big enough to put in between your shirt's front and back
Fabric glue
Stencil
Instructions
Print your stencil onto the piece of cardstock. Cover with the contact paper, trimming to the desired width and length.
Use your exacto knife and carefully cut out the image, being careful to follow the outside line.
Put the piece of cardboard in between the front and back of your shirt.
Spray the adhesive on the back of your freshly stenciled image and affix to your shirt. It wont be stuck there, so you can reposition it as you see fit.
Put a small amount of paint onto your plate and you can either use your small sponge to paint the image onto the shirt by going up and down on the shirt , or you can use the roller to get an even coat.
Let dry for about five minutes before taking the stencil off of the shirt CAREFULLY. By this time it would of set. If you don't and forget about it, it may become stuck to it.
Let the paint dry for about two hours to make sure its all set.
Set your paint with an iron set on low with a cloth in between the iron and your shirt.
Use your tweezers to put the sequins on after putting a little bit of glue on the shirt.
Now TWIRL and dance to Harry and the Potters while looking oh so Muggle like. :)
Tip
Don't dry these shirts. It will make your image last longer. Hang to dry instead.
Final Product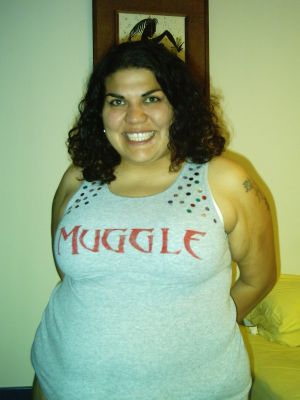 Credit
Miss Tee's stencil and tutorial were taken with permission.