The Heraldic lion vest fits someone with an actual bust/chest measurement of 42" (106.7 cm) and is 22" (55.9 cm) long
Supplies
7 skeins of Tahki Cotton Classic, Red #3488

1 skein of Tahki Cotton Classic, Gold #3549

US3 (3.25 mm) 24" (61 cm) circular needles

US5 (3.75 mm) 24" (61 cm) circular needles
Gauge
22 sts per 4" (10 cm) and 30 rows per 4" (10 cm) using US5 (3.75 mm) needles
Chart
As we didn't obtain direct permission from its creator, the chart can be found here
Instructions
Back
Using US3 (3.25 mm) needles, cast on 114 stitches in MC.
Work in k2, p2 ribbing (or whatever ribbing you like) for 2" or 5 cm (about 15 rows).
Switch to US5 (3.75 mm) needles and stockinette stitch, and work even until piece measures 15" or 38.1 cm (about 94 rows).
Armhole Shaping
On next right side row, bind off 5 sts for armhole, knit across. On next row, bind off 5 sts for armhole, purl across.
Decrease 1 at each side edge every right side row 6 times. This should leave 92 stitches.
Work even until the piece measures 21" or 53.3 cm (about 44 rows).
Neck and Shoulder Shaping
bo 8, k15, k2tog, k1. Attach new ball of yarn, bo 40 for back neck (or put on a holder if you prefer), k1, ssk, k to end.
2nd row: bo 8, p 17, move to other side of neck, p to end.
3rd row: bo 8, k 6, k2tog, k 1, move to other side, k1, ssk, k14.
4th row: next row: bo 8, p 8, move to other side, p 8.
Last row – bind off remaining stitches.
Front
Work as for back except work chart beginning after row 40 of stockinette stitch, with 30 stitches on each side of the 54-stitch chart.
Don't forget to do the armhole shaping just like the back when you get to the appropriate number of rows. You'll have a couple of rows of chart left while you do this.
Neck Shaping
In the row after you finish the armhole shaping, split the piece for the neck: k 43, k2tog, k1, attach new ball, k1, ssk, k 43.
Purl across every wrong side row. Continue to decrease 1 stitch each side of neck on every right side row until 24 sts are left on each side. (Note: This produces a relatively shallow, wide v-neck. It will look too wide until you get the ribbing in.)
Work even on 24 stitches until the front measures the same as the back.
Shoulder Shaping
Same as back.
Finishing
Weave in all ends.
Seam shoulders and side seams.
Armhole and Neck Edge Ribbing
At neck edge and armholes, pick up stitches at the rate of 2 stitches for every three rows, or whatever seems to work for you. The author picked up stitiches for each armhole, and 134 stitches for the neck.
Work in k2 p2 rib for about 1 1/2" (3.8 cm).
The author usually does V-neck ribbings back and forth with both ends free, than lap one over the other and sew them down because she likes this look. Other people work them in the round and miter the V. It's your choice.
Final Product
There isn't a picture of the finished vest, but here is the sweater: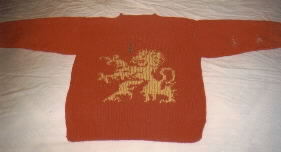 Credit
Sandi Rosner's pattern was taken with Laurie Kynaston's permission from vintageknits.com

Kim Salazar's chart was taken from knitting-and.com