Supplies
Worsted-weight yarn in red and yellow

US 5 (3.75 mm) knitting needles
Chart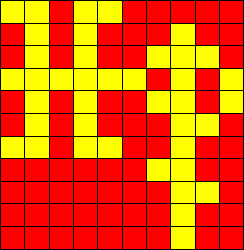 Instructions
Note: The basic wristband pattern in small 6" (medium 6 1/2", large 6 3/4") was borrowed from Stitch 'n' Bitch, by Debbie Stoller.
Cast on 32 (34, 36) stitches.
Work 3 rows in k2, p2.
Knit 4 rows in stockinette stitch, then knit 11 (12, 13) stitches in red, 10 stitches off the chart and finish by knitting to the end of the row (in red).
Continue with the chart until finished, then knit 4 rows in stockinette stitch.
Work two rows rib as before (k2, p2)
Bind of in rib pattern.
Sew up the seam
Final Product
Credit
Yamwam's pattern was taken with permission.