Supplies
Lathe

Drill

Scrap wood

Bear claw

Shark tooth

Eagle and Hawk talon

Peregrine feather

Owl feather

Epoxy
Instructions
Cut scrap wood to a 3/4" to 17 mm square and center on the lathe.
Turn handle first and afterwards drill hole for inserting magical objects into handle.
Turn the tip making sure to have the end of the tip the exact measurement of the hole drilled into the handle.
Then use epoxy and magic and seal the tip to the handle.
Final Product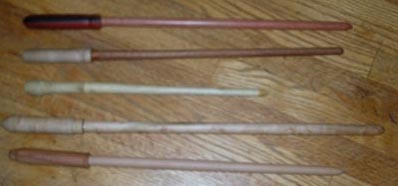 Credit
© John McCue's tutorial was taken with permission.