Theater Round-Up: 'Cursed Child's' James Snyder Hosts First 'Magic to Do' Episode and Upcoming 'Light in the Darkness' for Lumos!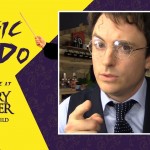 Jul 09, 2019
Harry Potter and the Cursed Child dominates this week's theater news as the casts from Broadway, London and Melbourne fill headlines once again.
James Snyder hosted his first episode of the Broadway.com vlog "Magic to Do," while his Cursed Child costar Nicholas Podany appeared on #LiveatFive. Snyder picked up another hosting gig, emceeing the upcoming variety show "Light in the Darkness," a Lumos charity event which will also feature the Broadway cast.
In London, the fourth year cast settled in after their May debut, and new production photos confirmed the magic is alive and well on the stage of the Palace Theatre. A couple continents away, the Melbourne cast is prepped to perform an exclusive montage for the Australian Helpmann Awards.
Neil Gaiman also announced that Cursed Child playwright Jack Thorne adapted his comic book series The Sandman for Netflix. And in the only throwback to the original Harry Potter series this week, film alum Evanna Lynch returns to the stage in Games for Lovers at The Vault.
Read on for more details!
Harry Potter and the Cursed Child Broadway
Episode 1: "Magic to Do" with James Snyder
Last week, Leaky reported on Broadway.com's new vlog featuring Cursed Child star James Snyder. Snyder, who fills the titular role of Harry Potter, will host the "Magic to Do" show every Thursday for eight weeks. Episode one aired on July 4, and it was quite an entertaining introduction!
Snyder took viewers into the WHAM (Wigs, Hair and Make-Up) room backstage, all the while maintaining a steady stream of banter as make-up artists applied his scars and wig. He also took the vlog into his dressing room, where he prepped for the evening show by donning his now-iconic costume, complete with blue vest, blue trousers, blue pocket square and blue tie. Oh, and of course, Harry's round spectacles!
He also performed some "mediocre moments in magic" with Diane Davis (Ginny Weasley)–not to be confused with the magical stagecraft pulled off in the production–let's just say the emphasis of this bit is Snyder's wacky comedic showmanship, which pops up throughout the piece.
Snyder does introduce the play's new Rose Granger-Weasley, Nadia Brown, toward the end, and the two have a delightful little chat!
The vlog clocks in at just under 10 minutes and is well worth watching. It definitely has us wondering what Snyder will do in the second episode, which comes out this Thursday, July 11.
Watch episode one below!
#LiveatFive with Nicholas Podany
James Snyder isn't the only Cursed Child star to appear on a vlog this week–Nicholas Podany, Broadway's newest Albus Potter, was the featured guest of Broadway.com's #LiveatFive on Tuesday, July 2.
Podany revealed that he was a childhood fan of J.K. Rowling's book series about the boy wizard who would be the Chosen One. He and his mother began Harry Potter and the Sorcerer's Stone when he was six and finished the final book, Harry Potter and the Deathly Hallows, after it came out. Podany was 11 at the time, and he remembers his mother making the offhand comment that he could play Albus someday–in a magical twist of serendipity, the remark turned prophetic.
He was a full-fledged Potterhead, and his immersive experience with the books set him up to pursue a career that would stay true to the course. Podany said:
"My mom would read to me the books, and she's originally from England, so she would do all the accents. That's how I started learning dialects and is what got me into acting. She was doing these stories and I wanted to do that, too. I wasn't very good at sports and I had all this energy so my parents put me to acting."
Podany took on a variety of roles as a young actor and eventually ended up at Juilliard. Though he admits he wasn't keen on attending at first, the audition process won him over completely, and he came to love the school and its teachers, calling it "the best four years."
Now he has the privilege of starring in one of the most successful productions ever, and as one of the most interesting characters currently on stage. And while others might have found taking on a well-mined role daunting, Podany has found a way to put his own spin on Albus Potter, observing:
"I found during the audition and rehearsal process that Albus is often depicted as an angsty, angry, upset guy. I started looking more into his Weasley roots, especially into Ginny, who's one of my favorite characters. That's his mom, and although they don't have many interactions in the play, I think the silence between the two of them speaks miles more than the dialogue Harry and I have. Albus is an introvert born into an extroverted family. I love playing and learning more about him."
We look forward to seeing him do just that, and as he will be starring in the play for awhile yet, he has ample time for it!
Watch Broadway.com's #LiveatFive interview with Nicholas Podany below!
Cast to Perform at "Light in the Darkness"
The Broadway cast is set to perform at "Light in the Darkness: A Variety Show," hosted by Cursed Child's own James Snyder. The show, at the Birdland in New York City, will take place Monday, July 22 at 7 p.m.
All proceeds from the special production go to support J.K. Rowling's Lumos Charity, so for ticket information, visit Birdland Jazz here!
Harry Potter and the Cursed Child London
First Look Images of Fourth West End Cast
The latest cast of Cursed Child London, the seat of the production's first incarnation, is making a home on stage since officially taking up residence at the Palace Theatre on May 22. And though the play is now in year four of its run in the West End, Leaky reported that many of the year three cast members chose to stay on, making this a smaller changeover than some.
Thomas Aldridge (Ron Weasley), James Howard (Draco Malfoy), Jamie Ballard (Harry Potter), Susie Trayling (Ginny Potter) and Jonathan Case (Scorpius Malfoy) all elected to remain in their previous roles. So, of the primary cast, they welcomed just three new members: Michelle Gayle as Hermoine Granger-Weasley, Rayxia Ojo  as daughter Rose Granger-Weasley and Dominic Short as Albus Potter.
At the time, Playbill shared official cast photos of the actors in their wizarding attire, but now WhatsOnStage has released first-look images from the production itself! And while the set may be quite familiar to many of them, any time the cast changes, there are new dynamics in play, and it's fantastic to see how well they all mesh in these magical pictures.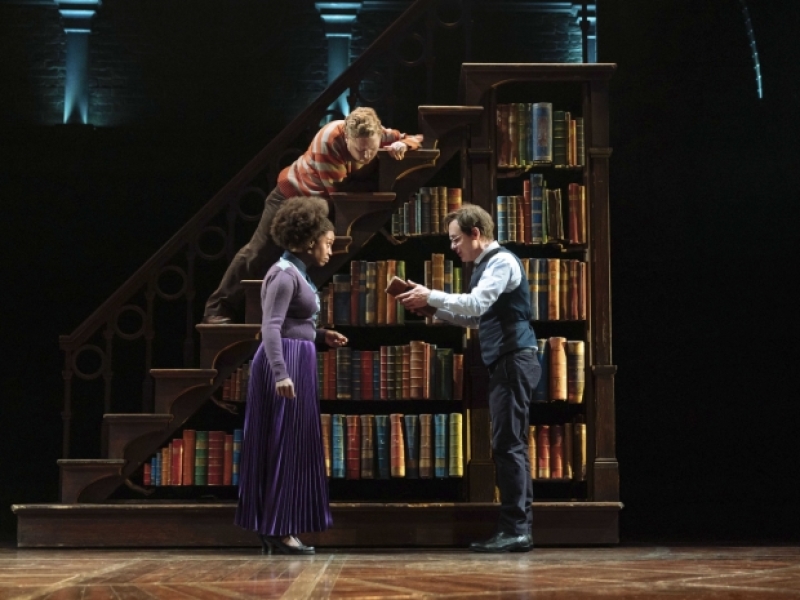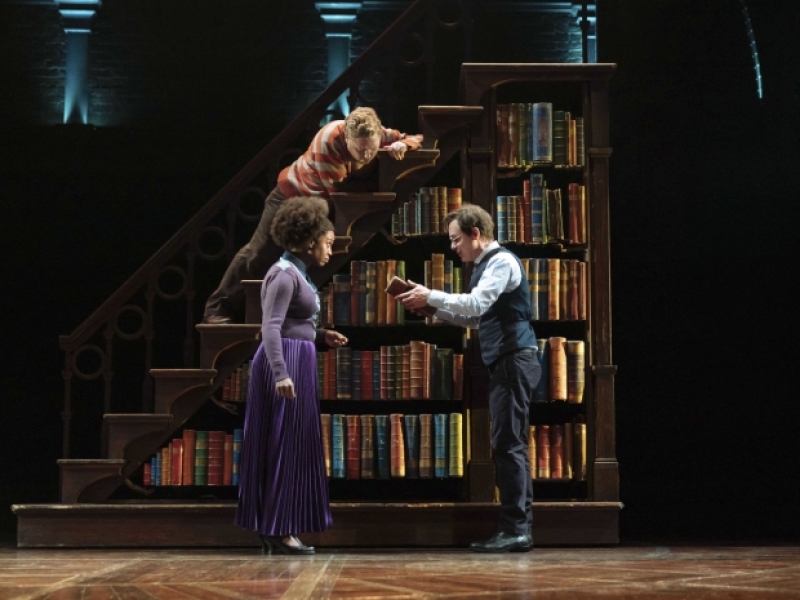 Here Gayle appears to have stepped comfortably into Hermione's shoes, shooting Harry a very pointed look. If you've seen the play, you probably know what she's about to say–if you can't already read it on her face!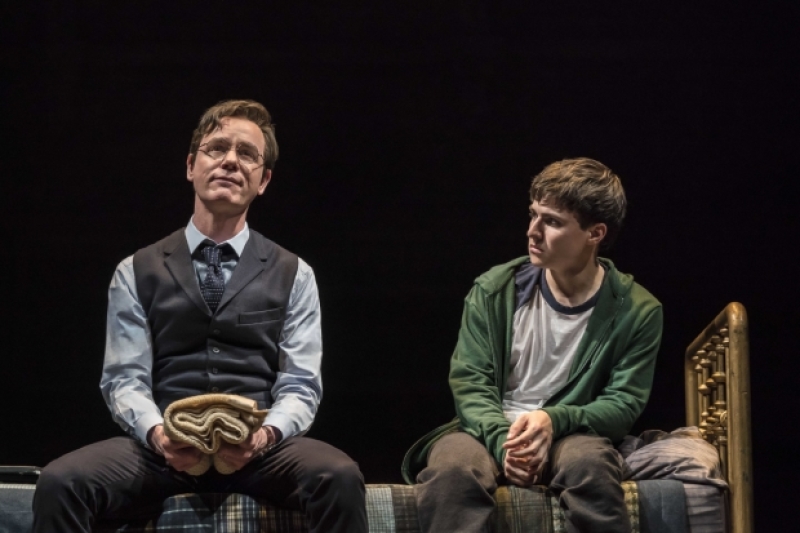 Short casts a sideways glance at his onstage father, exuding distance and resentment. His body language communicates palpable tension, leaning away with a sense of skepticism and reluctance. It's amazing how much a still shot can convey!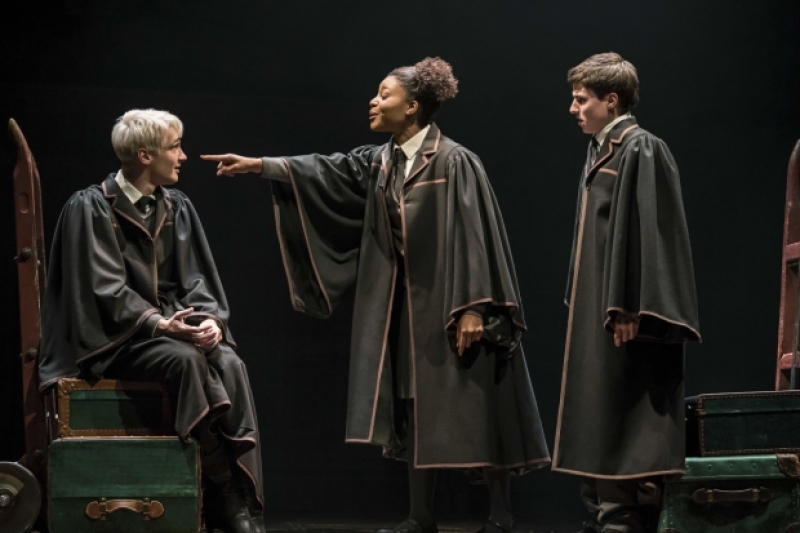 Ojo seems to be taking on the part of Rose well–you can see both her mother and her father in this picture. She's commanding like Hermione, but with a hint of good humor like Ron. There's a smile on her face in spite of what she may be leveling at Scorpius.
Have you seen the fourth year cast yet, Potter fans? What did you think?! Is the show as enchanting as ever!?
To view the full gallery of images, visit WhatsOnStage here.
Harry Potter and the Cursed Child Melbourne
Cast to Perform at Australian Helpmann Awards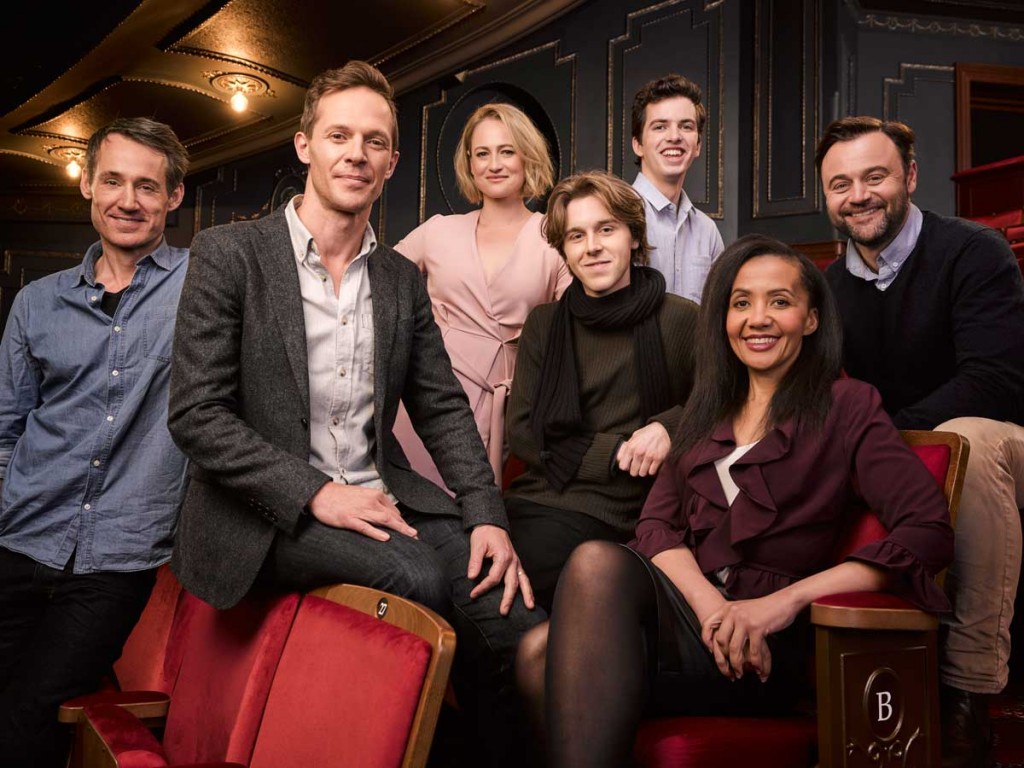 Leaky recently reported that Cursed Child Melbourne had picked up numerous nominations for Australia's annual Helpmann Awards, including some high profile nods.
With eight nominations, the play is up for the following: Best Costume Design (Katrina Lindsay), Best Lighting Design (Neil Austin), Best Original Score (Imogen Heap), Best Scenic Design (Christine Jones), Best Sound Design (Gareth Fry), Best Female Actor in a Play (Paula Arundell), Best Male Actor in a Supporting Role in a Play (William McKenna) and Best Production of a Play.
Now it has been announced that the Australian cast will perform at the awards ceremony!
According to Broadway World, they will perform an exclusive montage on stage at the Princess Theatre, which will be shown at the Helpmann Awards through a live video feed on Monday, July 15.
Act I of the ceremony, an industry-only event, will take place on Sunday, July 14. The second act is a black-tie gala in which 22 awards, as well as the special JC Williamson award for outstanding contribution to the live performance industry, will be presented.
Fans can view the 2019 Helpmann Awards LIVE on ABC Comedy Channel at 8 p.m. on Monday, July 15. A repeat broadcast will be aired on ABC on Sunday, July 21 at 10 p.m.
First Photo for Evanna Lynch's Games for Lovers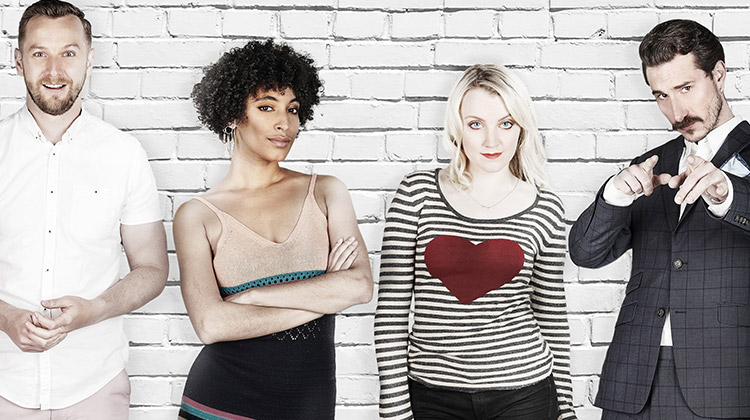 Leaky previously reported on Evanna Lynch's new summer production, Games for Lovers, at The Vaults, and based on the first image from Geraint Lewis (shown above), it looks to be a veritable treat! Broadway World describes the plot as follows:
"Four millennials looking for sex, love and a well-located flat find themselves caught in a complex game of rivalry, desire and seduction. As the cost of happiness soars, how can they negotiate the new rules of modern relationships and win the game of love?"
And in a twist on that theme, the front row will feature double-seat sofas–"Love Seats"–for viewers to heighten the experience and add to the atmosphere!
Games for Lovers opens July 12 and runs through Aug. 25.
Jack Thorne to Adapt Neil Gaiman's The Sandman

Neil Gaiman's popular comic book serial The Sandman is set to become a Netflix series following the character Morpheus, the Dream King. According to the Mirror, the intricate and "sprawling nature" of the story made it better suited to the format of an ongoing series rather than attempting to adapt it as a feature film, which would surely short shift Gaiman's rich characters and narrative.
Gaiman will serve as executive producer but will not pen the script himself, contrary to other reports. He took to Twitter to confirm that Cursed Child playwright Jack Thorne did the honors. 
It's official! Here's a Variety article about the Sandman plans. Although it's fair to say that it, too, is filled with errors, and seems to think that David Goyer and I wrote a Sandman script that was actually written by the brilliant @jackthornehttps://t.co/tXjXF75Pey

— Neil Gaiman (@neilhimself) July 1, 2019
Other than this exciting news, not much else is known. No casting details have been released, and no premiere date has been set.