Hogwarts Train Damaged by Vandals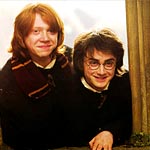 Mar 22, 2007
The Lancaster newspaper reports that young vandals caused more than £50,000 worth of damage to the Hogwarts Express train carriages in the railway depot where they are stored. The police in the town of Carnforth say that the vandals, thought to be as young as ten, smashed the train's windows with its own emergency hammers. "It will take at least a month to repair, because so much damage was caused." said Patricia Marshall, the managing director of the West Coast Railway. Residents said they saw six children running away from the train depot moments after the event occurred.
Police have been increasing security in this area in hopes to deter these young people from causing more damage to valuable property. The West Coast Railway is offering a reward to citizens who can offer information to police about the March 10th incident which will help catch the young vandals.
Thanks to Megan for the tip!