J.K. Rowling to be Honored at Pride of Britain Awards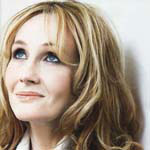 Oct 09, 2007
Uncategorized
A few days ago we first told you about the Pride of Britain awards which will be held tomorrow night in London, England and that actress Emma Watson and J.K. Rowling would be attending this event. Tonight GMTV is reporting that Jo will also be honored at this event, getting special recognition for the following:
"Twelve years ago, a woman sitting in Edinburgh coffee shop could be seen scribbling in a notebook, creating the life of a schoolboy wizard. Since the success of Harry Potter, Jo has inspired a new generation of avid readers, and she has encouraged a whole host of wannabe writers to put pen to paper. But despite a full-time writing schedule, Jo is also President of the charity One Parent Families, the patron of The Multiple Sclerosis Society and co-founder of the Children's High Level Group, helping young people in care."
As reported previously, these awards "honor those real life heroes in the UK, such as" an air stewardess who delivered and battled to save a 1lb premature baby at 30,000ft to Britain's oldest man, the last First World war volunteer, who still visits schools to educate children at the age of 111 years old." Others attending this event including UK Prime Minister Gordon Brown, Prince Charles, celebrity chef Jamie Oliver, and UK audio book narrator Stephen Fry among others. These awards will be held tomorrow night, and then will be broadcast Wednesday, October 10 on UK channel ITV1 9:00pm ' 10:30pm. If anyone can capture this video, please send it in!
Thanks paul for emailing and to radcakesfan!