New Harry Potter Prequel to Feature Marauders Story (Updated)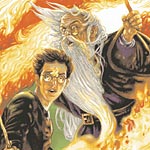 May 29, 2008
Uncategorized
Following on the big news from yesterday about the brand new 800 word prequel to events in the Harry Potter series, we now have some additional information about what the story will feature. According to the Guardian, we will be hearing more about the beloved Marauders, as the paper reports the story will feature "the fictional wizard's father James and his friend Sirius Black in their younger years." Newsround also has a small photo from the card, that shows the last line from J.K. Rowling that reads "From the prequel I am not working on – but that was fun!" Update: Thanks to Waterstone's for providing us with this large preview of the last sentence from JKR as seen here in our galleries.
As we posted yesterday, this new Harry Potter prequel from author J.K. Rowling is contained on a special card that will be part of a charity auction to be held in London at Waterstone's on June 10. The bookseller will then post the card (along with 12 other cards donated to the auction from authors such as Neil Gaiman and more) online, available for all to see on June 11. Also as we reported previously, this card then will be contained in a new book, which will go on sale in August and is NOW AVAILABLE FOR PRE-ORDER here via Waterstone's. All proceeds from this event will benefit Dyslexia Action and English Pen.
More when we get it!
Thanks Roonwit and Kate!