Clips of Dan Radcliffe's "Inside the Actors Studio" Appearance (Updated)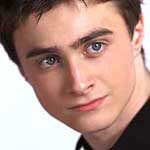 Nov 23, 2008
Uncategorized
As TLC reported previously, actor Dan Radcliffe (Harry Potter) was a guest on the acclaimed Bravo program Inside the Actors Studio for their new season. While the entirety of Mr. Radcliffe's interview will premiere on December 1st, a number of short clips from the interview are now online via the Bravo site. In these various clips, Mr. Radcliffe discusses with host James Lipton such things as the budding relationship between Ron and Hermione, his place on the Hollywood Pantheon, his own shyness, his role as Alan Strang in "Equus," the late actor Richard Harris, his love for the game of Cricket, being a normal teenager, getting the role of Harry Potter, and his experiences filming the first film. You can watch the entire interview with Dan Radcliffe when the program airs on Monday, December 1st on cable channel Bravo.
Update: We now have for you these clips from Dan Radcliffe's appearance available in our Leaky Video Galleries for your viewing ease.
Many thanks to our Order Partner DanRadcliffe.com.