PotterCast 178: Fortress of Deathitude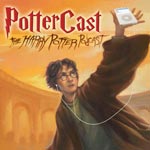 Dec 22, 2008
Uncategorized
The 178th episode of PotterCast, our Harry Potter podcast, is now online featuring the latest in Harry Potter news and discussion. Sue's News begins the show with news of the upcoming premiere of Rupert Grint's Cherrybomb, Evanna Lynch posing for fashion photographer Katrin Thomas, a new Emma Watson interview, LeakyCon's Wizard Wrock announcement, a Half-Blood Prince set report, and sales figures for The Tales of Beedle the Bard. Also be sure to get your copy of Jingle Spells 2 soon, as the physical CDs are now in extremely short supply. Next up, it's the MailBag with questions from our live Talkshoe audience. Bit-by-Bit follows with the PotterCast quartet going through the Chapter 18 of Deathly Hallows, "The Life and Lies of Albus Dumbledore." Finally, we wrap the show up with talk of permanent sticking charms, elemental wizarding laws, and more. To listen, just
hit the "Play" button on
the right
side of the
page (–>), or use iTunes, or direct download.
"Fortress of Deathitude"
No more "Shock and Awe" for Jo.
Check your mail for Jingle Spells 2.
It's Frak's first ever Mailbag!
Live Questions from our Talkshoe audience.
Bit-By-Bit: "The Life and Lies of Albus Dumbledore"
Does Harry tell Neville how much he was connected to Voldemort?
Oh, that's Grindelwald!
Register for LeakyCon 2009 now!
Subscribe to PotterCast's YouTube channel today!
RT: 68:53
Producer: John Noe
Editor: Michael Beckett
Contributing Editors:
Jaime Madeya
Jake Neuman
Andrew Garner
We had some technical difficulties beyond our editors' control- please excuse some stray static and echos.
LeakyCon 2009: A Harry Potter Conference in Boston
"Harry, A History" Website
Jingle Spells 2
PotterCast Vlogs
Podcast Alley
Digg
Direct download (31 MB).
Direct download low-bandwidth (8 MB).
Remember you don't need an iPod to listen. Listen easily on iTunes, which you can download and install here, by clicking here to listen, or you can just use the streaming Flash player at PotterCast.com or just on the right side of this page. Discussion of the PotterCast is right here. Enjoy!