Top Ten Ways to Spot a Werewolf Contest Opens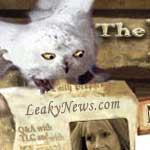 Mar 01, 2009
As it is now March, our Contest Crew has a brand new contest to be announced. This time around, we are asking you to join up with a friend or submit a solo entry to come up with the Top 10 Ways to Spot a Werewolf. This question has been on many an O.W.L. exam at Hogwarts, so now it's your turn to come up with ten signs that the person sitting next to you is a werewolf. An example of the kind of submissions we are looking for can be found over on the contest page, along with full contest information. The first place winner of this contest will receive their very own wand couture of Wizard Wood Wands.
As with all of our contests, any one person (or team of two people) not involved in the judging process
over the age of 13 may submit up to one original entry. All work
should be PG13 appropriate and adhere to standards of decency and good taste. Please submit your entry via email to [email protected] by 11:59pm EST on March 22nd, with "Werewolf Top 10" in the subject line of the e-mail. Winners for this contest will be announced on April 1st.
Good luck to all who enter!