Harry Potter Among All-Time Coolest Pop Culture Heroes from Entertainment Weekly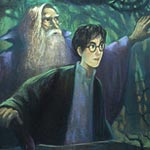 Mar 27, 2009
UPDATE: You can see the cover of the EW magazine, which features a newer photo of Dan Radcliffe as Harry and an old photo of Ralph Fiennes as Voldemort here in our galleries.
Entertainment Weekly has released a new list which ranks their Twenty All-Time Coolest Heroes in Pop Culture. Among the list of Pop Culture Heroes is none other than The Boy Who Lived, Harry Potter, who is ranked in fourth place. The young wizard joins the ranks of such other heroes as Dirty Harry, Captain James T. Kirk, Spider-Man, Buffy the Vampire Slayer, Indiana Jones, and James Bond. Entertainment Weekly writes the following of the character of Mr. Potter:

4. HARRY POTTER
WHY HIM: Orphaned, cast out, and in the throes of adolescent hormonal revolt, J.K. Rowling's boy wizard (played by Daniel Radcliffe on screen) is the embodiment of the corny bumper sticker: Why be normal?
MOST HEROIC MOVE: Obliterating Voldemort by deploying his secret weapons: love, loyalty, and the good ol' Expelliarmus.
BIGGEST WEAKNESS: Misses his mommy and daddy.
You can view the complete list of Pop Culture Heroes via this link.
Update 2: Thanks to TLC reader Lara, we received word (and scan, available in our galleries) that the recently published issue of Entertainment Weekly featured another listing, ranking the Twenty Scariest Villains. Evil Lord Voldemort made the list at number eight, with EW saying the following of Tom Riddle:

WHY HIM: Cruel with no hope of redemption, Harry Potter's nemesis (Ralph Fiennes in the films) is an old-school unrepentant, power-hungry, control-freak. But his loathing for anyone who doesn't meet his definition of "normal" is utterly of the moment.
MOST EVIL MOVE: Killing Harry's parents.
BIGGEST WEAKNESS: Motherly love.
Thanks to Jodi for mailing!