Rumor Alert: Bathilda Bagshot Casting for Deathly Hallows and More (Updated)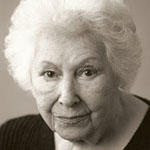 Apr 03, 2009
Rumor Alert: More casting rumors today regarding the upcoming Harry Potter and the Deathly Hallows.

First up: UK character actress Hazel Douglas has reportedly been cast as Bathilda Bagshot, the author of "A History of Magic," longtime friend to Albus Dumbledore, and unwitting source to scandal monger Rita Skeeter. Readers will also recall of course the dramatic and terrifying scenes at Godric's Hollow involving Bathilda's errm being. You can see her photo here. As with all of these reports, we must await official confirmation that will arrive when WB issues a formal announcement. Until then, a rumor this must remain, despite multiple solid sourcing which we at TLC believe to be accurate.
A second report arrived last night regarding the young actor Jamie Campbell Bower. A columnist for the Daily Mail states that the actor (seen recently in Sweeney Todd)," is in final
negotiations to portray Gellert Grindelwald – one of the most
dangerous dark wizards of all time (in Harry Potter lore anyway),
second only to Voldemort." You can see photos of Jamie here in our Image galleries. The report then continues to state that the early filming for the movie is focusing on parts involving the Trio, and further notes: "The trio have done several action sequences, and Daniel and Emma
have been working with a choreographer for some big wedding scenes that
will be shot in the summer." This would correspond of course to the wedding of Bill and Fleur, and working well with the reports TLC first told you regarding the casting of Bill Weasley, and the filming and building of the set for Shell Cottage in Wales.
UPDATE: TLC has been working independently to learn more this report of casting for young Grindlewald, and while multiple sources are unable to confirm this on the record at this time,TLC now believes this to be an accurate report. Worth noting: Jamie Campbell Bower recently stated he has been cast in the Twilight sequel "New Moon," playing one of the Volturi Vampires, and there are multiple rumors abounding about his potential involvement in other giant blockbusters, even things such as Spidey the musical. As exciting as all of this seems, we caution that official confirmation on these and all of the other DH
casting reports of late will not arrive until WB makes their formal announcement