BBC Radio One Harry Potter Day Now Live, Due From Set of Deathly Hallows, Video with Dan, Emma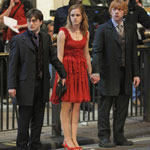 Jul 15, 2009
As we've reported several times previously, to celebrate Harry Potter and the Half-Blood Prince WHICH IS IN THEATERS RIGHT NOW, UK BBC Radio One is holding an all day marathon Harry Potter Day today, featuring new interviews due from the cast during the day. Also as noted before DJ Edith Bowman will soon be broadcasting live from the set of Harry Potter and the Deathly Hallows. You can listen right here. Please note, a full recap with the scoop on filming of Malfoy Manor will be posted later on today, stay tuned!
As such, actor Dan Radcliffe was featured on the early morning Chris Moyles show. You can now see a video portion of the interview at this link.
Here is the remaining schedule; LISTEN LIVE anywhere at this link.
Right now: Jo Whiley Show: "Emma Watson's Changing Track" Jo Whiley's off, so Sara Cox takes over, featuring Emma Watson's Changing Track. VIDEO of Emma at the station is now online here.
13:00 Edith Bowman: LIVE from the set of Harry Potter, new interviews are expected with Trio, Tom Felton and more. Her first video is up here.
16:00 Scott Mills:
"Hogwarts Occuring" featuring Rupert Grint this is described as 'Scott
entertains the nation with brand new quiz Hogwarts Occurring" Set to
reair at 18:00
Thanks so much Pinkmoosley!