TLC's Harry Potter Crafts Presents: First Featured Crafter of the Month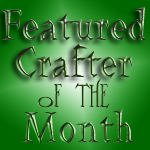 Oct 01, 2009
Leaky's Crafty Witches and Wizards have a new feature to bring you today, their Featured Harry Potter Crafter of the Month. Potter crafter Droxy is the first recipient of this title, for her many and varied contributions to the Harry Potter corner of the crafting world. Her work, which can be seen right here, ranges from spectacularly detailed Snape, Ollivander, and Bellatrix costumes to highly complex prosthetic makeup applications. Our Crafty Crew also complied a short video interview with Droxy. Check out the video below:
Information about Droxy's other crafting creations, as well as links to more of her work, check out her profile in the Harry Potter Crafts Section of Leaky.
On a related note, nominations are now being accepted through the 15th of October for November's Featured Crafter of the Month. To submit a crafter who you would like to see be featured next month, simply email [email protected] with the crafters name, as well as links to their work. Full details about the nomination process can be found via this link.
Many congratulations, Droxy!