J.K. Rowling Loves Butterbeer and More from Wizarding World of Harry Potter Sneak Peek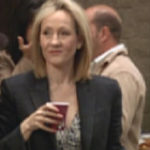 Nov 20, 2009
It's not often that we get to see the creator of the wonderful world of Harry Potter enjoying a bit of magical fun, so we are delighted to report a fun tidbit today. The video of the sneak peek of the Wizarding World of Harry Potter from the Harry Potter and the Half-Blood Prince DVD is now online, and in this piece which you can see here, there is this glimpse of Harry Potter author J.K. Rowling with her glass of Butterbeer. Cheers Jo!
In the video, we learn that Jo attended a special tasting of the butterbeer and "loved it," the same beverage which will be served at the theme park. Other new details include more on the fantastic Hogwarts Castle, where fans will be able to see the Defense Against the Dark Arts room, the Gryffindor Common Room and more. Rupert Grint also reveals the Whomping Willow and, alas, the giant spider are due to make an appearance, while Emma Watson confirms again they made a special film which is part of the ride which encompasses some of the best moments from each of the Harry Potter movies. We urge you to watch the full video for much more, and be sure to check out this of some plans and inside Hogwarts here, plus the earlier screencaps here in our galleries. Enjoy!
The Wizarding World of Harry Potter at Universal Orlando is set to open next Spring, with the Harry Potter and the Half-Blood Prince DVD due out here in the US on December 8th.
Thanks much to UHP for emailing!