Tom Felton and Bonnie Wright to Attend Harry Potter Theme Park in May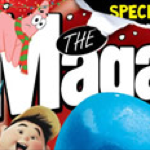 Dec 14, 2009
The December issue of The Magazine from Canada contains new interviews with Tom Felton (Draco), Bonnie Wright (Ginny), James and Oliver Phelps (Gred & Forge), Jessie Cave (Lavender) and Dave Legeno (Fenrir) as part of the promotion for the Harry Potter and the Half-Blood Prince DVD. During the interview, they are asked about the upcoming Wizarding World of Harry Potter Theme Park currently under construction at Universal Orlando, Florida. The answers were as follows:

T(Tom Felton): We are going there in May?
B (Bonnie Wright): We're looking forward very much to seeing what that's all about…They're making it so as a fan of the book, I'm intrigued to go down and see it… I think it's the idea that it's not like when you go to Disney and you can get Mickey Mouse…they're just having wizards and dragons and more of the generic experience."
Please note: While this is not specific confirmation of an opening date for the theme park, this is the second time now we've heard the month of May as a time frame for the park to be opened (as opposed to the standard "Spring" of 2010). You can see the entire scans of the interview here at Snitchseeker.
Thanks much to SS for emailing!