Winners of Arthur's Perfect Gift Contest Announced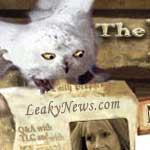 Dec 24, 2009
(Hi guys, Melissa here: Just a quick note that we hope you'll join us in welcoming Rosi Halse, our newest News Editor, as she makes her first post on Leaky. Rosi is a longtime Leaky reader, prominent vlogger, university student and longtime Harry Potter fan. We are thrilled to have her and hope you are too. Welcome, Rosi!)
This month, our Contest Crew asked you to describe the perfect Christmas gift for Arthur Weasley in 100 words or less for their Arthur's Perfect Gift Contest. After reviewing the many entries received, the winners have been chosen and are as follows:
First Place: John Macdonnell

For Arthur Weasley's present there are a series of children's books of varying titles, but centering around "The Way Things Work" or "How Things Work" They are illustrated books introducing children (or wizards not familiar with the workings of muggles) technology. They show for example how a telephone work or a plane flies, but also why they do. I think he'd be thrilled to have these books (and Molly would be less stressed with a book rather than him tinkering on a gas lawn mower behind her back).
Second Place: KrysGrey

A Rubik's Cube. I'm sure he'd be curious as to the point of it, and would be fascinated that Muggles actually take the time out to try and line up the coloured blocks. We'd have to convince him to try and solve it the Muggle-way, though after a while, I'm sure he'll be itching to use a spell to have it solve itself. Once he does solve it, I'm sure everyone will gather round it, trying to see if anything happens.
Third Place (tie): katandcon

The Weasleys like to travel so I believe the perfect gift for Mr. Weasley would be a trip to Purdue University to see the Rube Goldberg Machine Contest. That's where teams from colleges from across the USA go to display the crazy machines they've made that complete a simple task in the most steps possible. In 2007 the winner juiced an orange and poured the juice in 345 steps! Mr. Weasley would have a blast mingling with all the Muggles, and might find a use for his all of his batteries and plugs.
Third Place (tie): ZephyrFool


I'd buy a self-assembly kit for a model airplane and try to collect a debt from my old physics teacher who happens to have a licence to fly a glider. Once fully assembled the writing on the airplane would read "Coupon for a free flight with Mr. Schneider, lesson in basic physics and why airplanes stay up in the air included."
The first place winner of the Arthur's Perfect Gift contest will receive a wand from Wizard Wood Wands. Well done to the winners and to everyone who entered!