Harry Potter and the Half-Blood Prince, Ultimate Collector's Editions DVDs Release Tomorrow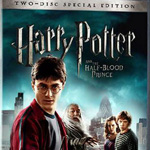 Dec 07, 2009
Tomorrow here in the US we will see the release of Harry Potter and the Half-Blood Prince on DVD and Blu-Ray as well as the first two Ultimate Collector's Editions for Harry Potter and the Sorcerer's Stone and Harry Potter and the Chamber of Secrets. As a reminder, many Blockbusters are holding release parties tonight for the HBP DVD and if you are attending please send in your photos and reports to [email protected] and we will post them.
To recap, the two disc HBP DVD will also contain many treats for fans including that sneak look at the upcoming Harry Potter and the Deathly Hallows with the high res video available here and high res screencaps found here. Also of note is the sneak peek of the Wizarding World of Harry Potter. Today, Universal released this teaser found here. If you purchase the Blu-ray version, you can take part in a live community screening of the film with director David Yates and actor Dan Radcliffe (Harry Potter) December 12th from 12 Noon to 3pm (Eastern) with more available here at the Facebook page for the event.
Readers will recall of course, the Half-Blood Prince and Ultimate Collector edition DVD have long been released in other countries. Last month, TLC first brought you screencaps of the entire HBP disc here, as well as the deleted scenes, and extras. Also of note are these screencaps and the entire video for the Wizarding World sneak preview here. Tonight, Warner brothers has uploaded several news clips including this great one with Alan Rickman on Severus Snape, Emma Watson on being Hermione and Chris Columbus reflecting back on working with a young cast. Also over the weekend during the ABC Family Harry Potter weekend a few sneak previews were broadcast including this video for creating the Inferi, creating the cave, and jewelry design with Evanna Lynch (Luna). Direct links to various clips from HBP can be found here, with this clip of producer David Heyman on the Horcruxes available here.
Last month TLC first also brought you screencaps for the deleted scenes and extras found on the Ultimate edition as noted in this news post with extensive links. Be sure to check out this post for the gorgeous artwork contained in the booklets for both collector's editions. Also of interest are direct links to preview clips from the two dvds, plus this exclusive clip featuring Dan Radcliffe found here, and this clip of Rupert Grint with the Chess scene found here. PHEW!