Emma Thompson Confirms Return as Trelawney in "Deathly Hallows"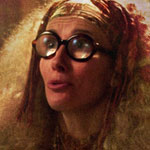 Mar 25, 2010
Earlier this week, we told you about an article in the Tatler in which Cleménce Poésy implied that Emma Thompson (Professor Trelawney) would be in "Harry Potter and the Deathly Hallows." Thompson has confirmed in an interview with CBBC's Newsround that she will be reprising the role of the Divination teacher; when asked whether she knew if she would return for the last Harry Potter film, Thompson exclaimed, "I am, I'm in it, I've done it! I've already done it!" Quotage:
Interviewer: Why were people expecting that you weren't going to be in it?
Emma Thompson: I don't know, someone got a bee in their bonnet and said she's not doing it and that was completely false.
Interviewer: So we can confirm that you'll definitely in the final film?
Emma Thompson: I am in it, I've done two days on it and my sister's in it as well, actually! [Joking] And my next door neighbour. You're probably in it as well! If you look very carefully I'm sure you'll pop up somewhere.
The interview was otherwise devoted to promoting the upcoming "Nanny McPhee and the Big Bang," which will be released in the U.K. tomorrow, the 26th of March. Thompson wrote the screenplay and additionally stars as the main character. The actress commented on her enjoyment of working alongside a generally young cast who are "fully present and there," as well as her profound dislike of the process behind the Nanny McPhee mask. The interview on the CBBC website is only available to those in the U.K. and can be found at this link.
Thanks to MuggleNet for the heads up!