Tom Felton On Aging for Epilogue Scene in "Deathly Hallows"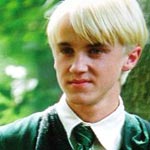 May 13, 2010
MTV has released another interview with actor Tom Felton (Draco Malfoy), in which the actor comments on the process the cast and crew and undertaking to age their characters for the much talked about Epilogue scene at the end of "Harry Potter and the Deathly Hallows." In the interview, Mr. Felton says:

"For nearly two months, we've all been doing prosthetic tests and all sorts of preparation for the epilogue. I've been having some aging training. You've got to walk differently. There's a slump in your walk."
He goes on to note that filming, which is set for June, will take about three days and "[it's] going to be the last big thing that we do. It's going to be on location." The full interview can be read via this link.
"Harry Potter and the Deathly Hallows: Part I" will be in theaters this November, while Part II will arrive next July.