Tom Felton Talks About Draco Malfoy in "Deathly Hallows"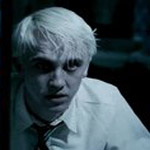 Jul 01, 2010
Tom Felton (Draco Malfoy) has a new interview with MTV where he discusses both how he sees the character of Draco Malfoy overall, and how his character will be playing out in "Deathly Hallows":
"From my character's point of view, a lot has been left to
interpretation," Felton said, pinpointing an important-yet-subtle moment
from the final film, in which Draco is tasked with the painful decision
of whether to help or hinder his nemesis' progress. "[There is] one
take where you want to help Harry. The books, I think, kind of left it
up to the interpretation of the reader, really, so one way you
internally want to help him, the other side where you're just confused,
so I'm intrigued to see which bits David [Yates] cuts out of it."
The rest of the article details Felton's opinion of Draco Malfoy's character, including how J. K. Rowling described him as "vulnerable." You can read more here and see the latest trailer for both parts of "Deathly Hallows" in our Video Galleries.