New Q&A with Dawn French; First Novel to be Released This Month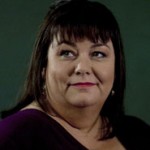 Oct 18, 2010
A Q&A video with Dawn French (The Fat Lady in "PoA") has been conducted in anticipation of her first novel, A Tiny Bit Marvellous, which will be released on the 28th of October. French speaks about her favourite childhood books, living with fame and more in the new interview which can be found right here in our video galleries.
A Tiny Bit Marvellous is published by Penguin imprint Michael Joseph and has an RRP of £18.99. A synopsis from the Penguin website reads as follows:


A TINY BIT MARVELLOUS is the story of a modern family all living in their own separate bubbles lurching towards meltdown. It is for anyone who has ever shared a home with that weird group of strangers we call relations.
Mo is about to hit the big 50, and some uncomfortable truths are becoming quite apparent: She doesn't understand either of her teenage kids, which as a child psychologist, is fairly embarrassing. She has become entirely grey. Inside, and out. Her face has surrendered and is frightening children.

Dora is about to hit the big 18 . . . and about to hit anyone who annoys her, especially her precocious younger brother Peter who has a chronic Oscar Wilde fixation.

Then there's Dad . . . who's just, well, dad.

Oh and there's a dog. Called Poo.
You can find more information about the book here on the Penguin website.