Photocall: Harry Potter Cast and Crew Celebrate WB Purchase of Leavesden Studios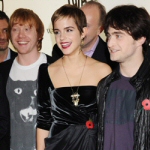 Nov 10, 2010
Just before tomorrow's world premiere in London, the cast and crew of "Deathly Hallows: Part 1″ gathered at Claridge's Hotel to celebrate the film's impending release as well as Warner Bros. recent purchase of Leavesden Studios.
Actors in attendance included Daniel Radcliffe (Harry Potter), Rupert Grint (Ron Weasley), Emma Watson (Hermione Granger), Bonnie Wright (Ginny Weasley), Tom Felton (Draco Malfoy), Jason Isaacs (Lucius Malfoy), and Nick Moran (Scabior).
Also present were filmmakers David Heyman (producer), David Barron (producer), David Yates (director), and Alfonso Cuaron (director of HP3).
More than 100 images of the photocall that took place are available in the gallery.Some preview images are below:
Rupert Grint, Emma Watson, and Dan Radcliffe
Rupert Grint, Emma Watson, and Dan Radcliffe having a laugh
Nick Moran
Bonnie Wright
Jason Isaacs
David Heyman, David Yates, Barry Meyer, Josh Berger and David Barron
Tom Felton and girlfriend Jade
Alfonso Cuaron
Emma Watson