4th Annual Quidditch World Cup Being Held Tomorrow and Sunday in Manhattan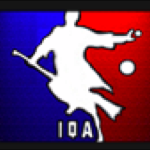 Nov 12, 2010
As you may recall, the International Quidditch Association will be hosting the 4th Annual Quidditch World Cup tomorrow, November 13th, and Sunday, November 14th in New York City. Both Entertainment Weekly and Fox Sports have reported on the event, as well as the idea of Quidditch as a sport:
When the first Harry Potter film hit theaters in 2001, could
you have predicted that New York City would be hosting the fourth annual
Quidditch World this weekend? Some of you may be aware that students at
Vermont's Middlebury College are credited with first making the fantasy
sport a reality in 2005, and today, there's an International Quidditch Association.
Forty-six teams will compete this weekend, including Middlebury, Boston
University, Michigan State, NYU, Vassar, Syracuse, and Yale.
Fox Sports reports on the impetus behind Quidditch as a sport, as well as the significance of this year's World Cup:
"Quidditch was this bridge between the fantasy world of the books and
the more concrete world of college," says Manshel, who has graduated and
now teaches English. "For us [playing] was a way to have both."
But now Harry has grown-up " and so has the sport. There are tournaments, new rules and special brooms for competitive play.
The "Quidditch World Cup" is moving this year to the Big Apple from
Middlebury's idyllic campus. More than 60 college and high school teams
have registered to compete Nov. 13 and 14 " up from 20 last year " at a
park in Manhattan.
"Our hope is that it will be a real coming out party for the league,"
says Alex Benepe, one of the sport's founders and president of the newly
formed nonprofit International Quidditch Association. It's now played
at hundreds of schools, he says.
You can read both articles here and here.
We also have a promotional video from the IQA for tomorrow's Quidditch World Cup which you can see here or below.