Videos: RTE Cast Interviews, Trio on the TODAY Show, Emma on David Letterman, AMC Interview David Yates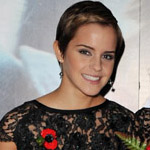 Nov 16, 2010
We have lots more interviews for you today from cast interviews to television appearances. Firstly, we have a slew of new "Deathly Hallows: Part 1″ cast interviews from RTE in our galleries:
Matt Lewis (Neville Longbottom) and Evanna Lynch (Luna Lovegood)
Bonnie Wright (Ginny Weasley)
Tom Felton (Draco Malfoy)
James and Oliver Phelps (Fred and George Weasley, respectively)
Helena Bonham Carter (Bellatrix Lestrange)
TV appearances:
Rupert Grint (Ron Weasley) on the Today Show
Dan Radcliffe (Harry Potter) on the Today Show
Emma Watson (Hermione Granger) on the Today Show
Emma Watson on David Letterman
Additionally, a brand new AMC 'Script-to-Screen' interview with director David Yates (audio only) can be listened to here on YouTube. Yates says he has come to "really enjoy the world" of the Harry Potter films. Yates speaks about the change in tone for the last two films, "taking these three iconic characters and putting them out into the big, scary, dangerous world […] and some very interesting things happen." Of his relationship with the actors, Yates says "you develop a shorthand [… the actors] have more to do and they've had to step up to the plate and they've enjoyed it a lot." Listen out for AMC's nod to TLC towards the end of the interview!

"We always want the fans to be happy and they're incredibly loyal and faithful even when we do things they might not agree with," said Yates. "Ultimately there's a whole team of people, myself include, who work so hard on these stories and pour so much love and attention to detail and care into the storytelling process as possible. So the fans are being served by people who love the material as much as them. And it's useful to see what they are liking and what they are not liking, but equally, ultimately, as a filmmaker I have to really find my own rhythms for the material, and try and do my best to capture the spirit of the book as perceived when I first read it. But we're always very sensitive and we always want them to be happy and we'll try out best to meet that challenge."
Find the full interview here. Thanks to John for emailing in about this interview!
Stay close to Leaky as we upload video of Dan Radcliffe on "Jimmy Fallon" and Emma Watson on "Live! with Regis and Kelly."