Actors in the News Weekly Roundup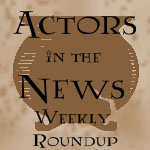 Nov 29, 2010
There hasn't been much non-Harry Potter news from the Harry Potter cast amidst the release of "Harry Potter and the Deathly Hallows: Part 1." Matt Lewis (Neville Longbottom) attended the EA British Academy Children's Awards yesterday. Video game "LEGO Harry Potter: Years 1-4" had been nominated for the BAFTA Kid's Vote – Games Award but lost out to "Just Dance." The animated episode of Doctor Who, titled 'Dreamland' and voiced by David Tennant (Barty Crouch Jr.) was nominated for the Animation Award but lost to "Shaun the Sheep." Some photos of Lewis at the ceremony can be found here in the Leaky Galleries.
Rupert Grint (Ron Weasley) was in the audience alongside actor James Corden for this week's episode of British television singing competition, "The X Factor". Corden tweeted a picture of the pair of them, which you can find via this link on Twitter. Grint also appeared on the celebrity panel for follow-up programme,"The Xtra Factor" — UK residents can watch Grint on the programme here on the ITV player. Unreality TV has a quote from Rupert about one of the remaining contestants, Wagner:
I like Wagner, I really do. He's not everyone's favourite but I don't think the show would be the same without him. I loved him tonight, Creep, the lyrics were perfect!
Thanks to our Order Partner RupertGrint.net for the heads up!
Lastly, James and Oliver Phelps (Fred and George Weasley, respectively) took part in Thames Hospicecare's Santa Dash yesterday, a 5k run in which over 660 people took part dressed up as Father Christmas. The participants ran through Swinley Forest in Bracknell; you can find a video from yesterday's event here on the ITN News YouTube channel. The 2009 event raised £30,000.