"Harry Potter" Actors Talk About Part 2 Reshoots on Facebook and Twitter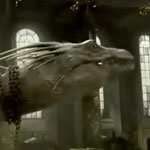 Dec 21, 2010
Last month, Tom Felton (Draco Malfoy) confirmed reshoots
would soon be taking place for the epilogue in "Deathly Hallows: Part 2."
Today actress Emma Watson (Hermione Granger) updated her
official Facebook page and announced she was back at Leavesden Studios with
co-stars Daniel Radcliffe (Harry Potter) and Rupert Grint (Ron Weasley).
Currently at Leavesden filming reshoots with Dan and Rupert. Feels strange to be back! x
Young actor Will Dunn (James Sirius Potter) also spoke about
the reshoots on his Twitter account saying today was the last day of filming for the cast and crew.
Wrapped on Potter! Amazing experience again… Sad to be
finished 🙁 X
So there it is. Shooting on HP is now finished, forever! 🙁
X
James and Oliver Phelps (Fred and George Weasley) were also at
Leavesden last week to do reshoots for some other scenes and said goodbye to their characters for the last time:
Today was my last at Leavesden Studios with HP.10 years flew
by & hasn't sunk in.Thank u to everyone who made my time there a wicked
one.=)
On the way home after doing some additional filming for HP7
part 2… It was also when Oliver phelps and George Weasley parted company for
the final time. It's been a great decade it's been. Strange feeling.