Tom Felton to Appear at WB Comic Con Presentation This Weekend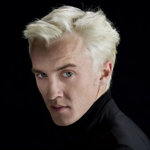 Jul 21, 2010
Word has come directly from WB this afternoon that Harry Potter actor Tom Felton (Draco Malfoy) is now slated to appear at Comic Con 2010 this weekend as part of the Warner Bros. Presentation on Saturday, July 24. This news revises a previous report which stated that actors from the Harry Potter films would not be attending the annual comic book and popular arts convention. Readers will also recall this WB Presentation will take place on Saturday, 24th of July in Hall H, from 11:45 am to 1:15 pm. A description of the event is as follows:

Harry Potter and the Deathly Hallows"Every saga has a final chapter.
Kick off the year of Harry Potter with a first look at the coming screen
adaptation of J. K. Rowling's final book in the series, Harry Potter
and the Deathly Hallows, with a program created just for Comic-Con fans.
One way. One hero. One destiny. Don't miss it!
As a reminder, here is the HP-related schedule for Comic-Con events:style="padding-top: 7px; padding-right: 7px; padding-bottom: 7px; padding-left: 7px; background-color: #ffffff; font: normal normal normal 13px/1.22 arial, helvetica, clean, sans-serif; ">
11:45pm Saturday: Harry Potter presentation in Hall H (with Tom Felton!)
3pm Saturday: Harry Potter Alliance / Chase press conference (room TBA)
2pm-3pm Sunday: Room 24ABC, Harry Potter panel with Leaky, the HP Alliance, Darren Criss, and more
4pm Sunday: Harry, A History signing in the Mysterious Galaxy Booth on the convention floor
See you there!