Darren Criss Confirmed as Daniel Radcliffe's Successor in "How to Succeed…"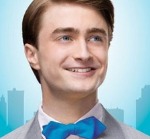 Aug 01, 2011
Darren Criss, of "A Very Potter Musical" and "Glee" fame, has been named as Harry Potter actor Daniel Radcliffe's successor in the Broadway show, "How to Succeed in Business Without Really Trying."
According to Broadway.com, Radcliffe will be departing the musical on January 1, 2012. Criss' three-week run as the lead character J. Pierrepont Finch will last January 3rd until the 22nd. It will be his first time performing on Broadway.
Director/choreographer of "How to Succeed," Rob Ashford, had this to say about the change:

"Daniel gives an extraordinary performance eight times a week and we knew finding someone to fill his shoes would be nearly impossible. When we learned of Darren's dream of performing on Broadway we knew we had found our Finch but presumed his 'Glee' schedule would eliminate any chance to work with him. We are ecstatic and grateful to Ryan Murphy and his 'Glee' team at 20th Century Fox TV for helping to make both Darren's and our dream come true."
Criss' performances will take place during "Glee's" filming hiatus. "How to Succeed…" is at the Al Hirschfeld Theatre in New York City. Tickets can already be purchased via the official site.
Congratulations, Darren Criss!