Exclusive Pre-Order Offer for "Harry Potter: Page to Screen"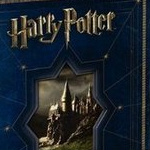 Oct 19, 2011
As readers may recall, the "Harry Potter: Page to Screen" book will be released in six short days. If you have already pre-ordered the book, or are planning to there's something special in it for you:
You
already know that we'll be publishing HARRY POTTER PAGE TO SCREEN,
which tells the complete story of how all eight Harry Potter films were
made. It goes on sale next Tuesday, October 25, but right now we have a special perk for anyone who's already pre-ordered the book

: exclusive access to

20 never-before-seen pages from the book

. In addition, there's one more bonus for you (maybe

these limited edition tote bags

?), so get going, already!



Click here for our exclusive pre-order offer.
The sweepstakes for the bag can be viewed here on Facebook.