Alan Rickman Talks Snape, Dan Radcliffe and Alan Rickman Talk Broadway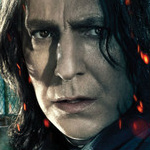 Nov 10, 2011
In anticipation of the release of the final Harry Potter DVD, which will begin to be sold in the US tomorrow, Warner Bros. France has a new interview with Alan Rickman (Severus Snape) where he discusses playing his infamous character. You can watch the video of the interview here or below.
Speaking of Mr. Rickman, he will be starring in "Seminar," a play due to open on November 20th on Broadway. This means that he and Daniel Radcliffe, who is currently starring in "How to Succeed in Business Without Really Trying," will be sharing the bright lights of Broadway until the end of this year:
Radcliffe found the production to be inspiring, Rickman said. "He told
me, ˜This makes me want to do a play, I have to do a play,' " he
recalled in his dressing room before a recent rehearsal. "And I told
him, ˜Daniel, you have years ahead of you ¦.' And he not only has the
time but the talent to accomplish much on the stage."
…
Rickman says one reward of being in the movies made from J.K. Rowling's
seven-volume Harry Potter opus was the privilege of "watching three
kids turn into three adults, imperceptibly it seems, over 10 years. And
now being able to sit in a café in New York with Daniel, talking about
something loosely called ˜process.' "
You can read the rest of the article here.

Harry Potter : Interview d'Alan Rickman by WarnerBrosPicturesFrance